Cork's no 1 for grab hire
19/02/2019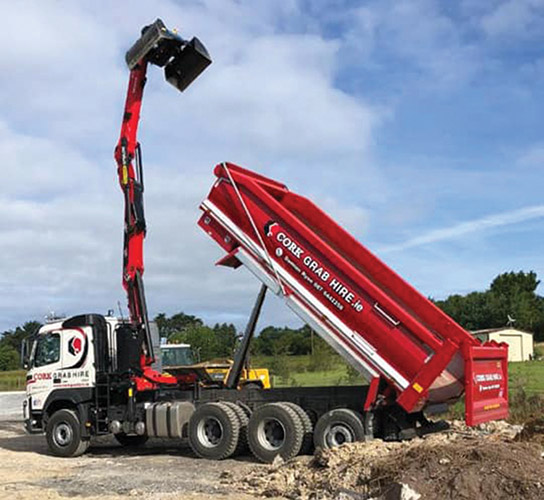 Cork Grab Hire has earned quite the reputation for being a cost-effective firm which moves large quantities of soil, excavation materials and other construction waste. Managing Director Damien Ryan told Irish Trucker all about the thriving company, as well as the new Volvo FMX13 recently added to its fleet.
Business is booming right now at Cork Grab Hire and the plan is to keep the trend going according to the company's founder and MD, Damien Ryan.
Indeed the Co Cork-based firm offers all you need for clearance and removal, employing only experienced staff, which might explain the quick rise it has had since its inception, and – above all – Health & Safety and Road Safety are of paramount importance to the company.
For Damien, he and his family have been immersed in civil engineering all of their working lives and, after seeing the opportunity to start up his own grab hire business with his wife, Sandra, he's happy to report that he hasn't looked back as of yet.
Irish Trucker caught up with the Kinsale native recently to discuss the ins and outs of the business and learn his thoughts about what separates it from other grab hire competitors down in the Rebel County.
"We're in Shearwater, Pier Road, Kinsale, Co Cork and I've been working in a family run civil engineering company for 20 years now," explained Damien.
"We were already running three trucks and we got a lot of work which involved moving large quantities of soil or excavation material and other construction waste which is where we saw the opportunity to expand into the grab hire business."
Most of the work that Cork Grab Hire has at the moment is with private clients and construction companies, while projects with different County Councils are also keeping them busy.
The company's drivers and operators are fully trained and experienced to handle and manoeuvre the machinery in tight areas, where there may be over head-lines or where access may be an issue.
Road Safety and safety in the work place is of paramount importance at Cork Grab Hire and Damien himself knows that his greatest responsibility is to make sure that everyone gets home safe at night.
Cork Grab Hire's eight-wheel grab truck can carry up to 17 tons of material – it is an excellent alternative to the expense of hiring plant machinery to load tipper lorries and it is also a cost effective solution to skip hire. It eliminates the need for self-loading of skips which can be time consuming and so allows your project run smoothly and on time.
This past summer saw a new Volvo FMX13 460 8x4 Tridem Fitzgerald & Palfinger crane added to the fleet.
Supplied by McCarthy Commercials, it includes a sleeper cab with air con, night heater, audio advanced and reverse backup monitor. Super singles front and rear with rearmost lift and steer tag axle.
It came ready for work with crossmember air and electrics rear mounted for drawbar application.
As Damien himself outlined, the new truck wasn't in Kinsale too long before it was out on the road, satisfying the demand of clientele in what are busy times.
"We do have a new lorry here from McCarthy Commercials which we bought in May, so altogether we're operating with four," he said.
"We expected to start quietly but the new lorry was out three times the first day we had it, so it just goes to show the kind of business we've been doing here."
Elsewhere in the machinery fleet, Cork Grab Hire are running a 180 digger, along with a 3.5 tonne and an 8 tonne and have two seven-and-a-half tippers plus a crane for transporting. They are also operating three dumpers.
Things have come quite a long way in such a short space of time and you can almost guarantee that Damien will be adding to his fleet again in 2019.
Cork Grab Hire's trucks also provide the materials and aggregates, which is another mark in the plus column for their clients that have shown tremendous trust in them despite them being such a young company.
Pinpointing the reason for such high confidence, Damien explained that there has been no reason to date for customers to stray away from Cork Grab Hire.
"We've built up a name and reputation in Cork and in other counties too, but especially Cork," he stated.
"All of our staff here are very highly trained and we offer a good reliable service – that's why clients are choosing us. We also have a very good name for Health & Safety standards here."
As well as the services already listed above, Cork Grab Hire are also providing emergency call-out services to numerous sectors and can provide any business with a quote at no extra cost.
All going well, the company will continue to grow next year and gain new clients off the back of an excellent service and competitive prices.
The way Damien sees it, it's what he had on the agenda when he first set out with this business venture.
"I've a keen interest in this and it's why I went into it. I saw there was potential in it, so I researched it," he outlined.
"To be quite honest, grab lorries take a lot of hassle out of it for companies and so far, I have to say, it has been going well for us. The future is looks bright for us here."
So, if you're looking for grab hire services in Cork then you needn't look any further than Cork Grab Hire Ltd.
Cork Grab Hire
Shearwater, Pier Road,
Kinsale,
Co Cork
Tel: 021 470 0580
Mob: 087 644 2258
E-mail: [email protected]
Taken from Irish Trucker & Light Commercials magazine, Jan/Feb 2019, Vol 22 No 1