The heavy haulage and machinery transport experts
18/02/2019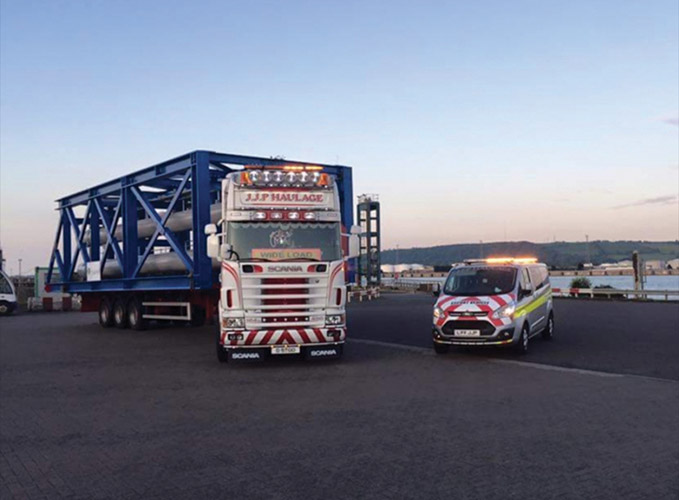 JJP Haulage Ltd provides a top-class heavy haulage and machinery transportation service throughout Ireland, the UK and Europe. Established in 2012 by Jonny Priestley, the company has gone from strength to strength and is set to add a New Generation Scania S650 V8 Tag Axle to its fleet in 2019.
Jonny has already ordered the 80-tonne beast from Road Trucks Larne and says its manoeuvrability will make it ideal for wind turbine transportation work. He already runs two Scania R560s, three Scania 580s and a Volvo 500 as well as 15 trailers consisting of low loaders, semis, flats, rear steering and extendables. The trailers are a mixture of Faymonville, Doll, Nooteboom and Andover.
"We're gradually moving away from Volvo towards Scania. It's all down to our drivers preferring Scania," explains Jonny, whose yard is located in Lisburn but whose home address is Dromara, Co. Down.
"We're looking forward to taking delivery of the new Scania and already have an arrangement in place for Granco Ltd in Newry to look after the maintenance of it. Our existing trucks and trailers are serviced and maintained by Law Commercials in Lisburn and NR Trucks in Moy, who we bought our 2012-registered Scania R560 twin-wheel tag from last April.
"Business is booming for us at the moment and the importance of having a modern, reliable fleet cannot be stressed enough. We're bringing in a lot of new plant from Britain and there's a lot of second hand plant and machinery going in the opposite direction. The breakdown of our business is 70% mainland UK, 20% South of Ireland and 10% mainland Europe."
Heavy haulage is a speciality of JJP Haulage Ltd. Jonny and his team have a wealth of knowledge, experience and skill when it comes to the transportation of non-standard and abnormal loads.
"We transport everything from construction steel, excavators, trucks, tractors and tarmacadam machines to wind turbine components and crushing equipment. We carefully plan the best route by which to transport abnormal loads and provide a full escort to ensure maximum safety and ease of transportation," he says.
"We're dedicated to providing our customers with the best heavy haulage service possible. We take immense pride in our work and approach every job the same. We can offer transportation solutions for practically any size of machine or product. No job is too big or too small."
Jonny has a large and loyal customer-base. "We're fortunate to have so many good customers who have stuck with us through thick and thin. They appreciate the fact that we're always at the end of the phone and are prepared to go the extra mile for them when the need arises. They can always depend on us to get the job done on time and without any hassle."
The affable Co. Down man is also full of praise for his drivers Gareth Wilkinson (aka 'Wilko'), Andrew Bailie, Scott Bywater, Thomas Skillen and Kirstie Ward. Completing the JJP Haulage Ltd team is Jonny's partner Stacie Cromie who runs the office.
"It's a real team effort here. Our drivers are experienced, highly-skilled and totally dependable. They carry out their duties in a professional and efficient manner and enjoy a good rapport with our clients."
JJP Haulage Ltd has come a long way in six years and Jonny is keen to ensure that it remains on an upward trajectory in the coming years. He concludes by thanking his customers for their continued support and his staff for their expertise, dedication and hard work.
JJP Haulage Ltd
136 Dundrum Road,
Dromara,
Co. Down BT25 2JS
Telephone: 07818 068 425 /
07979 860 425
Email: [email protected]
Taken from Irish Trucker & Light Commercials magazine, Sept/Oct 2018, Vol 21 No 7