Eamonn Barrett International serving the transport industry for 20 years
18/02/2019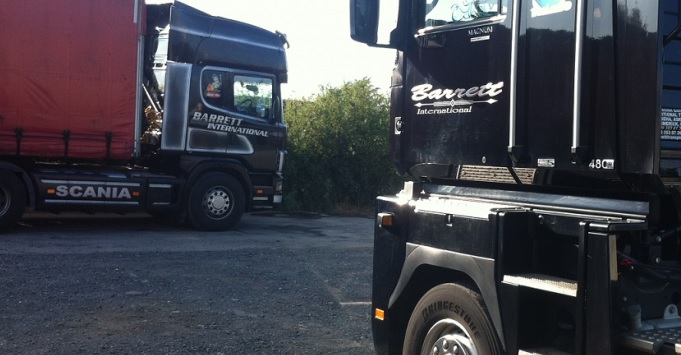 Celebrating 20 years in business, Eamonn Barrett International Transport Ltd is a leading independent transport and freight operator that can handle all your transport and shipping requirements to anywhere.
A HGV mechanic by trade, Eamonn Barrett had driven trucks between Ireland and UK before setting up his own business in Askeaton, Co. Limerick on August 22, 1998. He purchased a 1987 Scania 112 with the aim of supplying customers and trading partners with a comprehensive, cost-effective and reliable range of transport and logistics services to and from Ireland. Twenty years later, Eamonn Barrett International Transport Ltd continues to go from strength to strength. Since 2012, the company has grown by 20% and increased its customer-base by 50%. And it continues to travel to new places to meet customers' demands.
"We specialise in full and part loads, Groupage and logistics to and from Europe and the UK. We also fulfil our national and domestic customers' requirements. International transport accounts for about 90% of our business," says Eamonn, who is married to Helen and has two children, Joe (ten) and Emma (eight).
"We have earned a strong reputation for providing a reliable, professional, efficient and cost-effective service to our customers. When I founded this company, I never envisaged having more than one or two trucks. But we are always willing to rise to a challenge which has brought us to where we are today, And the plan is to keep growing the business and keep it on a firm footing and to continue for a further 20 years.
"International transport is a tough business to be in and there are days when you would think of giving up, but you always rise to the challenge, you come up with the best possible solution and carry on learning every day. I have a great team of workers and family around me and have some fantastic customers too. We're here 24/7 to cater for their needs and answer any queries they may have and provide solutions."
As a family-run business, Eamonn Barrett International Transport operates and controls all of its services. Being independent means it's not tied to any one particular carrier or service. The company works with all of the world's largest carriers to achieve the best possible results for the fast, reliable movement of goods at competitive prices. Highly experienced in all aspects of road freight, coupled with extensive knowledge of international custom procedures, and working with an established worldwide network of agents, you can be confident of Eamonn Barrett International Transport delivering your cargo on time, every time.
Eamonn has built up a large and loyal customer-base Europe wide which includes the likes of DSV, baku gls, Ziegler Logistics, Aramex and KRL Forwarding Ireland Ltd to mention a few. They are all global suppliers of transport and logistics services. With offices and facilities in more than 80 countries, DSV provide and run supply chain solutions for thousands of companies on a daily basis. Based in Rosslare Harbour, baku gls is the partner of choice for many in the forwarding industry across Europe. Founded in Dubai in 1982, Aramex has rapidly grown into a global brand and is recognised for its customised services and innovative products. Ziegler Logistics, with offices in all major cities and also growing in Ireland, are a large provider for the Italian market and also all other European countries.
"The customer is always king in our eyes. We take their custom personally and give back what they expect and more. We aim to exceed their expectations every time. Many of them have been with us from the very start 20 years ago, and we have other customers that are happy with our service 10 years and longer and we intend to continue those partnerships and grow," he explains.
Eamonn runs a fleet of 14 trucks which are a mixture of Scania, DAF and Renault. They range in years from a 1994 Scania 143 to a 2017 Renault T. He also has 22 trailers consisting of Euroliners / curtainsiders, refrigerated units and box bodies as well as flat trailers. The fleet is regularly upgraded and maintained to high standards to ensure there is no such thing as breakdowns or downtime. The affable managing director runs the company with the help of Helen, a full-time mechanic and a team of highly-experienced and capable drivers who are fully trained in ADR and GDP. Some of the drivers also have air freight security training, which regularly comes in useful with some of its customers.
A member of the Irish Road Haulage Association (IRHA), ISME (Irish Small to Medium Enterprises) and FTA (Freight Transport Association), Eamonn has concerns about the lack of young drivers willing to enter into the industry, rising fuel costs, and toll and levy charges been introduced.
"The shortage of new drivers is very worrying. Go into any CPC class and the average age is 55. There are no incentives in this country for a young person to become a truck driver. Unless you're born into it, you won't choose it as a career. We've lost a lot of good drivers to the construction sector, which seems to be booming again, while many foreign national drivers have returned home because the conditions and pay has considerably improved in their countries in recent times.
"As soon as the cost of insurance levelled off, fuel prices started to rocket. This is another worrying development which is putting many haulage companies to the pin of their collar. The level of enforcement on the transport sector which has increased considerably in recent years is also driving people away from the industry."
Despite these obstacles, Eamonn remains committed to providing his customers with the highest levels of service, quality and safety and here's to the next 20 years of transport from the Co. Limerick-based operation.
Eamonn Barrett International Transport Ltd
Kilbeha, Askeaton,
Co. Limerick.
T: 087 2691995
Taken from Irish Trucker & Light Commercials magazine, Sept/Oct 2018, Vol 21 No 7