Outstanding service levels for 25 years ... and counting!
11/01/2019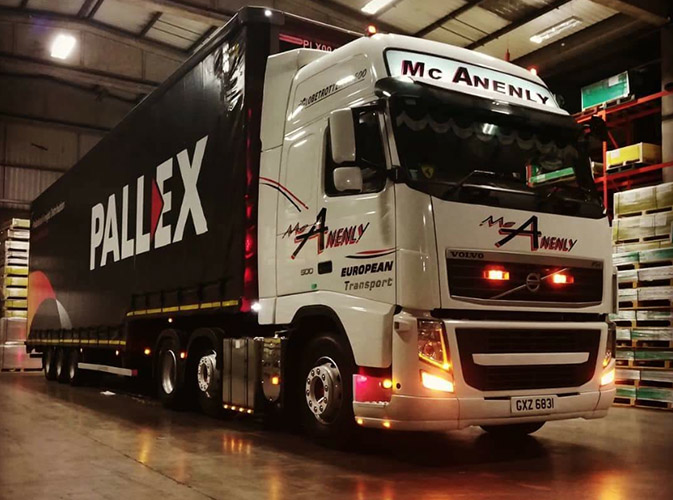 Since its inception exactly a quarter of a century ago, McAnenly Transport has earned a stellar reputation across the haulage industry for consistently delivering the highest possible service levels. Irish Trucker travelled to Emyvale in north County Monaghan and met founder / proprietor Sean McAnenly to find out more about his market-leading operation, which runs a stunning fleet of vehicles throughout Ireland and the UK.
The genesis of McAnenly Transport & Logistics (Irl) Ltd. dates back 25 years to August 1st, 1993, when Monaghan man Sean McAnenly decided to start up his own transportation company. While Sean didn't come from a haulage background, he had cut his teeth working as Transport Manager with a successful local business and never looked back…
"I was actually in insurance initially and then went to Monaghan Mushrooms, where I worked as Transport Manager from 1989 until '95," he reflects. "Monaghan Mushrooms was a relatively new company at the time, having been formed by Ronnie Wilson in the early '80s, and I was there for the early years as the business experienced rapid growth.
"I was working in refrigerated work at Monaghan Mushrooms and in 1993 I bought my first truck. By '95, I was running three trucks of my own and was able to go out on my own."
For the next six years, McAnenly Transport continued to focus on refrigerated distribution into the UK and Europe. However, in the wake of the Foot & Mouth crisis of 2001, Sean switched his focus to providing a dry freight service between Ireland and the UK, which is still offered today.
To complement this, in 2013, he entered into a fuel distribution partnership with Topaz Ireland. Today, McAnenly Transport runs a fresh fleet of 18 vehicles alongside some 30 trailers, incorporating curtainsiders, euroliners, double deckers, flats and fuel tankers.
The mixed fleet of modern, immaculately-maintained trucks comprises Volvo predominantly alongside Scania and Renault. "We place a major emphasis on buying local and the service we receive from McDonnell Commercials in Monaghan [Volvo], Toal Trucks Services in Middletown [Renault] and McElvaney Motors, Monaghan [Scania] is second to none," Sean points out.
"We buy local and support the local businesses, with the added bonus that if an issue comes up, you have somewhere to go and they will look after you. Those three local suppliers are top class.
"I buy the vehicles with a service contract for three years and after that we do any light maintenance and servicing and checks on site ourselves. We have our own workshop and technicians here, who make sure the vehicles are always in perfect running order."
Long-serving McAnenly driver Darren Friary took the company's spectacular show truck to Full of the Pipe this year and suffice to say a lot of heads were turned…
Constant upgrading and replenishing of the fleet ensures that optimal service levels are consistently achieved. Last year, for example, McAnenly Transport took possession of two new Volvos and two new Scanias. "Our policy is to buy new and we then run the trucks for about four years before replacing them. The trailers are replaced every seven or eight years."
Between full time and part time, direct employment is generated for 23 people, which is quite an achievement considering that the haulage sector was almost brought to its knees by the recession. When asked what is the key to his business' popularity with customers, Sean answers instantly: "Service.
"When I was at Monaghan Mushrooms, the focus was on next-day deliveries and I have applied the exact same principles to dry freight as I did to refrigerated produce. If we take on to do something, then we will do it. All of our consignments are delivered on time and we never let our customers down.
"Service is key to the strong relationship we have with our customers and I'm still working for all of the same people I was with when I started out. We concentrate on service and make sure we have the equipment and the personnel to deliver what's expected of us. We keep customers in the loop and they are looked after."
On a day-to-day basis, McAnenly Transport delivers a lot of construction-related materials, as well as seasonal peat haulage and groupage, which can cover a multitude of different items. Full and part loads are accommodated; single drop or multi drop.
"The growth in building over the past three years has been phenomenal," Sean notes. "We have a network of customers in the UK who we've worked with for years and we also do express, next-day deliveries back to Ireland – groupage, foodstuffs, packaging and white goods, mostly."
For Topaz, meanwhile, deliveries are made from fuel terminals directly to forecourts.
Complementing the superb fleet is an excellent team of personnel: "You are only as good as your staff," Sean confirms. "All our drivers are trained to the highest levels and the tachographs are independently analysed to get feedback on their performances. They tend to stay with us and that has obvious benefits. Our office staff have been with us for twenty years or more."
Looking to the future, investment will continue to ensure unbeatable service levels across all facets of the business. "We have always moved with the times," Sean says. "We started in refrigeration and became experts in that before moving into dry freight, then diesel. We will continue to streamline and expand accordingly in line with demand and customer needs.
"We're in the process of purchasing two new Sacim tankers from Italy via David McIlveen in Markethill. Sacim is a long-established family business that goes back almost 100 years in Italy and these will be the first tankers of their kind to be put to work in Ireland. They are state-of-the-art tankers that we have spec'ed and sourced specifically for our work with Topaz."
Being located close to the border and conducting so much business between Ireland and the UK, the future direction of McAnenly Transport could of course be affected by the outcome of the referendum that took place in the UK on June 23rd, 2016.
"We'll keep concentrating on servicing our customers as best we can," Sean concludes. "A lot will depend on Brexit, so we'll have to keep a close eye on that and see how it plays out."
McAnenly Transport & Logistics (Irl) Ltd.,
Moybridge,
Emyvale,
County Monaghan,
H18 Y270.
Tel: 047 86111
Taken from Irish Trucker & Light Commercials magazine, August 2018, Vol 21 No 6