Three decades in breakdown and recovery
08/01/2019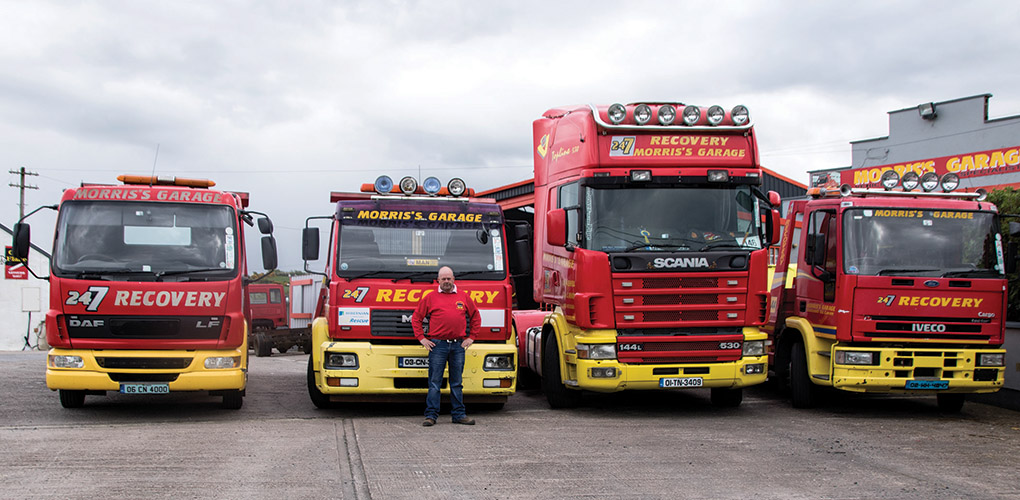 Morris's Garage in Cootehill considers itself as one of the top recovery specialists in the Cavan/Monaghan region, so Irish Trucker felt it was time to learn more about its success from its owner Brian Morris.
In business for 30 years now, Morris's Garage in Cootehill, Co Cavan is a company which knows the ins and outs of the recovery industry as well as any in the country.
Headed up by Brian Morris, they operate a fleet of 10 vehicles and offer its clients a nationwide service with half of the work at present seeing Brian and his trusted staff making regular trips to Dublin.
Many of those clients are amongst some of the big name insurance companies in Ireland and down through the years Brian has managed to establish an excellent working relationship with them. That has come through providing them with a first class service time and time again and there's no sign of that trend breaking, as Morris's Garage has hit the ground running for 2018.
Irish Trucker learned more about the business from the man himself recently, along with its impressive fleet which is currently a blend of Scania, Volvo, DAF, Man and IVECO trucks.
"We're along the Ballybay Road in Cootehill, Co Cavan. The company is established 30 years and we've four staff. I'm the owner," Brian outlined.
"What we do here is supply a 24-hour breakdown and recovery service nationwide. We work for all the leading insurance companies in breakdowns, new franchises and road traffic collisions.
"We've our own garage for repairs and we also do diagnostics on trucks and cars, provide tyres and fix punctures. We specialise in motorcycle recovery as well."
It seems that Morris's Garage offer the full package when it comes to breakdown and recovery for their customers, so it's not too difficult to understand how and why Brian has managed to stay in the game for three decades.
His background before he took the decision to go out on his own was one in mechanics and when he first started out it was with just one single tow-truck.
Things grew from there and Brian got busier and busier to the point where he needed more vehicles on the road and drivers to drive them. Morris's Garage was born and, happily for Brian, he hasn't had to look back since – even in the times that were tough for the recovery business.
"I served my time working in a garage in Co Monaghan," Brian reflected on his qualification. "I got qualified then and started working for myself, progressed and built a workshop for myself here in Cootehill.
"I bought one tow truck and seen that there was demand so we upped it to the point where we are today.
"After 30 years, we've seen good times and bad times but we're still here. In 2008/09, fuel costs were high but we had all of our machinery here bought and we owned our own facilities, so there were no overheads. That was important for us."
Based right along the Monaghan border, the company has built up a loyal list of clientele and is renowned for its top class service throughout the region.
So far in 2018, things have been going well with Brian's trucks flying out the gates in Cootehill to offer customers much needed assistance.
As far as the Managing Director is concerned, he'd like to keep it that way throughout the year – even if it means heading for the capital six days a week.
"This year business has been good. Around 50 per cent of our work is in Dublin and it seems to be moving and getting bigger and bigger," Brian stated.
"It is in our contracts that there's nil refusal of work so we have to be there for our clients wherever they are. That helps keep us busy and if I do get any spare time, I'd be into restoration."
Offering that "nil refusal" in contracts is clearly a big attraction for clients and it's something that Brian has learned over the decades.
However, he has never faced anything like the challenges of the present time with insurance being through the roof for companies such as his and it makes one wonder how exactly he makes it all work.
Brian believes that his hard-earned reputation has a lot to do with it when it comes to attracting business, having already gained the trust of big name clients all over the region.
"We work for the North Eastern Health Board and County Councils," he said.
"In this business we need massive cover and business is only getting harder and harder with the insurance.
"We'd be one of the leading recovery specialists in Cavan and Monaghan. It has just built up that way and our reputation has got stronger as the years have gone on. Thankfully, we're going quite well here at the minute."
The fleet which Brian operates with at the present time would suggest as much.
There are 10 trucks presently at the premises and they are very keen on vehicle maintenance, routine inspections are carried out every six weeks. They are also IFRS approved and have waste carriers and holders licences on the facility as well.
"We run Scania, Volvo, DAF, Man and IVECO trucks. We buy them all in the UK and off Frank Walsh in J&F Trucks Belfast. We also deal with McAleenan Bodybuilders in Dundalk."
All things considered, it's not hard to understand why Brian Morris has made this venture into a success story throughout the last 30 years and no doubt he has his eye on upgrading his fleet in 2019, as business continues to thrive.
Morris's Garage
Ballybay Road,
Cootehill,
Co Cavan
Tel: (049) 555 6093
Taken from Irish Trucker & Light Commercials magazine, August 2018, Vol 21 No 6