A rapid rise for McNally Logistics
07/01/2019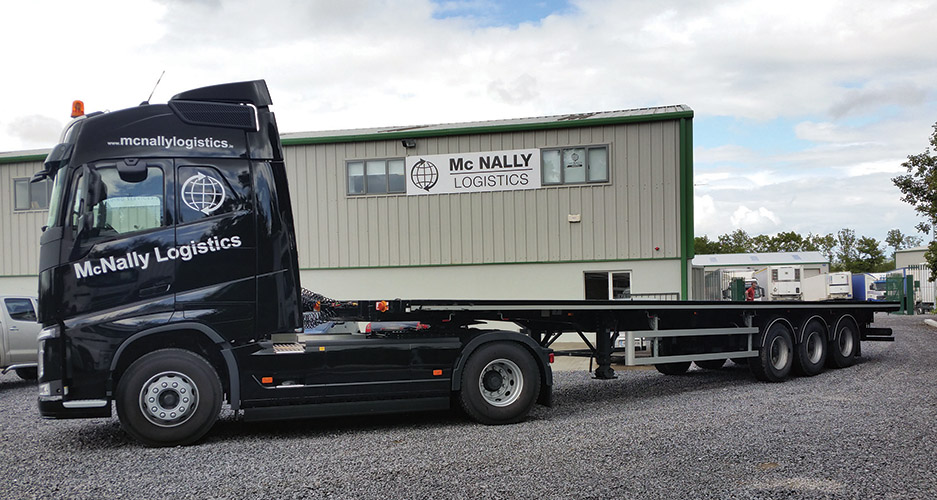 In the short space of just five years, McNally Logistics in Co Meath has grown its fleet up to 16 trucks with the figure set to rise again in 2019. Irish Trucker caught up with company Transport Manager Alan Reilly to learn more.
It has been quite the success story for McNally Logistics so far and the intention is to keep things growing out in Ardbraccan in Navan.
The company's rapid growth has saw it develop into specialists in both national and international haulage, along with UK and Ireland transport, storage, pallet distribution and cross docking.
It took just three years for McNally Logistics to grow from a small, two-truck operation into one that is amongst the leading logistics and distribution companies in the North East of Ireland.
Along with the expansion, a move to a new premises in the townland of Ardbraccan, which is where its owners hail from, followed and now – two years on – business is as good as it has ever been.
Alan Reilly, who is McNally Logistics' Transport Manager, explained as much to Irish Trucker when we caught up with him recently.
"We've 18 full-time staff working here – 16 of which are drivers – and 19 trucks which are made up of Volvo, MAN, Iveco and Scania," Alan outlined.
"Business is quite good at the moment. There's a bit of an increase on fuel at the minute but, other than that, we can't complain with the way things have been."
McNally Logistics provides daily cross border services in Ireland, England, Scotland and Wales and is very much at the cutting edge of its industry, specialising in groupage, insulation and wide and abnormal loads throughout Ireland, the UK and continental Europe.
The company is a leader in logistics and distribution in the country's North East and it provides their clientele with professional and cost-effective transport and haulage solutions that they can trust.
One of those trusted clients is Modern Homes Ireland (MHI) – a company which McNally Logistics supplies four drivers and four trucks practically 12 months a year, according to its Transport Manager.
MHI builds steel homes to the highest standards. The company is committed to delivering high quality, energy efficient and affordable homes which meet the need of modern living.
"We have a very good contract with MHI that has created extra work and the need for new trucks and trailers. Xtratherm, who manufacture a wide range of insulation products in Navan, are another good customer of ours," Alan explained.
As for the fleet McNally Logistics are operating with, it's made up of articulated tractors units and trailers which are among the most modern in the country.
The tractor units are fitted with the latest GPS and fleet management systems to ensure close monitoring of vehicle movements and optimum efficiency across the fleet.
The trailers are a mixture of curtainsiders, flats, low loaders and Euroliners, with the curtainsiders being three metres internal height for easy loading. The majority of the trailers are custom made to ensure maximum value for your transport costs.
"We have 45 trailers ranging from curtainsiders that cover Ireland and the UK to Euroliners, step-frame and low loaders which cover Europe," stated Alan.
"France, Germany, Holland, Belgium, Austria and Italy are among the countries we cover on the continent."
All of the trucks at McNally Logistics are modern and they've recently purchased a brand new MAN from Dublin with an eye on upgrading the fleet further next year.
It's a far cry from when the company started out with just two trucks in 2013. The growth since that time has been remarkable and the objective is to keep up the trend as the McNally Logistics' reputation grows stronger and stronger.
So what has been the secret to the company's success to date? How has it come so far in such a relatively short space of time?
"We're providing an excellent service and because we're smaller we make sure to be that bit more tight and efficient with our times," said Alan.
"All of our trucks here are on trackers and there could be as many as 10 trucks gone over between the UK and Europe on a daily basis."
He added: "We try to keep the fleet as fresh as possible. The newer the truck, the less chance there is of breakdowns occurring. We have moved to MAN from Volvo.
"MAN is a good solid truck, very economical and comes with a four-year warranty. We have found Cathal Sweetman in MAN Importers Ireland easy to deal with it, and that helps too."
McNally Logistics' trucks are always immaculately turned out, providing a nice touch two years back when they changed its livery to black and white, and their drivers take great pride in their appearance.
Indeed the drivers are a big part of the success story at McNally Logistics and Alan is quick to credit them.
He concluded: "We have 18 full-time and 16 of them are drivers, as well as two office staff who are friendly, reliable and very good at what they do. They are playing a big part in our on-going success."
All going well, that success looks set to continue at McNally Logistics for years to come.
McNally Logistics
Ardbraccan,
Navan,
Co. Meath
Telephone: +353 (0)46 9028292
Fax: +353 (0)46 9093614
Email: [email protected]
Mobile: +353 (0)87 9894904
Taken from Irish Trucker & Light Commercials magazine, August 2018, Vol 21 No 6