Deerpark Haulage going from strength to strength
05/01/2019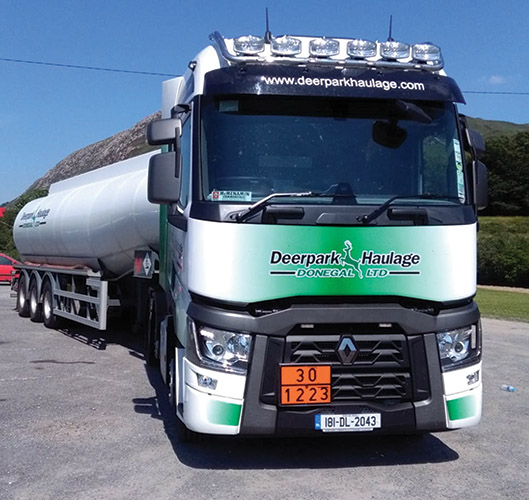 Donegal based Deerpark Haulage Ltd is a specialised company that operates solely in the bulk liquid transportation sector. Of all the services in the haulage industry, none has more stringent regulations in place.
Every 'I' has to be dotted and 'T' crossed in order to comply with the legislation that is in place. Through over ten years of experience, the team at Deerpark have become vastly knowledgeable in their area of expertise.
The family run business was established by Joe and Priscilla Dolan back in 2006. Joe grew up around trucks as his father Johnny was involved in the industry for many years. The aim of Deerpark Haulage Ltd was to provide fuel transportation services to a loyal customer base.
Around the same time the Lissan Coal Company (LCC) launched a joint venture with Statoil to build the first oil terminal at Derry Port with the idea of importing oil directly to the north west.
Fortunately, for Joe and Priscilla, they managed to attract some work off the LCC Group and the rest as the say is history. Eleven years later and the two companies are still working together and as LCC have grown so to have Deerpark.
"The LCC Group are our only customer and we have been working with the since shortly after Joe set up the business. Being based in Newtowncunningham is certainly a plus as we are ideally located to service the north west of the country," said Transport Manager Davy Lyle.
As stated, as the LCC Group grew, so to did the Deerpark Haulage Ltd and from running initially just one truck to a fleet of dedicated vehicles looking after all of their customer's transportation needs.
"Ten years ago, LCC started focusing on biofuel and we were contracted in to haul that biofuel from New Ross back to Derry which is a 900km round trip. These days, we are transporting 300 tonnes of biofuel per week.
"The trucks are running on a daily basis and they service filling stations along the round. For the last year and a half, we have been collecting ethanol fuel from Dublin port every week. These trucks would be hauling between 70 and 100 tonnes per week."
Davy revealed that there are massive time constraints within the industry as if a station needs a fill, they need it straight away and he added that they are always ready to go for the LCC Group.
"Being located where we are, we can be at the depot in a few minutes, which often has been the case. With the price of fuel being so volatile, any sniff of it going up and consumers are looking for a fill before that happens, so you have to be ready to go at any time."
A new truck has been recently added to the fleet and on this occasion, they have opted to purchase their first Renault, a T520, which was bought from local dealer McMenamin Commercials and Davy admitted that they were very happy with their new buy.
"We dealt with Shay McMenamin who is a local dealer here not far from us and we are delighted with the truck. It is hauling to the site in Dublin at the moment. The rest of the fleet consists of five DAFs, one Volvo and a MAN, which is used as a spare."
Davy stressed that maintenance was a key issue for them and that regular checks were carried out that they were kept in pristine conditions as downtime was simply not an option.
"We would carry out six-week checks on all the fleet. We have artics and rigid trucks in the fleet and although the fleet is kept relatively new, maintenance is something that we place a great emphasis on."
Of course, one of the biggest issues in the haulage industry at the moment is the price of insurance which has doubled year on year in the last 24 months. Working with such hazardous materials means that the Deerpark drivers must go through training to ensure that they are up to speed with all the regulations in place, otherwise, they won't be insured.
"The insurance is a major issue in the industry at the moment. It is continuing to rise and who knows where it is going to stop, but something needs to be done about it.
"There is a policy in the company for any driver under-25 that starts with us to do four weeks supervised training, while all our drivers undergo refresher courses every year.
"The staff we have are very experienced and without them, the company wouldn't have had half the success that it has over the years."
Davy admitted that business is steady at the moment as the summer months generally are, but rising fuel costs also dictate the market and how busy they are.
"Business is good, once LCC are busy, we are busy. They have opened a new site in Dundalk, which is one of the biggest sites in the country and that has brought about some more work, so hopefully we can continue to grow with them in the future."
Deerpark Haulage Ltd
Newtowncunningham,
Co Donegal.
Taken from Irish Trucker & Light Commercials magazine, August 2018, Vol 21 No 6