AIR commercial services - prompt and efficient servicing and repairs every time
13/12/2018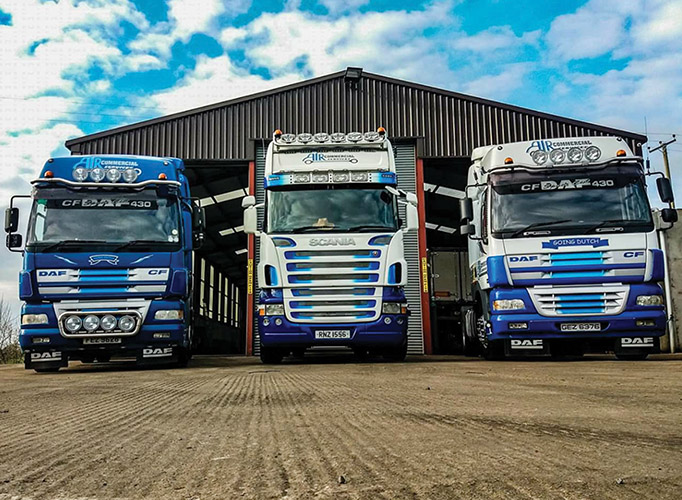 AIR Commercial Services Ltd. provides a full range of commercial vehicle repairs, inspections and diagnostics, catering for both trucks and trailers. We dropped into their busy Ballymena workshop and met founder Alwyn Hayes to find out more.
Established in 2006, AIR Commercial Services Ltd. has over the past twelve years developed a stellar reputation as one of Northern Ireland's premier commercial vehicle workshops, providing diagnostics, repairs and inspections on all major trailer EBS systems and truck makes as well as PSV preparation, complemented by a 24/7 breakdown service.
The workmanship and service levels offered are second to none and this is why the business continues to expand on the back of a large volume of repeat business plus positive referrals. AIR Commercial Services is in a strong position going forward:
"We're trying to do our best and to look after our customers," says proprietor Alwyn Hayes. "I used to be a farmer myself and then became a lorry driver for SH Coleman, agricultural merchant, doing North – South work, delivering animal feeds. That's still where the core side of the business would be today, doing a lot of blower trailers, etc. as well as the truck work."
Alwyn has painstakingly built the business up through hard work and graft, as well as no little dedication, over the past dozen years or so. His catchment area incorporates all of Northern Ireland and he also has some customers from south of the border.
The vast range of services provided includes full diagnostics and repairs, eight-week inspections, PSV preparations, brake testing, servicing and maintenance, wheel alignment (to minimise tyre wear and optimise fuel economy) plus 24/7 breakdown recovery. Alwyn makes himself available around the clock and hasn't switched his phone off once in the last twelve years!
The well-appointed location is another one of the business' many strengths. "We're half a mile off the A26, north of Ballymena. We specialise in trailers – that's what we started out doing and that has been our biggest growth area. On the truck side of things, we don't do any engine work, but we do everything else, including clutches, etc."
The fact that AIR Commercial Services have been looking after Moy Park, Ballymena's entire fleet of trailers for the past decade speaks volumes for the high esteem in which the business is regarded. Over the years, Alwyn has amassed vast knowledge of the workings of trailers. Being enthusiastic about the work is a massive advantage…
"I've been mechanicing since I was able to walk and am self-taught," he points out. "After leaving school, I attended agricultural college at Greenmount, but my brother took over the farm and I left to do truck driving, before spotting that there was a market to do repairing."
It was an inspired decision. "We're very busy but the biggest problem we face is that there's a shortage of mechanics in this sector," the affable Antrim man notes. "If we could get the mechanics, we could expand the business quite a bit. Unfortunately, there are no young men coming through to do this kind of work.
"The Government has promoted education, universities and Degrees but there's nothing wrong with getting your hands dirty. There are good rewards for it and there's more money to be made as a mechanic than pushing a pen. You can also achieve more and get more job satisfaction. There's nothing like the satisfaction you feel when you get a customer's wheels rolling again and get him back on the road so that he can earn his living.
"We've actually put out ads for jobs and had no interest. If I had ten good mechanics at my disposal, I could get them work no problem. VOSA has introduced measures for roadworthiness and compliance, which is a good thing as it promotes safety, but they have forgotten that there aren't enough people in the country to do the work properly."
Alwyn also places a major emphasis on training. "We've been working with TCTS Group Ltd - Transport Compliance & Technical Specialists – and they carried out some training at our workshop earlier this year. It's live training on the day on vehicles to make sure we are complying with VOSA standards and we all got something out of it. Even though we were already operating to very high standards, it made us more aware of some of the finer points and it ensures that all the 'i's are dotted and 't's crossed.
"A bit of training goes a long way. Even the oldest hands, who know what they are doing, learned something, so it was worth paying for."
Twice-yearly underbody washes are also offered to preserve the chassis from salt and to make things easier during testing. Furthermore, AIR Commercial Services also provides aluminium welding and body repair solutions, with minor machining carried out in-house. "We're blessed with local suppliers, like JNK Components Ltd. in Ballymena, who are our No.1 supplier and have stood by us since Day One. The parts are always here in double-quick time and without them I wouldn't be where I am today. I also deal with SDC Trailers, Montracon Trailers and all the local companies."
A quick glance at the company computer reveals that AIR Commercial Services boasts in excess of 500 customers. "We're hoping to expand the business further but getting young men who are interested in work is going to be difficult," Alwyn states. "We would definitely look at opening another workshop but getting the manpower is a major stumbling block. Having said that, we are tipping along nicely as we are.
"At the end of the day, it's all about looking after your customers," he concludes. "We have a very high percentage of repeat business, many of whom have been with me since the beginning. All vehicles go back to the customer washed and serviced and in perfect running order. We also have a very high PSV first-time pass rate as we are so tight and stringent in our inspections that we let nothing slip through."
Alwyn Hayes' enthusiasm for all things truck and trailer related is infectious and this is why AIR Commercial Services Ltd. is set to be a resounding success story for many more years to come.
AIR Commercial Services Ltd.,
75 Loughmagarry Road,
Clinty,
Ballymena, County Antrim,
BT43 6TP.
Tel: 028 25656248
Mobile: 077 11742225
Taken from Irish Trucker & Light Commercials magazine, August 2018, Vol 21 No 6