Freight specialist IDM delivering the goods
28/11/2018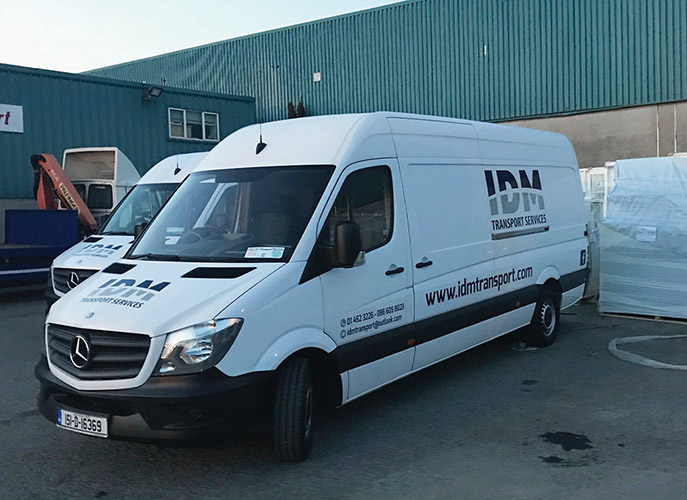 With a mixed fleet of 30 vehicles on the road, standard-setting groupage and courier specialist IDM Transport Services has gone from strength to strength since its inception in 2012. Irish Trucker visited their Tallaght base and caught up with director Dave McKee to gain an insight into this exceptional family-run operation.
Although the business has only been in existence for six years, the team at IDM Transport Services, Tallaght boast decades of experience of delivering unrivalled freight, cargo and general haulage solutions. Dave McKee, who runs the company alongside his brother Isaac, reflects:
"We ran two smaller companies and in 2012 we decided to amalgamate and form IDM Transport Services. We operate nationwide, providing a general haulage service for the larger logistics and groupage firms. Essentially, we provide the trucks and drivers to deliver their stock safely and on time."
IDM's biggest contrast is with Primeline Logistics, although they also work for a veritable who's who of logistics companies and freight forwarders across Leinster and beyond, including Ace Express Freight, C&C Logistics, PRL/Britvic Quality Freight and Cargo Link UK.
Providing versatile, efficient and reliable general haulage solutions, the fleet at present comprises some 30 vehicles – six tractor units, 20 rigids and four vans. It's a mixed fleet, with Dave and Isaac happy to purchase the best available truck or van each time, regardless of make or model.
"We've found Mercedes Sprinters to be very reliable and we also have quite a few DAFs in the fleet at the moment," Dave notes. "The tractor units are MANs and we've also recently purchased a couple of fresh, second-hand Scanias in the UK at the right price. It's all about putting quality vehicles on the road at the end of the day and you can still get a good deal in the UK even after the high cost of importing them is factored in.
"That's the route we decided to take from the beginning. We find value in buying from the UK and bringing them over and the result is that we now own most of our vehicles. About 80% of the fleet is owned and 20% is leased. We've had to budget to get there but we have managed to do so while keeping very high quality vehicles on the road as well.
"Both of us, myself and Isaac, were caught out badly in our previous companies. I lost a couple of big contracts in 2009/2010, having invested in vehicles to service them, and that hit me hard. My brother was the same and it happened to a lot of other hauliers during the recession. Between rates being cut and contracts lost, it was a difficult time for haulage and you don't want to leave yourself exposed to that again. Having learned our lesson, we set out to do it right this time and we decided that we would buy our own stuff."
All the vehicles are kept in immaculate condition and optimal running order at all times. "We have our own maintenance team here and we try to do most of the work ourselves, including the 13-week inspections," Dave adds.
Considering that IDM Transport Services has evolved to the stage where it holds many key contracts, is regarded as a market-leading freight / groupage service provider, and generates direct employment for a team of 34, Dave must be proud of the progress the company has made in a relatively short space of time?
"It has been successful so far and we have plenty of work, thankfully, but we will be striving to keep our standards up and even to improve them. As all of those logistics companies took on more contracts and became busier, we have grown hand in hand with them."
Looking to the future, Dave feels that further growth is possible but it's not necessarily something that IDM will be chasing: "Our goal is to continue to provide a good service," he states. "By doing that, we should be able to grow within reason. But we certainly don't want to outpace ourselves. There's enough stress in this line of work without that.
"We've just got an extension to our contract with Ace Logistics and will be putting a sixth truck, trailer and driver to work with them full-time. Steady growth like that is natural, sustainable and manageable but you have to be careful not to lose the run of yourself or overstretch. Of course, the difficulty associated with trying to source decent drivers is an obvious limit to potential growth, as well, so you have to proceed with caution."
Another challenge facing haulage operators is the ever-increasing cost of overheads, which places a massive downward pressure on margins. "Insurance and diesel have gone through the ceiling and tolls are a serious bone of contention around here," says Dave. "Michael Noonan did do something about the tax, in fairness, but the tolls really add up and we're handing over a lot of money to insure 30 lads. We have cameras on all the trucks now, though, and that has proven to be beneficial to us in keeping the premiums down a little bit."
A third McKee brother, Sam, is part of the driving team and – as a family business – the directors go out of their way to deal directly with customers and afford a friendly, personal service.
"We're very much hands-on," Dave confirms. "I've been off the road myself for the past two years, although I still do a little bit of driving from time to time to cover for holidays, etc. The phone was ringing constantly and you just can't run a business of this size from behind the wheel.
"Myself and Isaac both hold the CPC transport management certificate. He's transport manager at the moment and he prefers to be out on the road driving. I'm overseeing maintenance – the checks, the tests and the MOTs. Fortunately, we have a very good crew working here and they all play their part in the success of the business on a daily basis."
IDM Transport Services,
29 Alderwood Grove,
Springfield
Tallaght,
Dublin 24,
D24 CXP7.
Tel: 01 4523226
Mobile: 086 6058023
Email: [email protected]
Taken from Irish Trucker & Light Commercials magazine, July 2018, Vol 21 No 5