The Italian connection
21/11/2018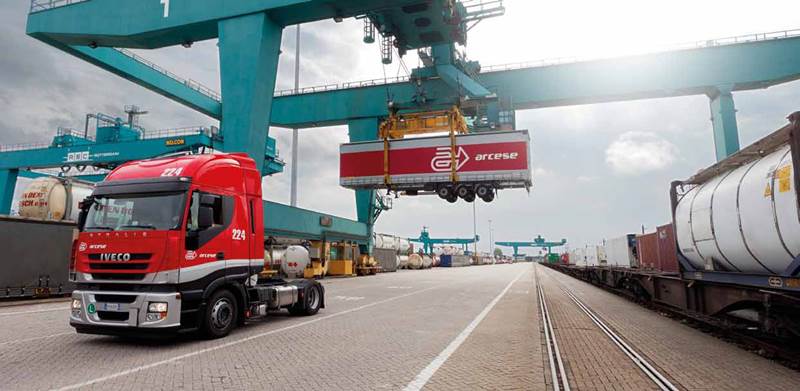 Renowned for providing exceptional freight solutions between Ireland and Italy, Arcese Cosulich Ireland Ltd. have expanded their services to incorporate competitive Continental Europe groupage. Irish Trucker touched base with managing director Marco Mazzini to get an update on operations.
Ireland–Italy freight specialists Arcese Cosulich Ireland Ltd. have expanded operations to now specialise in the transportation of groupage from Italy, France, Spain, Germany and Benelux, transporting chilled, frozen and general cargo to Ireland and the UK at truly competitive rates.
Already firmly established as the freight provider of choice for groupage and full loads from Italy to Ireland – either economy (for non-urgent goods) or standard - Arcese Cosulich Ireland Ltd. is also is the recognised market leader for groupage services by road from Italy to Ireland.
The groupage service to Italy is fast and reliable and, more importantly, direct. Trailers leave from Dublin every Friday and arrive in Arcese Cosulich's Milan warehouse the following Tuesday. From there, goods are delivered efficiently and in a timely fashion all over Italy via a domestic network. Arcese Cosulich can also carry ADR and temperature-controlled goods.
With over 15 weekly departures from their depots in Milan, Verona, Treviso, Modena and Florence, they have the flexibility to handle even last-minute requests thanks to their efficient transport network and state-of-the art warehouses. Their Italian speaking staff have many years' experience dealing with Italian suppliers and in general with a market that requires inside knowledge and great flexibility.
Services are no longer limited to Italy as Arcese Cosulich have spotted an opening in the market to diversify and expand their operation to take in more of Europe… "We're in the process of launching a groupage service to and from Continental Europe via two depots in Belgium," managing director Marco Mazzini informed Irish Trucker.
"We're currently rolling out that service and we can arrange the collection of general cargo and temperature-controlled cargo from Continental Europe." Thus, going forward, Arcese Cosulich Ireland Ltd. is now the Italian and Continental Europe groupage specialist!
They have been providing the Italian service for eleven years now and have mastered it. So it was clearly an opportune time to expand the service and offer a wider range of solutions.
The haulage itself is subcontracted out, mainly to Irish hauliers. When I spoke to Marco, he told me that 20 Irish trucks had been loaded in Italy that week alone – so the knock-on effect for the Irish haulage sector is substantial. "We'd work with anything between ten and twelve Irish hauliers during any given month," he adds.
Mastering the art of transport, Arcese Cosulich Ireland Ltd. is a joint venture between Arcese and Fratelli Cosulich, world leaders in transportation, freight forwarding and shipping services. The combined consolidated turnover of the two parent companies is in excess of €1.5b.
The company was set up in 2007, originally as Fratelli Cosulich Ireland, by a team of experienced Italian freight-forwarders with extensive knowledge of both the Italian and the Irish market. Thanks to the prestige that the Fratelli Cosulich brand commands internationally, it was relatively easy for the newly-born Dublin office to become well established in the Irish market.
The arrival in 2009 of Arcese, Italy's largest privately owned transport company, was an important factor in ensuring stable growth for the company, even during a time of great economic challenges on a global level. The newly formed joint venture helped Arcese Cosulich emerge as one of Ireland's leaders in transport services both to and from Italy.
By 2010, Arcese Cosulich had expanded its services beyond Italy, to include regular departures from France, Spain, Germany and Benelux both of general and temperature-controlled cargo, making it into a one-stop shop for many companies in the food industry importing dry and perishable goods by road into Ireland and the UK.
In October 2012, Arcese Cosulich launched the first intermodal groupage service from Italy, filling what they believed was a gap in their range of services for all those non-urgent shipments that are allowed to travel more slowly urgent using a cheaper mode of transportation. With this idea of 'slow freight', they aim to help contribute to the emergence of a greener and more sustainable global economy.
As for the nature of the produce transported, the affable company MD continues: "We do a bit of everything, really. "Around 50% of it would be temperature-controlled foodstuffs and we also carry a lot of general cargo – ceramic tiles, machinery, furniture, hydraulic pumps, chemicals, catering equipment, etc.
"We are running two full trailers per week between Dublin and Milan and we will expand that groupage service, as well as expanding more into Continental Europe."
In addition to the haulage work subcontracted, gainful employment is currently generated directly for a team of eight, including Arcese Cosulich Ireland Ltd.'s two executive directors.
In 2015, the company acquired 50% of Belfast-based Roadliner International Ltd. in a move to expand their services into Northern Ireland. "We can now also provide a direct service from Italy into Northern Ireland, bypassing Dublin," Marco confirms. "We are also offering a competitive groupage service from Continental Europe into Northern Ireland."
Looking to the medium-term future, Marco says his goals are threefold: to increase the cheap and reliable intermodal groupage service from Italy to Ireland; to develop the recently-launched Continental Europe groupage service; and to expand operations in Northern Ireland.
"We'd certainly like to expand operations into Northern Ireland but, more importantly, we intend to expand the Continental Europe groupage service in general by fully exploiting our network in Europe," he concludes. "We're now offering customers in Ireland the full package of not just Italy but also Continental Europe. Ultimately, we want to at some stage also offer sea freight and air freight services through our global network but that's a story for another day!"
Arcese Cosulich Ireland Ltd.,
Unit 12,
North Street Business Park,
Swords,
County Dublin.
Tel: 01 8135460
Email: [email protected]
Taken from Irish Trucker & Light Commercials magazine, July 2018, Vol 21 No 5