Ireland's largest motorhome dealership
09/11/2018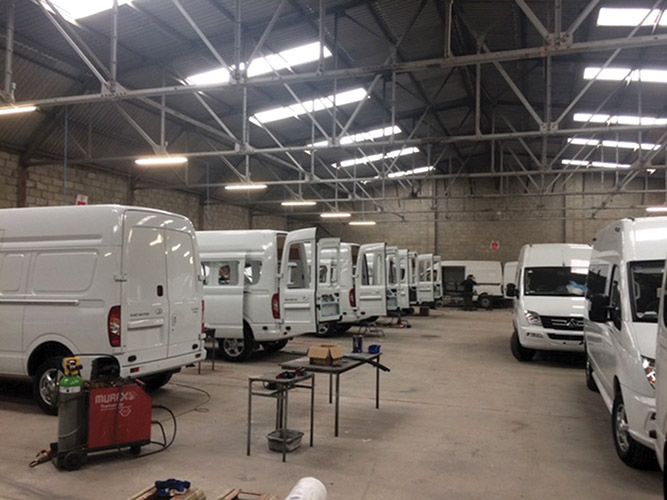 Donaghey Motorhomes in Co Donegal has been established as a Fiat Professional Service Centre for seven years now. Irish Trucker heard more from company Salesman Gerry Doherty recently.
The largest motorhome dealership in Ireland, Donaghey Motorhomes supplies new Dethleffs, Hymer & Carado, as well as Knaus Vans and van conversions from Hymer and Knaus.
The Letterkenny-based company is the largest selection of pre-loved motorhomes in the entire country and having serviced and worked closely with the Fiat marque for a decade and a half, attaining Professional Service Centre status, it would be fair to assert that the team at Donaghey Motorhomes have more than served their Fiat apprenticeships.
Gerry Doherty has been working in sales for the firm for the past 13-and-a-half years now and gave Irish Trucker the rundown on the largest motorhome dealership in the country.
"We've 21 full-time staff and right now we've over 80 campers and 20 commercial vehicles here," Gerry explained.
"The first three months of 2018 have been exceptionally good for us. The (Fiat) Ducato van has proved to be a real winner for us. Fiat has come in with a great warranty deal and this van really sells itself.
"One company in Ballybofey has bought six of them off us and everybody seems to be talking about the economy of them."
As well as getting a high-quality vehicle, customers can also rest assured that they will receive an outstanding service from a company that has built its reputation on remarkably high service levels.
With the Ducato, Talento, Doblò and Fiorino – each available in a number of variations - the flexible and highly-specced Fiat commercial range has something to suit every need.
Gerry is a Fiat driver himself and outlined his own opinion on the manufacturer's commercial vehicles strengths:
"First of all, they are very car-like to drive, with very light steering and clutching in the 130, 150 or 180 brake horsepower engines," he stated.
"So they're powerful and a pleasure to drive, while fuel consumption is amazing, with massive savings to be made on diesel bills.
"They're very reliable, very comfortable and very modern – they were the first to put the gear stick on the dashboard and the handbrake on the right hand side of the driver's seat. You get a powerful, smooth and economical drive with a limitless amount of options available.
"As safety is very important to us and one of our primary concerns is the safety of our customers on the road, we will have steering-wheel controls and Bluetooth on every model we sell.
"In short, it's a very, very good product. I've been all over Europe in an automatic Ducato camper van and I have to say it's truly something to behold."
When Michael Donaghey set-up Donaghey Motorhomes in 2001, he'd have hardly envisaged his company growing into the largest motorhome dealership in the country in such a short timeframe.
Michael had started the business from his own home before moving into the current premises on the Main Road in Letterkenny 14 years ago.
The recession was got through and things are on the up again with the van dealership another string to in Michael's bow.
"Michael had an engineering background and built a camper for himself and then decided to go out on his own," said Gerry.
"I was a bread man for 30 years and knew Michael before I started here. Now my job is my hobby and my hobby is my job – I'm 13-and-a-half years here now and I love it."
As for the clientele, they seem to be found of the good work that Donaghey Motorhomes do too.
Gerry explained that while most are local others have come from some of the furthest parts of the country to buy off the company.
"Most of them are from in and around Donegal but we'd have a couple from other parts. We'd one guy coming up from as far as Cork to buy before," he said
"We are going 17 years now and the thing about the gut that owns this place is the attention to detail on the back up service. It's really all about he back up service that we give after – it is a big thing for us."
The Sales Team at Donaghey Motorhomes boasts many years on the road as well as in the showroom.
The company's location in Donegal – one of the most beautiful counties in Ireland – is perfect for inviting and tour the county along the Wild Atlantic Way.
A collection facility from airports or ferry terminals is available and, as seasoned motorhome owners, Donaghey Motorhomes would be delighted to introduce you to the fabulous world of motorhoming.
They can even give you a bed for the night if you want to stay over in Letterkenny. There is always a huge selection, so you will need a bit of time to look at the options.
Gerry Doherty, Damian McElchar or Michael Donaghey will narrow it down for you. If they do not have it in stock, they will find it for you.
It's not hard to see why so may choose Donaghey Motorhomes and whey continue to get recommended time and time again.
Gerry feels clients choose them first for one overriding reason.
"They choose us because of the reputation that we have. The Fiat product is very good but they also know Michael and they know what they get with him he concluded.
Donaghey Motorhomes,
Drumnahoe, Letterkenny, Co Donegal
Tel: 074 9129235 | Fax: 074 9168298
Email: [email protected]
Web: www.donagheymotorhomes.ie
Taken from Irish Trucker & Light Commercials magazine, July 2018, Vol 21 No 5