An unbreakable link in the chain
06/11/2018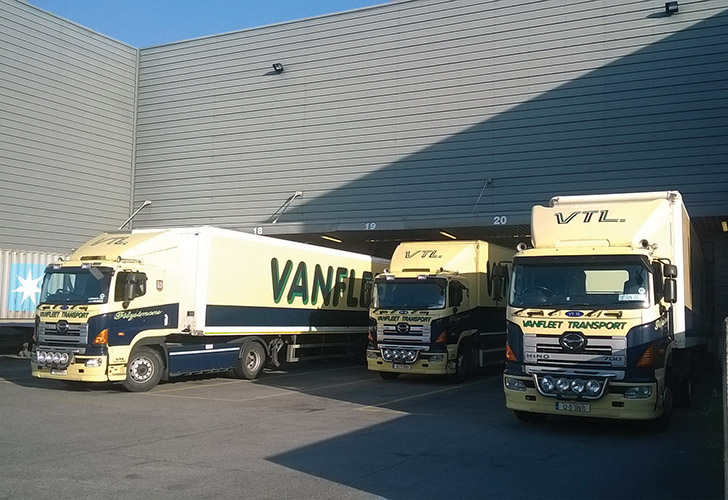 A vital link in the Dunnes Stores supply chain, Vanfleet Transport continue to deliver on the high standards they have set themselves.
What have iconic Irish brands such as Dunnes Stores, Cantrell & Cochrane, Jameson, Guinness and Saxa Salt all have in common?
Answer: they have trusted the Fitzsimons family to look after their haulage needs. Currently offering a regular delivery schedule to Dunnes Stores outlets, the Fitzsimons' have supplied a quality service to its varied clients since 1936.
John Fitzsimons sowed the seeds 78 years ago when setting up a business that counted C&C, Jameson, Guinness and Saxa Salt amongst its customer list.
His son Shay and grandsons have followed in the proud family tradition and they provide a distribution service exclusively to Dunnes Stores.
Shay - who sadly passed away on August 4th, 2012 - established Vanfleet Transport Ltd and Fleetway Transport Ltd (as a service provider) in 1983 and today his sons, Thomas (Managing Director) and Paul (Transport Manager) and daughter Gretta (Company Secretary and Director), oversee the smooth running of the family business.
And with eight full-time office personnel, 35 full-time drivers and eight sub-contractors on their books, the Rosemount Park, Ballycoolin headquartered business has come a long way and continue to build on their mutually beneficial arrangement with Ireland's leading grocery and retail store.
"We started operating a click and collect service on behalf of Dunnes Stores since 2012 where customer orders online and we deliver to the store," Paul Fitzsimons explained.
"Ours is a very seasonal business, it's beginning to pick up again now with the schools set to return, but, overall, business is going very good.
"We don't have intentions to expand or get bigger at the minute but that could change depending on the customer's needs. If they require us to we have no problem sitting down with them and discussing their needs."
It's this type of partnership approach with Dunnes Stores that has stood Vanfleet in good stead during these turbulent economic times. Attention to detail and a policy of continually updating their fleet are other key ingredients in their successful formula.
Hino is Paul's and Vanfleet's preferred choice of truck and they have built up a solid relationship with nearby Harris Hino: "Hino is very economical, that's the bottom line. It might not be every drivers' favourite truck but they fit the bill for us and are reasonable to run.
"We started replacing our 2008/'09 Hinos in 2012 with 10 new tractor units. The following year we purchased Hino rigids in place of two older Iveco lorries along with eight new tractor units. At the start of this year, we brought in an additional two new tractor units, one of which is a Highroad.
"We have introduced electric pallet trucks into our fleet to upgrade the Health & Safety on uplifting dry waste from stores. The amount of waste pallets can be 400 per day."
The ever-burgeoning company also boast their own workshop facilities: "We took on a full-time mechanic to look after the 12 week checks specifically and that will keep him busy and we also introduced a mandatory weight test on tail lifts."
Providing a nationwide distribution service, a typical day in the Vanfleet working week starts at 2am in the morning and all the vehicles are fitted with sophisticated, state-of-the-art tracking technology which affords the customer access to every detail they might with to retrieve at the push of a button, including the exact real-time location of a consignment, the departure and/or delivery times, ETA's etc.
A member of the Freight Transport Association, Vanfleet passed their first inspection "with flying colours" and were awarded Bronze accreditation on June 10th last.
Currently Bronze standards ensures that there is systems in place to manage the following: fatigue, roadworthiness, driver competence, road traffic rules, safe and legal loads, Road Haulage Operator Licence, professional competence, good repute, sustainable operations and contractor and support services management.
"It's the hardest one to get, we sailed through it so we must be doing something right," added Paul who was rightly proud of the fact that they ticked all the boxes.
"As regards driver assessments, we've had 15 drivers assessed to date on eco-driving and the reports back so far have been very good."
These are challenging times for practically everyone involved in the transport industry and Vanfleet Transport Ltd is no exception.
"It's a case of whatever the RSA comes up with next!" replied Paul without hesitation when asked what are the main challenges facing Vanfleet.
"In fairness, the FTA gives you a heads up about what's coming down the line but the 12 week check, for instance, is a costing that wasn't there before.
"I see the sense in it but I know for a fact that all our vehicles are kept right. We have nothing to be worried about in that respect but it is yet another hidden cost.
"Another thing is the UK road levy. We could have anything up to nine vehicles on the road across the border on any given day.
"Basically, at this stage, hauliers operating on uneven ground with the road toll charge. Northern lads can come down here and have carte blanche. It's unfair, we should be toll free, the government is making enough out of us on road tax.
"As always the price of fuel is a bone of contention even with the rebate. You have to keep everything on a strict budget."
"On as positive note, the RSA DOE's rewards people who keep their fleet maintained right. Safety is paramount in this business but it's a good image to promote. The olds days of the smokey black truck with bits falling off it are long gone."
Vanfleet Transport Ltd
Unit 1B
Rosemount Business Park
Ballycoolin Road
Blanchardstown
Dublin 11
Email: [email protected]
Taken from Irish Trucker & Light Commercials magazine, July 2018, Vol 21 No 5