The transport and haulage experts
31/10/2018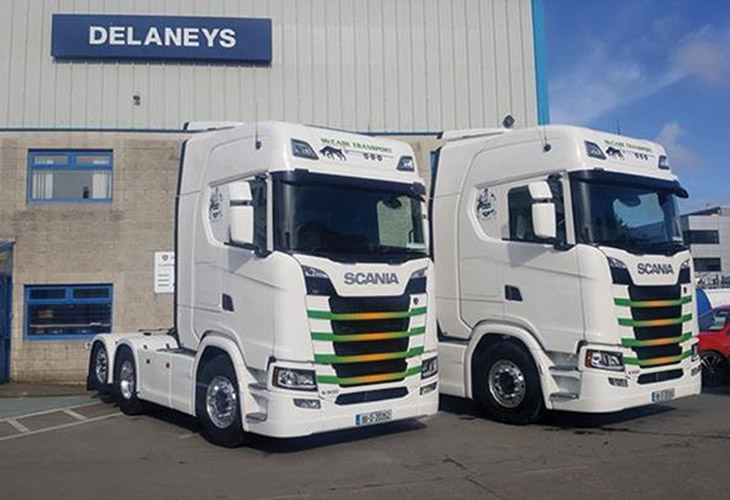 In operation since 1994, McCabe Transport services the 32 counties of Ireland along with the United Kingdom and Europe. Irish Trucker heard more from Managing Director Tom McCabe recently about what they've been up to, as well as the two new additions to their fleet.
Situated at Dublin Port, McCabe Transport's ideal location beside all Ferries is to ensure their clientele that deliveries are made fast and on time.
The company are operating with 15 trucks at the present time and, as far as the people behind it are concerned, they are ideally located to service Ireland and further afield cost effectively.
Tom McCabe is the Managing Director of the business and told Irish Trucker about the expansion of his fleet over the past few years, along with the welcome increase in clientele.
Indeed business has been good lately at McCabe Transport and Tom himself wouldn't have it any other way with things having picked up all round since the economic downturn.
Despite the increasingly hectic schedule, the Co Dublin native was able to provide the rundown on how things have been going lately.
"We've 22 staff here between the office and drivers and we're running 15 trucks," Tom stated.
"Over the last five years we've added a vehicle each year. In 2018, we've added two new Scanias so it's building nicely here right now."
The impressive fleet of 15 trucks also includes 27 trailers and all of the vehicles at McCabe Transport are fitted with an up to date tracking system in which the company has 24/7 access to.
It allows McCabe Transport to know exactly where the customer's load is at any time and also lets them check on their Haulage/Freight at any time whether it be day or night.
The company's trucks are installed with a tracking device which acts like a black box containing all information about the journey of the truck.
Using GPS and GPRS Technology, the vehicle can be tracked 24 hours a day anywhere across Ireland and the UK. So deliveries can be traced with the touch of a button.
When it comes to the trucks themselves, Tom has tended to stick with the Scania brand in recent years, as he explained himself.
"The last three trucks have been Scania and the reason I go with Scania is their reliability and the back-up service we get with them," he outlined.
"I have three of them that are here for 10 years now at this stage and they're still going strong for us. You're definitely getting your money's worth with them I feel."
And Tom should know. The man has been involved in trucks for most of his working life and has seen his fair share come and go from his premises in 83 North William St since he opened his gates 24 years ago.
Next year will see McCabe Transport celebrating a quarter of a century and there'll no doubt be one or two more Scanias added to the fleet by the time that anniversary comes round.
For now though, Tom is happy with his lot as the company continues to concentrate on national and international haulage. McCabe Transport delivers a high quality service in Ireland and the UK.
Needless to say, these are busy times at McCabe Transport and, going by the additions to fleet and staff in recent years, their Managing Director is intent on making hay while the sun shines.
"Business has been very good the last two years. I can't really complain at all," Tom said.
"Back in 2011 we were struggling with stuff that was out of our control really. You'd companies that were going bust and couldn't pay, but over the last four years we've added seven staff and things are going well thankfully.
"We've expanded on our clients the last few years and increased services for them as well. MSC Shipping and BOC Gases are two of our clients here that we'd do a lot of work for all year round."
The company's reputation is gold amongst its most trusted clients and likewise their business is greatly appreciated by Tom.
The question though is why do they keep choosing McCabe Transport first for its services ahead of other competitors?
Tom himself feels it comes down to two qualities in particular that his firm focuses on.
"I think it comes down to our punctuality and reliability. We are there to deal with problems every day for them and they appreciate that," he stated.
That appreciation has shone through for almost 25 years now and when Tom first started out all those years ago it would have been hard for him to envisage the success his company has had.
With 22 staff and 15 trucks at Dublin Port, things continue to move in the right direction for McCabe Transport and the plan is very much to keep things that way.
"When I started out here I was on my own with one truck in 1994. Now my daughter Sorcha is in the office here with me and my nephew Thomas is doing the planning and distribution.
"If we can keep going the way we are here and add a few more clients along the way we'll be happy," Tom concluded.
McCabe Transport
83 North William St,
North Strand,
Dublin 1
Email: [email protected]
Phone: 01 855 9330
Taken from Irish Trucker & Light Commercials magazine, July 2018, Vol 21 No 5