Born to drive
26/10/2018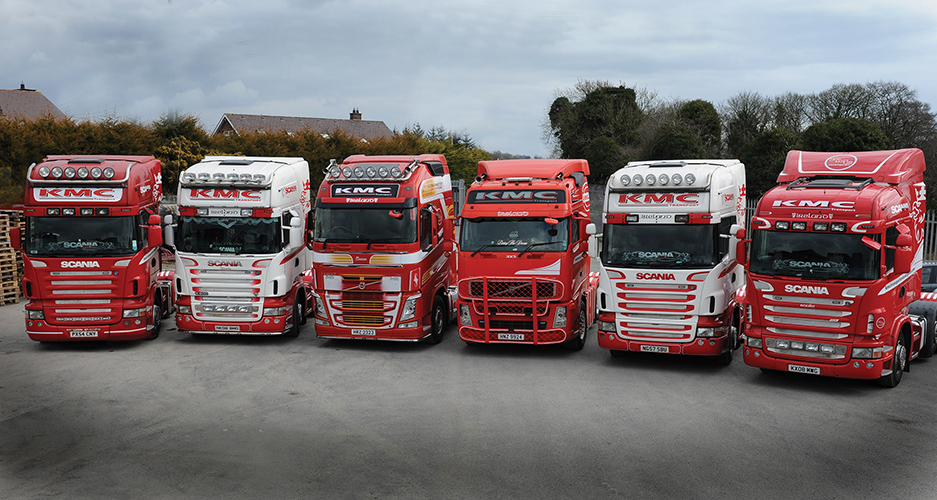 For many involved in the haulage industry, it is a way of life and has been for as long as they can remember. There's a saying that 'some are born with a silver spoon in their mouth' but for anyone born into the transport sector, it was a case of been born with the a steering wheel in their hand.
That is something that can be certainly attributed to Crossmaglen based Kevin McCreesh who has had a love of trucks all his life and it is no surprise that today he runs his own haulage fleet.
KMC Transport Ltd Ireland Ltd was established four years ago, but Kevin and his wife Amanda who bring many more years' experienced to the business having been involved in the industry all his life.
"Family is very important to me, I have two young sons Daragh 3 and Shea nine months, whom I hope will continue the business in the future," said Kevin.
South Armagh has always been a haulage stronghold with many of the businesses in the area considered some of the top firms in the country and to say that Kevin learned from the best would be an understatement.
"One of my uncle's was Sean Hearty who ran Sean Hearty Transport for many years. So I grew up around trucks and I would have a passion for them all my life, sadly he passed away a few years ago. I am lucky to have another uncle Gerard Hearty who also runs trucks and has been invaluable to me with his advice and support in getting established,"added Kevin.
"There have been some renowned haulage firms in South Armagh down through the years, many of which are still going strong and there is no better place to learn about the industry than here.
"I grew up in a hard working family and I knew that running my own business would be anything but easy, however I was fortunate to be able to set up the business in my uncle's yard and it was a great start for me to get when first starting. That was four years ago and now we have a fleet of eleven trucks and specialise in general haulage."
Kevin admitted that business is good at the moment as they have a core of customers that keep them busy at all times.
"Yeah, we are very busy at the moment, we operate throughout the 32 counties and in the mainland U.K. One of our biggest customers is Coca Cola where we distribute nationwide from their distribution centre in Lisburn. We would also do a lot of work for Primeline Logistics and Masterlink as well. The majority of our trailers would be curtainsiders."
Kevin operates a double shift for drivers in order to maximise the use of his trucks to their full potential and he feels that it is a system that serves them well.
"The double shift is definitely a major plus for us as you get to work the fleet a lot more than you would with just one driver. There are massive time constraints in the industry and it is important that we meet the demands of our customers."
As stated, KMC Transport Ireland operate a fleet of eleven trucks and Kevin revealed that he generally uses a make that is very close to his heart.
"I would have ten Scanias and two Volvos. Scania would be a truck that I always had a close association with and I would rate them very highly. We added the Volvos in recent times, the last of which is a Volvo Version 4. We would have a good relationship with McElvaney Motors and the fleet would be upgraded every three years."
Kevin added that the majority of their maintenance work is done by themselves in their own state of the art workshop.
"There are three mechanics working here full time and we would have a call out van on the road available 24hrs a day. We also have a commercial vehicle wash available.
"It is important to place a great emphasis on maintaining the fleet. With them being on the road so much, they need to be looked after and we would do regular checks on them."
Of course, the trucks may look well, but that is only half the battle as a team of experienced drivers is needed to ensure deliveries are made on time and the customers are kept happy.
"I'm very lucky to have a team of very experienced drivers some of who I would know from when I was a young lad and would have grown up with. You need drivers that you can trust and I have great faith in the drivers that are here. They do the job to the best of their abilities and that's all you can ask for."
In recent weeks, largely due to the space available at the yard, Kevin has begun storage and distribution which ties into the line of work that the company do.
"We are only at the storage and distribution a few weeks and it is an area that we will be looking to build on over the coming months, which hopefully we can. We would be pleased with the way business is going. We have good contracts with good customers, so we can't complain too much."
One complaint that Kevin has with the industry at the moment is one that all hauliers will agree with and that is the rising cost of insurance, which has been a massive hammer blow to hauliers.
"Our insurance has doubled in the last year and it has become a major headache for everyone involved in the industry. There doesn't seem that there will be too much done about it, but it is definitely something that needs to be looked at."
Amanda looks after the administration side of the business, a crucial area that deals with the legislation and regulations that have been imposed on the haulage sector in recent years.
"There is plenty of paperwork to be looked after alright. It certainly keeps me busy, but once you do everything properly and keep on top of it then it is that bit easier. The business is going well and hopefully we can grow with our customers."
KMC Transport Ireland
3 Donaldsons Road Creggan
Crossmaglen,
Newry
County Down
BT35 9DS
United Kingdom
Taken from Irish Trucker & Light Commercials magazine, July 2018, Vol 21 No 5