AJ Car Transport closes in on 20 years
18/10/2018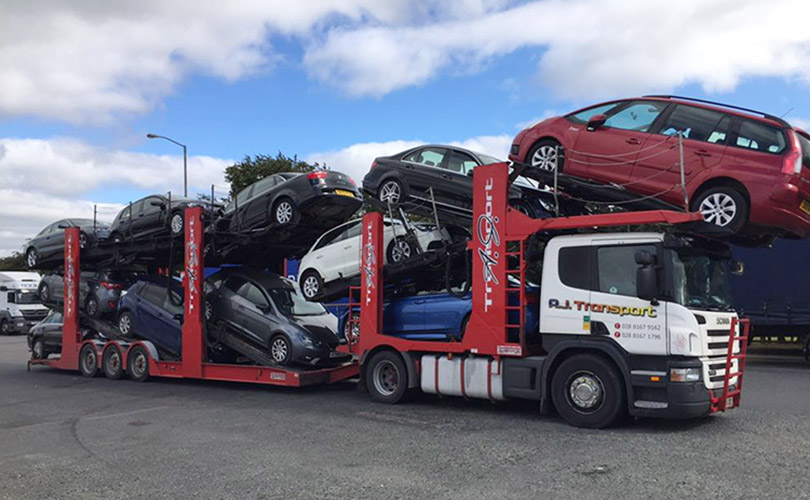 AJ Car Transport Ltd in Co Tyrone provide great value, high quality transportation and storage of motor vehicles, vintage cars, rally cars, trucks, van and commercial vehicles. Irish Trucker learned more from company founder Alastair Johnston.
Business is booming right now at AJ Car Transport Ltd and it shows no signs of slowing down either, according to its Managing Director Alastair Johnston
Based along the Kilclean Road in Castlederg, Co Tyrone, the company has had quite the rise since it was founded by Alastair nearly two decades ago to the point where it is transporting somewhere between 300 and 400 vehicles to and from the UK per week.
For Alastair himself, it's a line of work he's been involved with throughout his working career and he was good enough to take time from what is clearly a busy schedule to tell Irish Trucker all about it.
"We're in Castlederg, Co Tyrone and the company was set-up in 1999. Right now we're employing over 30 staff," Alastair outlined.
"It's very much a family company. I'm the Managing Director and my wife Joanne and daughters Stephanie and Stacey are also involved here.
"Basically what we do is provide a service of used motor vehicles to and from the UK from the north and south (of Ireland)."
Since Day One, the objective for the Johnstons and AJ Car Transport Ltd has been to provide their customers with the best possible service.
They work with some of the top transport and road haulage companies within the UK and Ireland, and the relationships built down through the years allow them to be flexible and efficient to meet the demands of their clientele.
Those customers have helped AJ Car Transport Ltd to become one of the leading road haulage car transport companies within the United Kingdom and Ireland.
That's a far cry from when Alastair first started out with just a single truck back in '99.
"I've always had the interest in this," he explained when reflecting on his company's origins. "I've been doing it since I was 17 basically and at 28 I bought my first truck and just grew the business from there.
"At the moment we've 27 trucks, 21 of them are on the road and are mainly Volvos."
Vehicle collection and delivery are the core services and the company can collect your vehicle and transport it anywhere within the UK and Ireland, giving the customer the peace of mind that it will be treated as their own.
According to Alastair, the demand for their services is high at the present time.
"Business doesn't seem to slow down with us here," he said. "There is always a demand for our service and we're happy to provide our clients with the best possible service."
"In this line of work you just have to take each day as it comes and keep optimistic. Thankfully we've been quite busy lately."
"We'd be doing a lot of work for WG Motors (Enniskillen), Colin Francis Cars (Ballyronan), GMV Cars (Dungannon) and SJ Davidson Motors Ltd (Dungannon)."
Stena Line, SeaTruck, P&O ferries, AC Components, Dennison and JB Tyre Specialists can all be added to the list when it comes to AJ Car Transport Ltd's regular suppliers and Alastair hopes to grow that list longer and longer as the years roll by.
As for the reasoning behind why he feels these clients choose AJ Car Transport Ltd first ahead of other competitors out there, Alastair feels it comes down to one quality in particular which the company guarantees its customers.
"I'd say it's for the reliable service that we give," he said.
Indeed repeat business and customer satisfaction has led to AJ Car Transport Ltd's great reputation for safe and efficient delivery.
The business is going strong at the minute and with daughters Stephanie and Stacey Johnston on board it is officially a second generation company.
Alastair is hoping for more of the same business-wise for the rest of 2018 and while no one knows what the future holds, especially with Brexit around the corner, he's as optimistic as ever about the future.
At the moment the majority of Alastair's 27-strong fleet is headed over to the UK twice a week and it's hard to ask for anything better than that.
With regards to a figure of vehicles which his company's bringing back and forth, the man himself revealed that it's somewhere in the region "between 300 and 400 a week to and from the UK".
Having started from humble beginnings, which saw him out on the road with a single truck nearly 20 years ago, Alastair can't be too disappointed with that.
It's looking very much like it's onwards and upwards for AJ Car Transport Ltd from here.
AJ Car Transport Ltd
68 Kilclean Road,
Castlederg, Co Tyrone BT81 7LD
Tel: 028 8167 9162
Mobile: 077 3845 6324
Email: [email protected]
Web: ajcartransport.co.uk
Taken from Irish Trucker & Light Commercials magazine, July 2018, Vol 21 No 5