Hard work paying off for Oran International Transport Ltd.
04/10/2018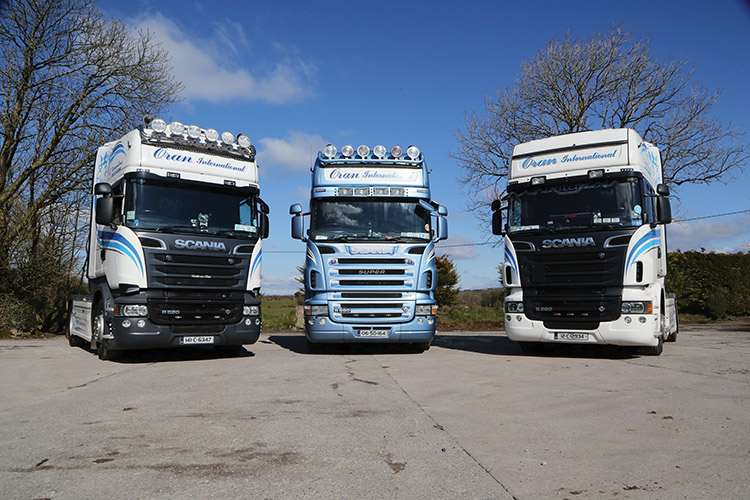 To succeed in international transport, you need to be willing to work hard, and husband-and-wife Martin and Breda Grealish and the team at Oran International Transport Ltd certainly haven't been found wanting in this regard.
Martin had worked for Iggy Madden Transport in Galway for many years before deciding to set up Oran International Transport along with Breda in November 2011. The company's name derives from Martin's home town of Oranmore, in Co. Galway where it initially operated from before relocating to Cork after securing a contract with Syncreon for the transportation of medical goods to and from the continent.
Syncreon continues to be Oran International Transport's biggest client. It is a global provider of advanced supply chain services that can be tailored to create unique solutions for its customers. Syncreon offers a full range of third party logistics (3PL) and fourth party logistics (4PL) services in an asset-light business model to provide inbound, outbound fulfilment transportation management and aftermarket logistics services. The company has developed long-standing customer relationships and has served the premier technology brands for decades.
"We moved lock, stock and barrel to Cork after landing that contract. It made sense for us to do so," explains Breda, who is a native of the Rebel County.
"Syncreon are by far our biggest customer and we have always enjoyed an excellent working relationship with them. We're on first name terms with most of their staff at this stage. They're a great company to work for."
Oran International Transport also works on behalf of Transzone Ltd and Baku GLS Ltd to name but two. Based in Ballinlough, Co. Roscommon, Transzone is a leading international freight forwarding and logistics company specialising in Euroliner and box loads, refrigerated and dry groupage, domestic groupage, deep sea containers and air freight. Baku GLS Ltd (bakugls.com) specialises in transport, logistics and warehousing and is based just 2km from Rosslare Europort, which is where all of Oran's trucks pass through en route to mainland Europe.
While the company's address is Ashmount, Silversprings, its small fleet operates from the yard of John Fenton Truck & Trailer in Killacloyne, Carrigtwohill. "It's an arrangement that works well for us because John is our main mechanic and he's able to give the trucks the full check over before each journey. We also send our trucks to Cawley Commercials in Sligo, who are main Scania dealers, for servicing and repairs from time to time," Breda says.
The Oran International Transport fleet of three Scania and one Volvo pull a variety of trailers on behalf of its clients. At the time of writing, the family-run business was preparing to take delivery of a fifth artic – a brand-new Scania 580 from Cawley Commercials in Sligo. Ironically, Martin and Breda also went to the Yeats County to purchase their first truck.
"I'll never forget it," Breda continues.
"It was spilling rain all the way up, but we ended up coming home with a 06-reg Scania 164 580 which is still going strong to this day. We've added three more trucks since then, including one which works out of Holland, and are eagerly looking forward to the latest addition to our growing fleet."
Martin and his fellow drivers Krzyfztof Czerwiec, John Earldy and Mariam Molema – who drives the Holland-based Scania – are fully trained professionals drivers, who have many years' expertise and experience in the transport industry. They are committed to providing a first-class, reliable, friendly and value-for-money service to their clients.
"For us, the customer is king. We will do whatever it takes to meet their requirements. We are here to provide them with a full scope of forwarding and logistics services to and from the continent. We believe that our dependability has been central to our success to date."
Martin and Breda, who have been married for 10 years, have worked hard to make Oran International Transport Ltd the thriving concern it is today. Breda, who juggles her office manager commitments with running the Sacred Heart Convent in Blackrock on the outskirts of Cork City, remembers Martin bringing her to Salthill a few years ago for what she thought were two weeks holidays, only to spend the fortnight doing a Transport Manager and passenger haulage course instead!
"I was the only woman in Chris Burke's class," recalls the bubbly bus and rigid licence holder through gritted teeth.
"But I suppose those are kind of sacrifices that have to be made when you're trying to get a new business up-and-running. We have worked unbelievably hard to get our name established and to build up a good reputation. Our staff have played their part too. If you look after your staff, they'll take care of everything else."
Despite the huge demands, long hours and high costs associated with international transport, Martin and Breda Grealish have no immediate plans to change course.
"We're too far into it to start doing something else. International transport is what we know and do best. Sometimes you'd get annoyed about thing likes having to pay the £10 levy every time your truck enters the UK as well as parking levies. All our trucks go through the UK, but you have to keep going. We have a good name, but you're only as good as your last load in this business," Breda concludes.
Oran International Transport
34 Ashmount,
Silversprings,
Cork.
Telephone: 021 4554727
Mobile: 087 6279097
Email: [email protected]
Taken from Irish Trucker & Light Commercials magazine, May-June 2018, Vol 21 No 4