FoodCentral, home of Keelings, welcomes Oakland International
04/10/2018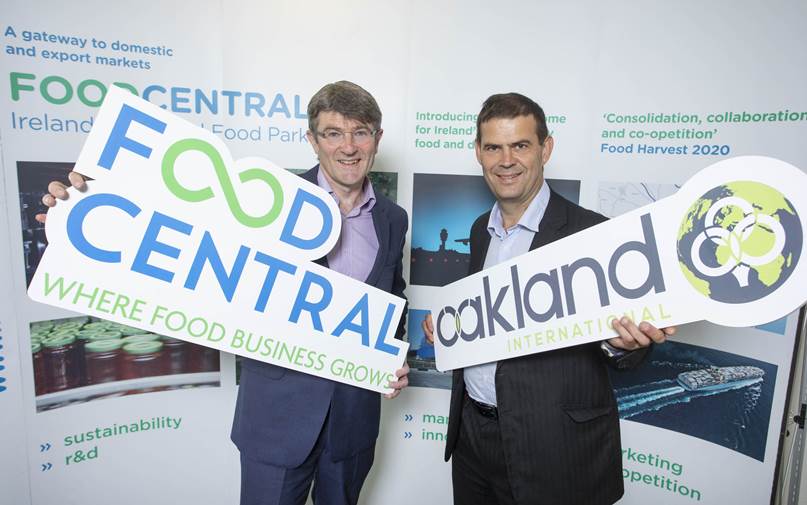 FoodCentral, an Irish company wholly owned by the Keeling family and run by William Keeling, is pleased to welcome Oakland International, a supply chain specialist company, to take up residence at the international Food Park in a c.€4.5million investment.
FoodCentral located beside Dublin Airport and near Dublin Port, totals c.280 acres and provides a strategically located processing and logistics co-location hub for companies like Donnelly Fruit & Veg, and HPP Tolling, an innovative technology company that helps food companies to manufacture safer preservative-free products. Keelings is also based at FoodCentral, as is Dixon Transport International, a leading presence in the Irish transport industry. 1,200 people are employed at businesses throughout Food Central.
Oakland International, co-founded by Dean Attwell, is a UK & Ireland Multi Temperature Supply Chain specialist, which distributes chilled and frozen foods to retailers throughout the UK and Ireland including Dunnes Stores, Aldi, Tesco, BWG, and the Musgrave Group. The company operates from a 2,547sq.m. (27, 416 sq.ft) purpose built warehouse on 4.66acres at FoodCentral. Planning and construction of the refrigerated food facility was completed in just ten months, on time, and under budget.
William Keeling, CEO, Food Central said; "FoodCentral is ideally suited to food and drink companies because of its proximity to key routes within Ireland, and as a gateway to Europe. FoodCentral welcomes businesses looking for operational premises for manufacturing, processing, cold storage, logistics, innovation, research and development, sustainability and marketing. At FoodCentral, we aim to help ensure every element runs smoothly for a new client taking up residence at the Park. We are available to offer build and start-up support across a range of areas, from planning permission to full building project management. We are delighted to welcome Dean Attwell and Oakland as our most recent partners at FoodCentral and look forward to working with them into the future."
FoodCentral has agreed a master plan with Fingal County Council for the development of the overall Park. The Council granted a speedy planning process for Oakland International and the process, from planning application to delivery of the completed building, was completed within ten months under the guidance of the FoodCentral Development Team.
Dean Attwell, CEO, Oakland International, said; "The location of FoodCentral in terms of its proximity to the port and airport, and also to the major distribution platforms around Ireland including local access roads, is ideal. We are delighted with the way that we have been welcomed to the Park and particularly at how everyone at FoodCentral made sure that the build, and our move into Ireland, was completed on time and under budget. We are pleased to find ourselves in such a supportive environment, which is just what we need as a foreign company located in Ireland. The relationship, communication and controls have been first class throughout, and I would like to thank William Keeling and everyone at FoodCentral who made this transition so easy for us."
FoodCentral provides a strategically located processing and logistics Park to serve the domestic and export market for both Irish and overseas companies. The Park is within 6 minutes' drive of both the M1, M2 and M50 Motorways and within ten minutes of the Dublin Port Tunnel.