"If a job is worth doing, its worth getting Dunne"
03/10/2018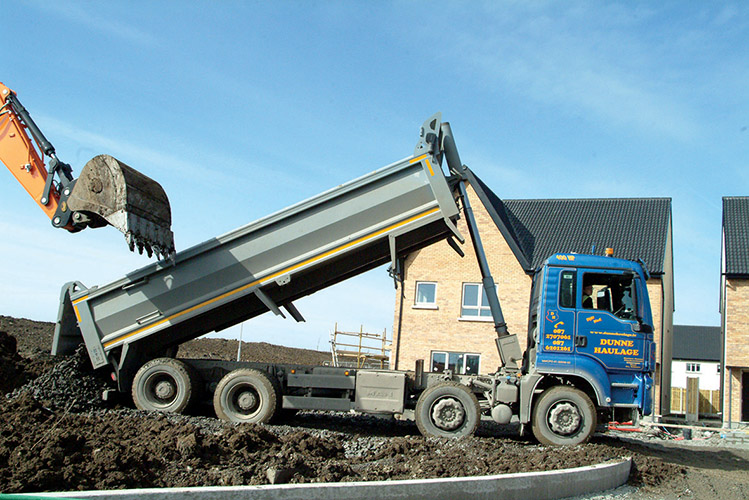 Dunne Haulage of The Hill of Allen has been providing their customers in the Kildare and greater Leinster area with top class service for almost 15 years now.
There are many different sectors within the haulage industry, but all have a common goal; delivering products as efficiently and as cost effectively as possible for both company and customer. Efficiency is one of the greatest assets to obtain when running a successful haulage company. There are so many daily issues to contend with that everything has to run smoothly like the cogs in a gear box. The time constraints within the industry are massive, but the more experienced haulage firms have the knowledge and know-how to deal with all eventualities.
The haulage industry has gone through a turbulent time over the last few years, but certainly in the last eighteen months or so, there has been a huge improvement across the board.
It is arguably the most competitive business to be involved in, and the margins between success and failure are a very fine indeed. There are so many issues to deal with on a daily basis that anyone outside and never involved in the industry would beg to ask the question why bother?
But for those that are not just involved but have invested their time, their finances and some may say their souls, the majority possess a common trait, which is, that it is in their blood and Naas based Damien Dunne of Dunne Haulage is certainly in that vein.
Owner Damien Dunne has been operating his own business for the past 15 years and for this month's edition of Irish Trucker he tells us about the services that he provides, while giving his thoughts on the industry as a whole.
"A lot of our customers have been giving us their business for many years now and we're very grateful for that. It is up to us to ensure that they maintain happy with that service, standards, and products we supply them and try to improve on it if we can, said Damien.
" Hanlon Concrete Products Ltd would be one of our biggest customers and we have been working with them for a number of years now we have a great working relationship with them, they have very high standards which is why they have such a good reputation in the construction industry, Lee Ashley Groundworks is another great customer of ours who we have delivered a number of services to, but all our customers are very good to work for and each and every one of them is important to us, if they need 1 tonne or a 30 tonne load, we will always strive to deliver what we say, when we say and at the best possible price. We offer a few services here such as tipper work, grab hire, muck shifting and supplying and delivering sand and gravel, all grades of stone including decorative stone which we source in places like Kilkenny, Donegal and Leitrim. We supply all our product loose of bagged. We also have a NWCP for Counties Kildare, Laois, Meath, Offaly, West Meath, Wicklow, Longford, Louth, and all Dublin L.A.A"
Operating a fleet of six trucks, Damien prefers Hino and MAN and both have stood him well down through the years.
"I would keep the fleet fairly fresh and well maintained. Recently, we bought a 2015 MAN from Mark O'Neill in First Choice Commercials, we have dealt with Mark before when we purchased our last Hino from him, he knows the industry and the vehicles and we would recommend him to anyone looking to expand their fleet. Most of the maintenance work would be subbed out to David Gray of Punchersgrange, Naas, Co. Kildare. David Gray and his staff work on every make and model and you would be hard pressed to bring him a problem, he couldn't fix. Although we do a lot ourselves with my father Noel better known to most as "Sugar" looking after the fleet and checking the trucks on a daily basis" "I bought a demountable truck two years ago and it has been a great addition to the fleet. It has been very beneficial for us which helps us get through the work more efficiently."
Damien stressed that one way of making the business a success is to keep the overheads down as much as possible; a situation that is easier said than done. "We've always tried to keep the business running efficiently and we've managed to grow every year as well as diversify. As I said, we are fortunate with the customer base that we have. We are there to provide them with the best service possible and once we continue to do that then we should be ok.
"As stated, there are many issues to contend with and insurance is one of the biggest problems at the moment. The fuel rebate has helped a little, but every decision with regards the business has to be taken with the utmost care. We are 15-years accident free yet our insurance has doubled from last year, which makes no sense at all. During our time in business, the general haulage rates have not changed at all, yet everything else has gone up.
"We are there for the customer and anything they need done, we will do it to the best of our abilities. We have always prided ourselves on getting the job done on time.
"We have been through a tough recession a few years back and I feel we have come out stronger since then. Fortunately, we have managed to keep the overheads down and that has made a huge difference when in the midst of a recession. You cannot take any decision lightly, but at the same time, we are looking forward to the future and hopefully further expansion if the work is there.
Damien's wife Eileen looks after all the administration side of the business and day to day running around, an area that takes great attention due to the ever changing regulations in the industry. "You need to have everything right for not just the day to day dockets and invoicing but for your Haulage licence and also our NWCP. It is also important that you are working with someone who you trust to care as much about your business as you do and who knows the value and cost of taking your eye off the ball, this is an area Eileen takes very seriously"
From running a successful business, one may think that Damien is confined to the office on a daily basis, but this is not the situation at all as he likes to get out on the road.
"I am driving every day; it's what I like doing the most. In fairness, I'm fortunate to have Eileen looking after the administration and that allows me to drive more, she deals with the customers and suppliers on a day to day basis, this is something she like's doing"
Damien concluded with thanks to his customers, who have stood by him through thick and thin down through the years and he added, that the aim, was to ensure they were pleased with the service provided.
"As with any business our greatest asset is the people we have working with us, the calibre of drivers with us at Dunne Haulage, are at the top of their game. They are a highly skilled and experienced group who we always have complete faith in not just in their skills as drivers, but their knowledge of the products and the level of customer service they give to each and every customer and supplier. They know their stuff but will always make time for a quick chat, and that's important.
"I would also like to thank all our customers for their continued support over the years. I'm very fortunate to be working alongside such reputable businesses as Hanlon Concrete Products Ltd, Lee Ashley Groundworks, Arkil Ltd, Killeen Civil Engineering, C & A Build & Civil Engineering, R.D.C. Contracts & Callan Sand and Gravel to name but a few and we hope to continue to do so for many years to come."
Dunne Haulage is at its core a family business, with Damien and Eileen working together supported by Damien's father Noel who is well know the length of Ireland as one of the greats of the haulage industry having been a driver himself for over 40 years. One of the proudest moments was seeing Damien win the Fleet Transport Haulier of the year Owner/Driver Award in both 2013 & 2014. The Haulage bug even runs through to Damien and Eileen's Sons, Damien (DJ) age 13 who is an expert in a Mini Digger or CAT Dozer and Ned age 7 who loves helping his Granddad keep everything in good running order.
We are happy with the work we have on at the moment and like I said, it's all about customer satisfaction, we wouldn't be where we are if not for our customers, it also helps that we love what we do: "if a job is worth doing, it's worth getting Dunne"
Dunne Haulage
Pluckerstown,
Kilmeague
Naas
Co. Kildare
Phone: (045) 845851,
Mob: 087 2707061, 087 2866067
Taken from Irish Trucker & Light Commercials magazine, May-June 2018, Vol 21 No 4