Volvo FH milestone as the millionth truck is delivered in Hannover
27/09/2018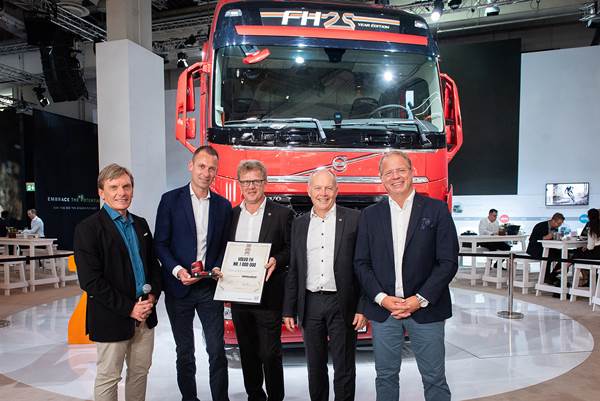 The Volvo FH, Volvo Trucks' flagship, is one of the transport industry's greatest successes ever and this year, as it celebrates its 25th anniversary, the truck model has passed a new exciting milestone. On 19th September, the millionth Volvo FH to roll off the production line was handed over to a proud customer at the IAA Show in Hannover, Germany by the President of Volvo Trucks, Claes Nilsson.
The customer, Gesuko - a refrigerated transport company - based in Bad Hersfeld, 200 kms from Hannover, has a 100% Volvo fleet and now the company can welcome this exciting new addition to the family. The new truck, a Crimson Pearl Volvo FH 25 Year Special Edition, has an Extra High Sleeper Cab, Forward Collision Warning and Volvo Dynamic Steering.

Crimson Pearl is a tribute to the cab colour of the original Volvo FH launched in 1993.

"We have driven Volvo trucks since 1976 and have seen the continuous development of the Volvo FH. We realised from the start that we had chosen a brand with the future in focus. We were not only convinced by the profitability focus of the Volvo FH through high-performing gearbox and engine systems, but the driver handling and safety also impressed us. It is a brilliant achievement by the engineers behind it,"says Marco Reinhard, owner and CEO of Gesuko.

"With the Volvo FH, we have repeatedly expanded the limits of what can be achieved and created new possibilities for profitable, efficient, safer transport with ever lower environmental impact. Delivering the millionth Volvo FH to a loyal customer who has been with us for 25 years is a fantastic milestone on a fantastic journey," says Claes Nilsson, President Volvo Trucks.