A trucking family
21/09/2018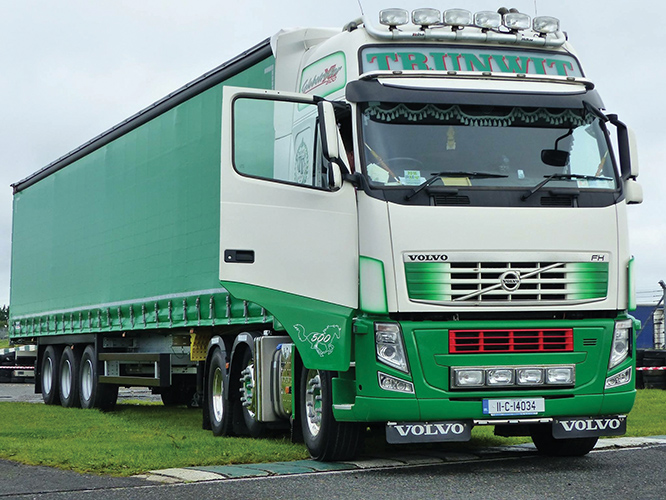 Haulage firms generally are a family run business that can go back a few generations during which time they have built up a close working relationship with their customers.
There is something about dealing with a family run business that puts their clients at that bit more ease than they would be if dealing with what in some circumstances can be described as 'faceless' companies.
The Trunwit family have been involved in the haulage industry for almost 50 years now. Christy Trunwit began haulage work back in 1970 and over the years, Christy's hard work and dedication to his craft saw the business grow. Christy's brother Denis got involved in the company and together they brought the business forward.
Unfortunately, Christy passed away 20 years ago, but Trunwit Transport continued to operate and these days it is run by Denis' sons Niall, Noel, Sean, Denis Jnr and Ger and daughter Caroline.
Niall took time out of his busy schedule to explain to Irish Trucker about the services that they provide to their long standing customers.
"We are involved in general haulage and do everything from tipper, tanker, curtainsider and flat work. There are 17 trucks on the road and the majority of these are Volvo which has been the chosen truck of the business right since Christy set up the business," said Niall.
"There are also a few DAFs here, but the majority of the fleet is Volvo. There is also a wide range of trailers to ensure that we can offer a number of services to our customers."
Niall revealed that it has been important for them to continue the ethos established by Christy all those years ago and that was to provide a reliable and efficient service to his customers.
"Christy worked hard all his life to make the business a success and when my Dad took took over, he made sure to carry that trend on. He's 80 now and still comes into the office on a daily basis to keep an eye on us," joked Niall.
"Seriously though, our customers are most important to us, we have been working with some of them for many, many years now and there is a brilliant relationship there."
Two of the Cork based haulage firm's largest customers are Heineken and DPD Couriers who Trunwit Transport have been hauling their goods for a number of years.
"We have been working for Heineken for about 30 years, while we would be with DPD for about 18. We started with them when they were Interlink Ireland. With DPD, we go from Cork to Dublin and back daily with pallet freight, while we deliver for Heineken all over the country."
Indeed Niall tells a story which relates to Heineken as to how they family run business came out their company colours.
"Initially, the fleet of trucks would have been red and white in connection to Cork, but when Christy first won the Heineken contract, he decided to change the fleets' colours to green and white which is what they are today.
"Heineken then changed their colours a few years back to a far darker green, but we remained the same. Our green and white trucks are well known throughout the country at this stage."
Their service also supplies curtainsiders, refridgeration, bulk tippers and bulk tankers.
In regards to the fleet, Niall revealed that great care and attention is given to every truck in order to ensure they are kept in excellent working order.
"There is a mechanic working here full time and does the majority of the maintenance work. In some cases, the trucks would go back to the dealers for technical, but most of it is done by ourselves. We have a policy of upgrading one or two trucks every year and we find that to be very efficient with respect to making sure the fleet is fresh.
"Using Volvo trucks means that we deal with McCarthy Commercials in Watergrasshill and we find them very good to deal with, their aftersales services is very good and if ever there is a problem, they will help find a solution for us."
Headquartered in Bandon, Trunwit Transport is a large employer in the area with 20 employees on the books, most of who are drivers and Niall admitted that without them, it would be impossible to function on a daily basis.
"The drivers we have are very experienced. A number of them would be with us years now and they are invaluable to us. They are the ones meeting the customers on a daily basis, so they are the ones representing the company. They all take great pride in their trucks which is important as there is a massive emphasis on appearance these days. The customers expect the fleet to be in pristine condition as image is everything."
One issue that Niall has with the industry at the moment is the rising cost of insurance which in the last couple of years have become the bane of the haulage industry.
"The price of insurance has doubled in the last twelve months. It is a major concern at the moment. You can imagine what it costs to insure 17 trucks at the best of times and then to see that double is just crazy. It is a situation that the Government need to look at very soon."
Aside from the insurance issues, Niall is pleased with how busy they are at the moment, so what are the plans for the future of this family run business?
"We'd be pretty happy with the workload that we have on at the moment. During the recession, we were fortunate not to be involved in the construction sector which was affected most, so we maintained the same customer base that we had and thankfully they stuck with us.
"Our main aim is to ensure that our customers are happy and once that continues, I think we will be alright, but that is not to say we can let our standards drop in any way."
Trunwit Transport Ltd
Allen Square
Bandon,
Co Cork
Phone: (023) 884 1306
Taken from Irish Trucker & Light Commercials magazine, May-June 2018, Vol 21 No 4