New addition to Farrelly Haulage fleet
14/09/2018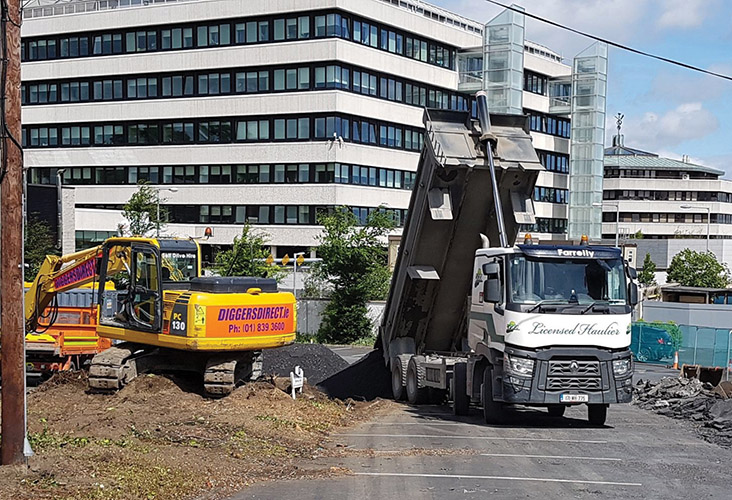 Farrelly Haulage Ltd in Castletown, Co. Meath recently took delivery of its second Renault C430 tar spec 8x4 in 12 months. Transport manager Gavin Farrelly explains more.
The latest addition to the 50-strong Farrelly fleet is turned out beautifully with a lightweight Gleeson tar spec body and top light bar giving it the finishing touch. Purchased from Setanta Trucks on Dublin's Long Mile Road, the new truck has been put to work drawing sand, gravel, aggregates and other materials for the family-run business.
"We bought our first Renault tipper last year and were so happy with it that we decided to buy another one," Gavin says.
"Our fleet is predominantly made up of Volvo 440s, 460s and 500s. We also run a small number of DAF, but we heard good reviews about Renault and decided to give them a try. We purchased our second C430 from Setanta in January and were once again well looked after by Jim Toner and Neil Francis.
"Robbie Horan loves driving the new Renault and it's the same with Sean Weldon who's driving the other one. They're a tough, economical and comfortable truck which we can't find any fault with."
While Farrelly Haulage Ltd has only been trading since 2006, its directors George and Johnny Farrelly have had a lifelong involvement in haulage. The brothers are joined by George's sons Gavin and Glen, and a staff of 50, most of whom are drivers who are skilled, reliable and enjoy a great rapport with customers. The north Co. Meath-based company is internationally equipped but specialises mainly in national transport. It works primarily with construction firms and contractors, delivering and collecting stone and aggregates to and from different locations in the building industry.
George and Johnny Farrelly have over 35 years' experience in this area, and their knowledge and expertise is passed on to their staff and drivers, ensuring they always complete the work safely and professionally.
"George and Johnny have worked in this business all of their lives. They are both very 'hands-on' in their approach to every job and have a wealth of experience which they are only too happy to pass on to others," Gavin adds.
Specialising in truck and plant hire, heavy haulage and abnormal loads, stone and aggregates, waste removal and site clearance, and demolition, Farrelly Haulage Ltd prides itself on its modern equipment, high level of customer service and competitive pricing. A strong emphasis is also placed on Health & Safety procedures.
The company's extensive fleet of rigid tippers and articulated trucks give it the capacity to oversee all jobs and projects in today's industry. Its fleet of low-loaders can transport all hired machinery to your site where it is needed, quickly and efficiently at any time of the day or night. The company offers a dedicated 24-hour callout service and also has a range of excavators and mini-diggers available for hire. Its digger drivers / operatives are fully trained, highly experienced and carry all relevant health and safety qualifications.
Farrelly Haulage Ltd is perhaps best-known for providing aggregate, haulage and transport services to private and commercial customers in the construction sector. The firm collects and delivers sand, stone, gravel, topsoil and decorative materials in whatever quantity its customers require. Farrelly Haulage Ltd's clients include Kilsaran, Lagan Macadam, Roadstone, Clare Civil Engineering and Kilwex Civil.
"We work out of various quarries owned by Kilsaran and Roadstone in the Meath and Dublin area. We draw out of Kilsaran's quarries in Duleek (Annagor), Rathmolyon (Castletown), Enfield and Clonee, and Roadstone's quarries in Huntstown, Feltrim and Tallaght. As well as drawing materials for them, we also buy materials from them and sell them on," Gavin explains.
"We plan to buy and operate our own quarry at some stage in the future."
Farrelly Haulage Ltd also provides abnormal load haulage for all industries throughout Ireland. It has a range of vehicles and low-loader trailers designed specifically for moving large machines, containers and material loads. The company provides route options and acquires all permits and garda clearance options before proceeding with abnormal or wide loads.
In addition, the family-run business offers comprehensive waste management and site clearance services. It is registered with the National Waste Collections Permit Office (NWCP) and is authorised to remove construction and demolition wastes from sites and dispose of them at its registered landfill sites. The company supplies a full range of primary and recycled aggregates which are suitable for commercial, trade and residential projects.
Farrelly Haulage Ltd also provides demolition solutions on principle and sub-contractor projects. Its staff will take all factors, such as the age of the building and the presence of asbestos, into consideration and provide you with a customised solution.
"Things are moving in the right direction after a few difficult years. The construction sector has picked up and we're very busy at the moment.
"We would like to take this opportunity to thank our customers for their support and our staff for their hard work and dedication. We provide a top-class haulage service and are here for our customers 24-7. For all enquiries regarding price and availability of equipment, do not hesitate to get in touch," the affable transport manager concludes.
Farrelly Haulage Ltd
Gravelmount,
Castletown,
Navan, Co. Meath.
Telephone: 046 9055747
Mobile: 087 6442642
Email: [email protected]
Taken from Irish Trucker & Light Commercials magazine, May-June 2018, Vol 21 No 4