Nobody does plant hire better
11/09/2018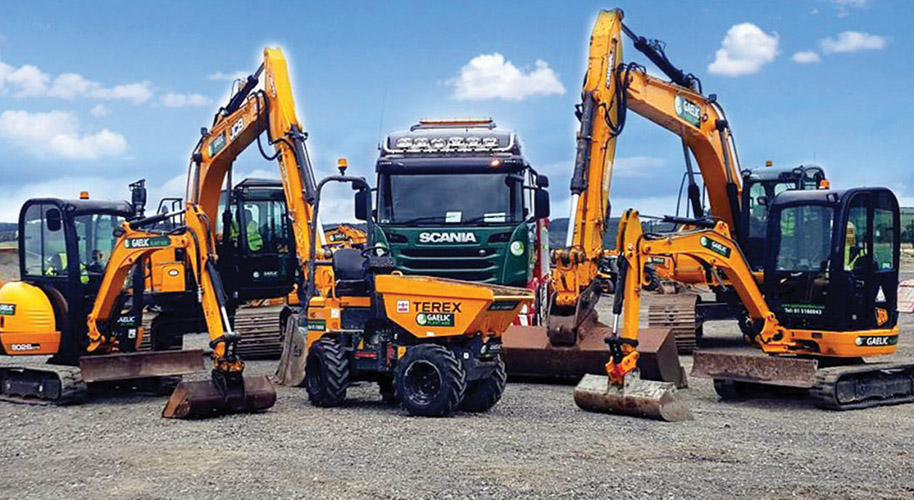 Operating out of North Wicklow, Gaelic Plant Hire grants customers nationwide access to a vast fleet of fresh, immaculately-maintained plant and access equipment ideally suited to any on-site job. We met operations manager Ray Vaughan to find out more about this exceptional market-leading, award-winning operation, which runs hand in hand with sister company ELEV8 Platform Hire.
Since November, 2015, Gaelic Plant Hire (previously Celtic Leasing Plant Hire) has been providing clients with a fresh solution to their on-site plant requirements. Delivering the latest plant hire technology - on-time and at cost effective rates – the company has come a long way in a short space of time and is firmly established as one of Ireland's premier plant hire specialists.
The company's status at the forefront of the industry was underlined when they won the Plant Hire Company of the Year Award at the 2018 Machinery Movers & Industry Operator Awards.
Gaelic Plant Hire's team of professionals boasts decades of experience servicing the construction and industrial sectors and this knowledge and insight is made available to clients 24/7. They are committed to servicing all plant machinery to the highest performance and safety standards (including ANSI/SAIA A92 and OSHA), with every item of plant GA1-certified to European safety standards.
The extensive fleet continues to grow all the time and Gaelic Plant Hire offer a wide range of plant hire options including teleporters, excavators, dumpers, rollers, generators, general plant and more, to suit clients' needs.
Together with sister company ELEV8 Platform Hire, they can also provide an extensive range of plant and access equipment solutions to solve even the toughest on-site problems. ELEV8 Platform Hire specialises in the supply of all types of access plant and construction equipment including cherry pickers, hoists, manlifts, aerial work platforms, booms and scissor lifts.
With one of Ireland's leading investment houses, Abbey International Finance, as its funding partner, the business is in an extremely strong position as it continues to expand its fleet and increase its presence in the market.
Operations manager Ray Vaughan joined the company 18 months ago to oversee an aggressive phase of expansion, which has seen Gaelic Plant Hire double their fleet size in less than a year. "Things are going exceptionally well," he relates. "We are expanding the fleet on a weekly basis and have over 500 pieces of kit at the moment. We relocated to a new ten-acre site in Coolbeg in May, 2017 and have been growing steadily ever since."
To what would Ray attribute the remarkable success to date of Gaelic Plant Hire / ELEV8 Platform Hire? "It's a combination of the service levels and the equipment we provide. We've invested around €10m in the last two years and the vast majority of our equipment is under two years old, most of it less than 18 months old."
Included in the stunning fleet are more than 70 teleporters (thus, it was rather apt that Gaelic Plant Hire recently sponsored the Machinery Movers Telehandler Operator Award); over 50 dumpers; 50-60 excavators; and over 200 pieces of platform equipment, booms and scissor lifts.
For deliveries, GPH operate a fleet of two eight-wheel Scania R440s, one low loader, a Fuso curtainsider and a few four-wheel drives for ease of access. They also run breakdown vans, service vehicles, Land Rover jeeps and have their own state-of-the-art workshop – manned by experienced, fully-qualified technicians – to ensure that all the machinery and vehicles are operating at their optimal levels at all times.
Direct gainful employment is generated for more than 20 personnel, not to mention the substantial knock-on effect of indirect work created.
As for the catchment area covered, Ray confirms that no distance is too far: "The majority of it is obviously in the greater Dublin – Wicklow area but we also have equipment from Galway to Cork and we even have dumpers in Denmark at the moment, with a regular customer of ours who likes our machines and service so much that he opted to bring them over."
Since its inception, Gaelic Plant Hire has been a wholly customer-focussed operation, placing a keen emphasis on providing clients with equipment and service levels they can count on. "One of the key ingredients is to deliver the equipment on time, in the right condition and at a reasonable price," Ray concedes.
"Customer service is something we have focussed strongly on since Day One. If it's 7am in the city centre, or even 6am on a Sunday morning, we will look after our customers. We are here to give our customers what they want; we will work with them and get the machinery on site as and when they need it."
Although impressive strides have already been made by this progressive enterprise, managing director Keith Manning and the team at Gaelic Plant Hire are not about to rest on their laurels. Further growth is very much on the cards:
"We have an expansion plan for this year and will open a site in Cork within six-eight months and will also go further afield to Galway, maybe even Donegal. We're also considering expanding into the UK and US markets, which could be a feasible move as our funding partner, Abbey International Finance, has a base in the US," Ray adds.
As well as lending their support to the Machinery Movers Awards, Gaelic Plant Hire also sponsor Rathdrum GAA Club in Wicklow. "We want to be part of the community and to give something back as a way of supporting local people," Ray notes. "We're always open to helping out anybody we can with a bit of sponsorship. If somebody representing a local charity or school contacts us, then we will do our absolute best to support them in any way we can."
As for the future, the plan is to continue investing in the already substantial fleet so as to ensure that customers have the best possible selection of construction equipment to choose from, including access equipment that goes up to 86ft. "We buy locally from the likes of ECI JCB and we also import machinery – wherever we can get the best deal," the operations manager concludes.
"With the amount of money we are spending, a modest saving on each item adds up to considerable savings. For example, we purchased 30 machines in January alone. We try to adapt to the demands of our customers and shape our fleet accordingly. We find that anything we have tends to be out and we've had a lot of long-term hires over the last year or so.
"The equipment we have is all relatively new and customers can hire it with complete peace of mind."
They can and they do.
Gaelic Plant Hire,
Coolbeg,
Ballinaclough,
County Wicklow.
Tel: 01 5180043
Email: [email protected]
Web: gaelicplanthire.com
Taken from Irish Trucker & Light Commercials magazine, May-June 2018, Vol 21 No 4