A first choice for LDV vans
07/09/2018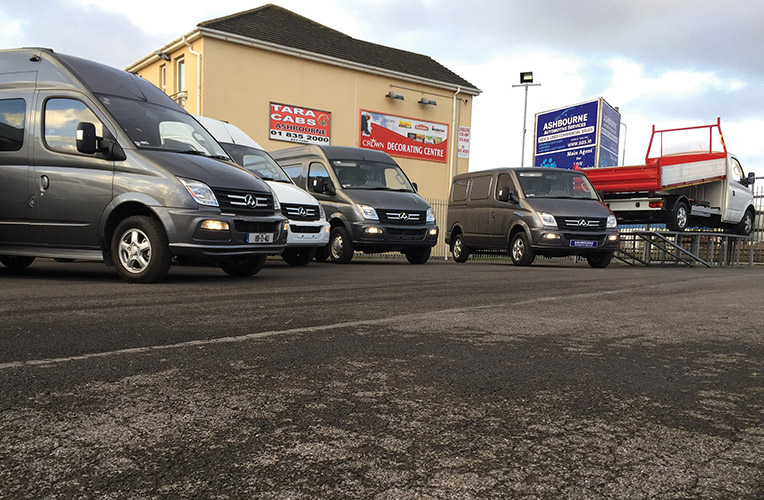 Ashbourne Automotive Services have had a quick rise since being set-up by Blanchardstown native John Duffy two years ago. Irish Trucker heard more from the man himself about his firm which is anticipating further growth in 2018.
Business has been good lately at Ashbourne Automotive Services in Co Meath and owner and founder John Duffy intends to keep it that way.
The company is only up and running a little over two years but it's already employing seven full-time staff, while also offering its customers an array of different services, including a car and van sales garage, which has LDV vans, and also offers a car wash and valet centre.
The LDV vans have become a more and more popular product amongst the customers of Ashbourne Automotive Services over the past 12 months and John hopes that the increase will continue throughout 2018.
John is a man with a seasoned background when it comes to vehicle sales and it seems like no time at all to him when he took the decision to go out on his own.
The man himself took some time out of his busy schedule recently to tell Irish Trucker all about his business venture.
"We're in Rathcross, Ashbourne, Co Meath and we're up and running two years now," John explained.
"We've seven staff in total. I'm the Managing Director here and basically what we are is an authorised LDV sale and service dealership which stocks a wide range of passenger and commercial vehicles.
"We also have a garage and valet centre here as well which has been going well for us from the start."
The LDV brand is an iconic one, having been originally founded in 1993 before it was disbanded in 2009 and then revived again.
The brand is a popular one among John's customers and at the tail end of 2017 they were as popular as ever, giving Ashbourne Automotive Services' MD plenty to be optimistic about heading into the New Year.
When John set-up the company in 2016, he would have hardly known what to expect but, at the same time, he knew that some good old hard work would give him the best chance.
Indeed hard work and some luck along the way is usually the secret ingredient when it comes to making a business thrive, particularly a new-born one.
John pointed out that he needed no extra bit of incentive after he took the decision to go out on his own a little over 24 months ago.
"Basically, I said I'd give it a go and just chased it," he stated. "The LDV vans are starting to take off now and we're really looking forward to what's in store now in 2018.
"Originally, I had been involved in private hire in buses and coaches. It went well for a while but I sold that business a couple of years ago and it wasn't long before I was back at it again."
Now, two years on, things are going pretty much according to script for Ashbourne Automotive Services and the plan is to make further inroads again this year.
"It's not doing too badly at all," John stated. "It was a bit slow to take off, I'll admit, but we've just been getting established in the last year or so and it has been going well."
Having some loyal clientele from his previous venture certainly helped John get up and running with Ashbourne Automotive Services and is grateful for their business.
As for new customers, many of them are from the town of Ashbourne and its surrounding areas which, of course, delve right down into Dublin and then there are the others that come from a distance after hearing good things about the company.
"We'd mainly be servicing locals here but we do get some customers from different corners of the country," said the Managing Director.
"Because I had been in the bus hire end of it I'd know a few different clients and they've stuck with me thankfully.
"Manning's in Limerick and Kennedy's in Kerry would be some of the coach companies that would be long-time clients and then MDS Transport have also bought four or five vans off us. Closer to home Finnegan's and Carolan's in Nobber would be clients that deal with us."
So what is it that has Ashbourne Automotive Services' clientele choosing them first ahead of other competitors in the same game?
For John, he feels it comes down to a couple of certain attributes with loyalty up there amongst the most important of them.
"The lads I know have loyalty and we give our customers a good service. We're not the cheapest but we're not greedy either," he stated.
"I try my best to always facilitate their needs - even with something out of warranty, I'll try."
It's now a brand new year and for a company which "is only really getting going", as John puts it, the man himself has big plans for the future of his business venture.
"We want to try and quadruple our business down the line," he said. "We're hoping that the year coming should be another good one and we've had a lot of people in the last month looking at LDV vans, so it's a good sign for what's ahead hopefully."
Here's hoping.
Ashbourne Automotive Services
Rathcross,
Ashbourne, Co Meath
Mob: 086 407 7873 Tel: 01 8359580
Web: aas.ie
Taken from Irish Trucker & Light Commercials magazine, May-June 2018, Vol 21 No 4