A  new era for Keith Revin Tyres
29/08/2018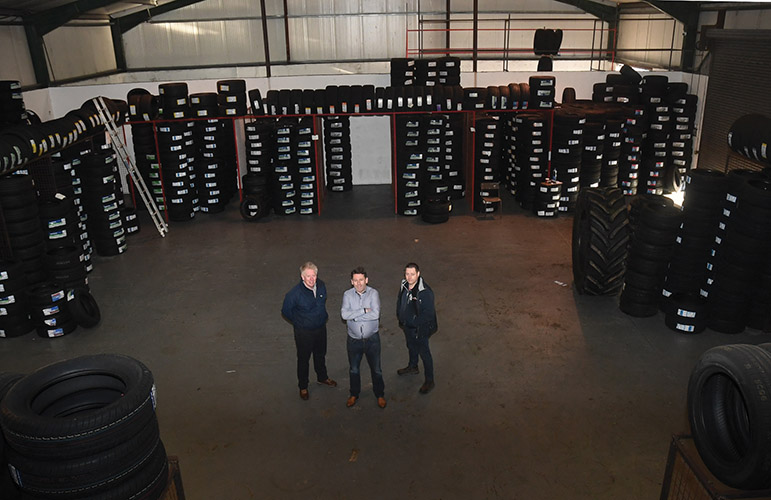 For the past 16 years, Keith Revin Tyres Ltd has been supplying an unrivalled service to a customer base that has grown with the times.
From humble beginnings of operating as a one-man show, the business now consists of four premises providing a wide range of services which include providing top of the range tyres for all types of vehicles i.e. cars, lorries, tractors and farm machinery.
Keith and his team offer a reliable, efficient service with their workshops catering for tyre fitting, puncture repair and much more. With premises in Ballyhaunis, Castlerea, Ballaghderreen and Strokestown, this business covers a catchment area that delves into a number of counties stretching across the west and north west.
The experience that Keith has picked up over his 18 years in business has been invaluable and plays a large part in the success of the company. Another plus that they have is their attention to detail and by this we mean that customer satisfaction is always a priority at all the branches.
"You would have customers coming in here and they wouldn't be sure of what type of tyre they want, so our trained staff are there to help in any way they can. You want the customer going off happy and willing to come back to us again, so we place a huge emphasis on customer satisfaction," stated Keith.
Another string added to the company's bow in recent times has been the launch of second hand car sales from their Castlerea branch.
"We started into selling second hand cars last July and obviously it has taken a bit of time to get up and running, but we can notice a pick up this year alone and this is an area that we will be looking to push throughout the rest of the year."
Keith Revins Tyres Ltd has been a leading supplier of all major brands of tyres for many years now. Leading manufactures like Michelin, Pirelli, Federal, Bridgestone, Firestone, Dunlop, BF Goodrich and Dunlop plus many more can only be found stocked at the four branches.
"There is a massive stock of tyres for all vehicles and customer can be sure that we will have what they want or like I said earlier, if they are unsure of what they want, the lads are here to help provide them with the best tyre that suits their needs and more importantly within their budget."
Asides from providing any service relating to tyres, this burgeoning business has a team of experienced mechanics that can deal with many issues on the vehicle such as a flat battery or a complete vehicle service, health check or pre-NCT.
"Offering as many services as possible allows us to grow the business and the customer base. We can service anything from a motorbike to HGVs or agricultural machinery."
However the 'bread and butter' of the business is tyres and through their fully state of the art premises, the team can carry out wheel alignment and balancing, brake replacement and repair as well as much more.
The Strokestown depot has been the latest addition to the franchise and this was opened two years ago as Keith feels that each branch compliments the other.
"Each premises has its own identity, but through their close proximity, they compliment each other too. We provide our products to wholesalers and retailers as well as private customers."
Another important service that the company provides is a 24/7 call out service for their customers. "We offer a mobile tyre repair service to our customers, covering the 32 counties as well as full mechanical repairs including servicing, brake pads, exhausts, timing belts and clutches. We would answer a call out to anyone in our local area.
"The call out service would be generally used by agri contractors, farmers or companies involved in the haulage industry, although we do get motorists stranded from time to time and we endeavour to be with all as quickly as possible.
"We have six vans on the road, two of which operate on a 24/7 service. We are also part of the Bridgestone Partner Service network, which is the cornerstone for successfully delivering Total Tyre Care to fleets. The combined strength of Bridgestone plus the professional Bridgestone Partner dealers has the capacity and expertise to provide the products and services needed to reduce fleet operational costs."
Keith is happy with how his business is progressing, but he admits that he has concerns for the tyre industry as there are still operators out there who are not following the legislation in place to ensure fair practice by all.
"I think more needs to be done in regards to licensing the industry. Operators need to show that they are tax compliant. It is not fair that businesses like ourselves do everything by the letter of the law and then there are others out there who are skipping corners and undercutting our prices. It makes it very difficult to compete."
Keith played tribute to his highly trained staff of 20 who he stressed played a massive part in getting the business to where it is today.
"There is a good team here, all of who are highly trained. This is a professional industry and you have to know what you are at. There are so many variations of tyres these days that it is essential to have a good knowledge of tyres and fortunately all our guys do."
For the future, Keith is aiming to enhance the potential of each business, while also trying to promote his latest service, the second hand car trade.
"The plan is to focus on maximising the potential of each depot and get our name out there with regards to the car sales."
Keith Revins Tyres Ltd
Clare Road
Ballyhaunis, Co. Mayo Ireland
Tel: 094 9630573
Branches:
Castlerea 094 962 1963
Ballaghaderreen 094 986 1519
Strokestown 071 963 4600
Taken from Irish Trucker & Light Commercials magazine, May-June 2018, Vol 21 No 4