Tate of the art
17/08/2018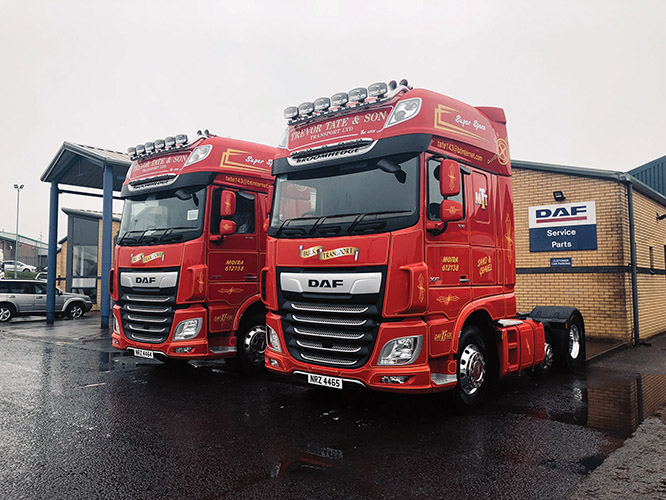 Twenty-eighteen got off to a flying start for T Tate & Son (Transport) Ltd. when they took delivery of two stunning new DAF Super Space Cabs from TBF Thompson – exciting additions to an already eye-catching fleet. We caught up with founder Trevor Tate get an update on this exceptional third-generation family business, which has been putting striking vehicles on the road or nigh on four decades.
T Tate & Son (Transport) Ltd. has been providing excellent bulk tipper services across the island of Ireland since its inception in 1979. Some 39 years on from the company's formation, there is no sign of any let-up in their unrivalled service levels – nor indeed in the founder's enthusiasm for trucks – a passion which sees Trevor Tate's trucks turning heads on the roads and at truck shows both near and far!
The eight-strong fleet was bolstered early this year by the arrival of a magnificent pair of new DAF XF 530 Super Space Cabs. Genuine show stoppers, they perfectly complement Trevor's vintage Leyland Super Comet rigid tipper, which is 55 years old. In a way, Trevor is going back to his roots as it's the first time in 26 years that he's purchased a new DAF:
"I actually bought a new DAF in 1992 and it served me very well. I had it here for four years but then bought Scania after that and have Volvo here are the minute," he states. "But I'm going back to DAF now and I'm delighted with the two new ones. I dealt with a really nice, helpful salesman at TBF Thompson and he couldn't do enough for me. I demoed the truck and really liked it so we were happy to go with DAF."
To say that Trevor Tate loves trucks would be an exercise in understatement. All one has to do is take a look at the immaculate presentation of his fleet to get an instant insight into his policy of operating beautiful lorries and maintaining them in excellent condition.
"When you have good-looking trucks that perform well, it keeps everybody off your back," he quips.
Units from the fleet are regularly exhibited at truck shows across Ireland and the UK, frequently entering the winner's enclosure. As ever, Trevor intends to take in a handful of shows this year:
"I'll bring them to four or five anyway," he confirms. "It's a good day or weekend out and it keeps the boys interested. We'll do Irvinestown and Edinburgh as well as Full of the Pipe and The North Coast. We'll also be at the small one in Toome as well."
The driving force behind T Tate & Son (Transport) Ltd. inherited his passion for trucks from his father, Maurice, who used to draw sand & gravel out of Kenny Hobson's quarry in Kilkeel, which was where Trevor cut his own teeth in the haulage business.
Over the past four decades, T Tate & Son has established an unrivalled reputation for delivering outstanding bulk tipper and low loader solutions. By operating a fresh and well-kept fleet – manned by dedicated, experienced and conscientious drivers – the company has become synonymous with excellence, reliability and value for money, with every consignment delivered safely, professionally and on time.
The business enjoyed an excellent year in 2017 and the signs are encouraging that 2018 will be another positive year for Trevor and his team. "Between part-time and full-time, we have seven drivers on our books at the moment. As well as our own fleet, we also hire in some lorries as well on a subcontract basis – up to three or four most days."
As a family-run business, a personal touch is guaranteed. Trevor is joined in the day-to-day running of the business by his wife Ann and son Barry and daughter-in-law. Barry's three sons Christopher, Will and Alan are also showing a keen interest in trucking, so it looks like the fourth generation will be at the helm somewhere down the line!
If the business continues to provide a livelihood for future generations of the Tate family, then that'll keep Trevor more than happy: "We've got a living out of it so far and that's all you can ask for," he concludes modestly. "The two new DAFs are a great addition and, even though they are a big investment, our maintenance and mechanical bills will come down and they'll ensure that we can continue to provide a reliable and efficient service, so we are in a good place going forward."
T Tate & Son (Transport) Ltd.,
16 Halfpenny Gate Road,
Moira,
Craigavon,
County Armagh,
BT67 0HN.
Tel / Fax: 028 9261 2138#
Taken from Irish Trucker & Light Commercials magazine, April 2018, Vol 21 No 3