Prestigious award for NI Trucks
14/08/2018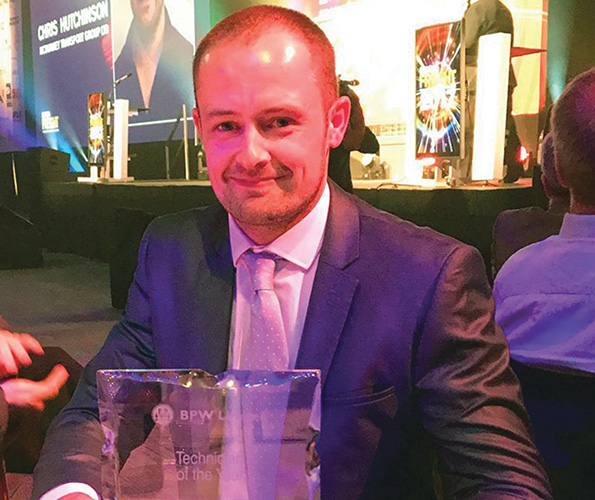 Synonymous with the Iveco brand for many years, NI Trucks have always strove to deliver on all fronts whether it be sales, aftersales, repairs or maintenance.
Based in Mallusk and Portadown, the company's highly trained staff are at the forefront in their field of expertise and this was highlighted at the recent Export & Freight Awards when NI Trucks Technician David Newell was awarded the Technician of the Year award.
A delighted David was presented with the award, sponsored by BPW Limited, at a glittering ceremony at the Waterfront Hall in Belfast.
David has been with NI Trucks since he started as an apprentice 17 years ago and is a specialist in diagnostics and electronics and is a representative on the Iveco Technical Forum, allowing him to not only pass his knowledge on to work colleagues in NI Trucks but to the rest of the Iveco brand dealer network in Northern Ireland and Great Britain.
"I was delighted to win the award. It was a fairly intense process where each candidate had to undergo a long interview on their experience in the industry, while there were a lot of technical questions also," revealed David.
"It was then a waiting game, and it was great to here my name read out at the awards night. I'm always trying to better myself and be the best I can and it is an honour to be recognised for that."
NI Trucks service manager Shane McGorman admitted that it was a proud moment for the company to see David win his award.
"It was a massive honour for the company to see David collect the award and get the recognition that he thoroughly deserves. He has been here since he was an apprentice and has always conducted himself very well. When it comes to call outs, David is our go to man as his record in repairing vehicles when on call is second to none. He has an excellent first time fix rate; his knowledge, experience and great service has helped win the company many new customers over the years. said Shane.
"There is a huge emphasis placed on in-house training as not only does it help the company get the best out of the employees, but it also helps retain their loyalty as we would have a low turnover of staff. We would spend at least five days of the year in England training at our training facility over there.
"Each technician would do assignments and if there is an area they are weak on, they would then be sent for training on that area to bring them up to speed.
"With the emergence of gas vehicles, a few of the technicians have already being trained up on that and a few more will receive training in the near future," added David.
Shane and David operate from the Portadown branch of the business where 13 people are employed on a two-shift cycle that sees them operating from 7.30am to 3.30am in order to cover their customers' needs.
"We know the importance of having your truck on the road as much as possible, that is why we strive to ensure downtime is kept to a minimum and the customer suffers as little disruption as possible," added Shane.
"There are two vans on the road which David and another technician Tony look after and we could have call outs anywhere in the north west. Experts in our field, we specialise in the sale of Iveco and Iveco Bus vehicles, along with their servicing and parts. Our aftersales care also covers all makes of commercial vehicles and motorhomes."
The Iveco range spans from light Daily vans, to Eurocargo medium trucks and heavy Stralis tractor units. As part of the Iveco dealership network they are amongst the market leaders in today's commercial vehicle industry.
NI Trucks have a comprehensive range of parts stock on site and, using their own state-of-the-art ordering system, they can order parts for overnight delivery to have to the customer the next day. Their three vans deliver daily across Northern Ireland, helping the customer to keep their vehicles on the road with minimal disruptions for repairs.
They have service and parts centres throughout Northern Ireland in Portadown, Coleraine and Claudy, while they also offer their own province-wide Parts delivery service and breakdown support.
There is no doubt the level of service that NI Trucks has been borne out of willingness to learn and speak to their customers about what they want.
"We would have a personal relationship with our customers and there would be a trust there between both parties. We work hand in hand with them and inform them of every step we take when working on their vehicles."
Planned professional maintenance of your commercial vehicles is extremely beneficial to your business and in the long-run it can save your business a lot of time and money. NI Trucks know how important it is to look after a vehicle throughout its operating life to make sure it performs correctly and that it achieves the highest resale value when the time comes. Not to mention, that it can also help you to set your business apart from your competitors.
NI Trucks Ltd
6 Carn Court Road,
Portadown Co. Armagh BT63 5YX
Tel: 028 3836 2413
Fax: 028 3839 9774
Service Manager
Shane McGorman 028 3836 2413 - 07733 913448
Taken from Irish Trucker & Light Commercials magazine, April 2018, Vol 21 No 3