Another landmark year for Ireland's premier Citroën dealer
10/08/2018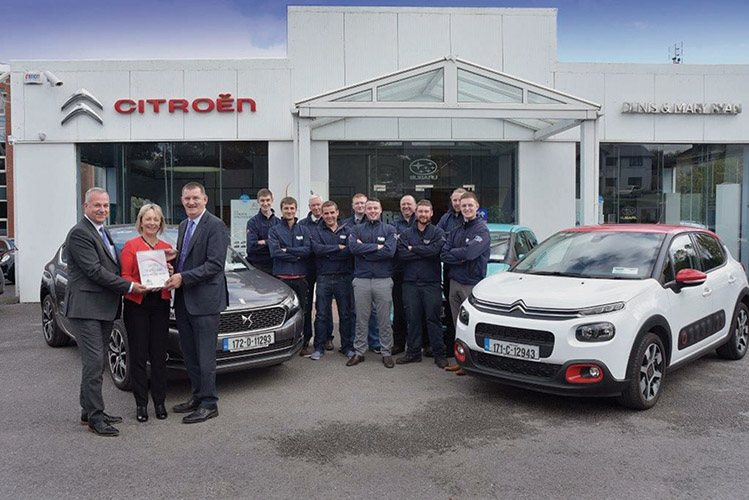 In September, Denis & Mary Ryan Car Sales in County Cork was selected from a network of 19 authorised sales dealerships nationwide and recognised with the Citroën & DS Automobiles Dealer of the Year Award 2017. We dropped into their busy Bishopstown premises to find out more from director Donnacha Ryan.
Eponymous founders / proprietors Denis and Mary Ryan were officially presented with the 2017 Citroën & DS Automobiles Dealer of the Year Award by Citroën & DS Ireland Managing Director Chris Graham at the 2017 Dealer Conference in the Mullingar Park Hotel. The award is due recognition of Ryans' excellence across all facets of their exceptional, long-established dealership, taking into account performances in the key areas of sales, service and parts.
Originally appointed to the Citroën network in 1991, Denis & Mary Ryan Car Sales is in fact the longest serving Citroën dealership in Ireland. As well as providing outstanding service to their customers across the Rebel County and beyond, the dealership also places a strong value on supporting the local community – to this end, they are proud sponsor of Schull and Goleen Social Centres as well as the Fastnet Film Festival.
The trusty team at Denis & Mary Ryan Car Sales strive to consistently deliver the very highest standards of service to ensure that all customers benefit from a positive sales and service experience. For example, long-term employee and resident Consultant Technician Derry Collins, who has been with the business since the very beginning, epitomises the dealership's unrivalled approach to customer care.
Upon accepting the prestigious Dealer of the Year award, Denis Ryan commented: "On behalf of Mary, all the team and myself, I am thrilled to accept this award for Dealer of the Year 2017 from Citroën & DS Ireland. All of our team are passionate about providing the highest level of service to our customers and I would like to thank our customers for their loyal support over the years. We are very proud to represent Citroën in Cork - as a brand with a rich heritage and an award-winning range of cars today, the future looks bright with more launches to look forward to in 2018."
Meanwhile, the Citroën & DS Ireland MD commended the Ryans on their "outstanding excellence across both their sales and aftersales departments", adding that "as true advocates of the Citroën brand, the longevity of service of Denis and Mary Ryan is testament to their confidence in the quality of the Citroën vehicles they have sold over the years."
Founders Mary and Denis have developed this business from strength to strength for more than a quarter of a century and they are now joined in the day-to-day running of the family operation by son, Donnacha, who says he was thrilled that the Dealer of the Year Award winged its way to Ryans for the second time:
"It was really nice to get the overall award again. We were selected as the Dealer of the Year previously in 1996 and were also named as Sales Dealer of the Year in 2010. It's great to get his vote of confidence from Citroën & DS Ireland, not least because the award covers sales, service and parts."
Thus, as well as being Ireland's longest-established Citroën dealer, Denis & Mary Ryan Car Sales was also the best-performing one during the year gone by. Donnacha says it was a good year all round: "It was another challenging year but we worked hard and it turned out very well for us. We have excellent dealerships and a great team here and we're lucky to have the support of our loyal customers who come back and do business with us time and time again."
This high level of repeat custom is a direct result of the market-leading customer care that Ryans have been providing since the dealership started. Every customer is treated as a priority, given expert advice and an aftersales service that really is second to none. Complementing this, the products offered are also of the highest standard…
Denis & Mary Ryan Car Sales are main Citroën and Subaru dealers, stocking an extensive range of new Citroën and Subaru vehicles as well as being an approved service and repair centre. They also stock a comprehensive range of quality used cars and vans in addition to supplying Citroën parts and accessories both to the public and trade.
The highest main dealer standards permeate the showroom, workshop and parts centre, where a team of eleven experienced, qualified and customer-focussed personnel are on hand to look after customers and their vehicles. The modern workshop is fully equipped with the latest diagnostics equipment to service the complete range of Citroën / Subaru cars and commercials as well as all other makes of vehicles.
In addition to sales, Ryans provide a one stop shop for all motoring needs including: general servicing; per-NCT checks; tyres; replacement vehicle service; valeting; body repairs; and processing insurance claims.
"We have built up a loyal customer base and most of them have been with us a long time," Donnacha continues. "When people buy Citroën, they tend to stick with Citroën … the cars and vans are very efficient and economical.
"On the commercial front, the Berlingo, Dispatch and Relay are all great vans. The Berlingo is obviously the biggest seller and is extremely popular. We also have a lot of loyal commercial customers in Cork and we're happy to look after their needs, be it a single van or a fleet of vehicles."
Regarding the key to the success of Denis & Mary Ryan Car Sales down through the years, Donnacha notes: "The first thing would definitely be the hard work and commitment of my parents. Also, our loyal customers, who stick with us. They would come in and get a car serviced here and then buy a new one off us when it's time to change. I suppose that's the reward you get when you look after people and treat them with respect. We also have a very good variety of vehicles here, between cars and vans, new and second hand, and we try to have something to suit everybody's needs and budget."
Finally, after a successful, award-winning 2017, Donnacha says the plan for this year is "to try to keep our customers happy by continuing to offer them excellent service and also to bring in some new customers." Chances are high that both objectives will be met by Ireland's longest-serving – and best! - Citroën & DS Automobiles dealer.
Denis & Mary Ryan Car Sales,
Ardrostig,
Bishopstown,
County Cork.
Tel: 021 4346655
Web: www.ryans.ie
Taken from Irish Trucker & Light Commercials magazine, April 2018, Vol 21 No 3