CAE Delivers cracks code for 'sure and speedy' Irish success
25/07/2018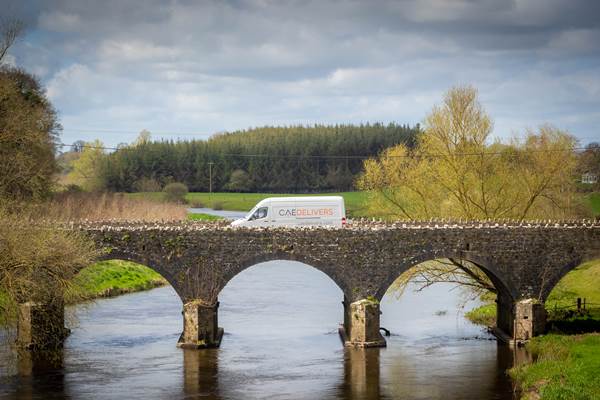 One of the UK's leading independent delivery firms has announced a new service which will put an end to problems experienced by retailers trying to meet the demand of Ireland's growing contingent of online shoppers.

City Air Express (CAE Delivers) has boasted that the enhanced next-day operation will not only be quicker than its rivals but will markedly reduce the potential for failed first-time deliveries.

Managing Director Jamie Knapper explained how the service saved valuable time by sorting consignments according to individual Irish delivery routes on arrival at CAE Deliver's Manchester distribution centre instead of when they reached its Dublin depot.

He added that CAE Delivers' systems also automatically assigned parcels their own Eircode – a detailed address indicator developed to combat the difficulties caused by Ireland's high proportion of non-unique addresses - at the same time.

"We've invested a lot of time and effort in getting this new service right because the twin elements of speed and accuracy are critical to many businesses, particularly those involved in e-commerce.

"Ireland is a fast-growing marketing for online shopping and many of our clients know that if they want to grow sales, they need to be better than their competitors.

"By pre-sorting in Manchester and capitalising on the latest possible ferry times to Ireland, goods arrive in Dublin first thing the following morning, guaranteed for delivery that day.

"Becoming one of the very first British businesses to make Eircode a central part of our Irish service is another key component, overcoming the need which many couriers have to rely on mobile 'phone numbers to raise their chances of making a first-time delivery.

"Even if consumers in the Republic don't know their own Eircode, we can generate that information for them. Furthermore, we know that we are able to dramatically develop parcel volumes without falling short of the very high standards which we have set ourselves."

Mr Knapper said that the launch of CAE Delivers' new Irish next-day service followed a successful three-month trial involving a handful of major UK retailers.

It also fulfils his commitment to clients during a Management Buy Out in December 2016 which saw ownership of CAE Delivers change hands.

Mr Knapper had been with the company for 16 years before – together with his brother Jason, CAE Delivers' Group Operations Director - buying the shares of director Adrian O'Connell, who founded the business in 1975.

Mr Knapper described the effort needed to create the new service as "essential", given continuing problems with serving Ireland's rising numbers of e-consumers.

Even though its rate of increase of online shopping outstrips Europe's more established internet retail markets, including the UK, France and Germany, Irish customers have repeatedly complained about difficulties in receiving their purchases.

One recent study suggested that 30 per cent of Irish consumers had experienced more than one problem delivery in the last 12 months alone. One-in-eight shoppers said the main issue was couriers not being able to find where they lived.

In 2015, the Irish government introduced Eircode to give every single home or business its own unique postcode. Up to that point, more than 600,000 addresses across the Republic were without their own specific identifying code.

However, Ireland's national postal service, An Post, told the country's parliament that use of Eircode remained "very low" more than two years after the system was put in place.

According to The Department of Communications, Climate Action and Environment, which manages Eircode, a total of 835 businesses are currently licensed to use or issue the codes.

Mr Knapper insisted that CAE Delivers' decision to become what is believed to be one of the first British-based delivery firms using Eircode was "progressive".

"Eircode usage is developing and we see it as a tremendous aid to living up to our promise to clients and their own customers about making fast, accurate, transparent and secure deliveries.

"In addition, it would appear that view is shared by others. Since we completed our trial of the new service, we have been contacted by other businesses who recognise that it is a significant advance on their existing systems."