"We pride ourselves on our customer service"
25/07/2018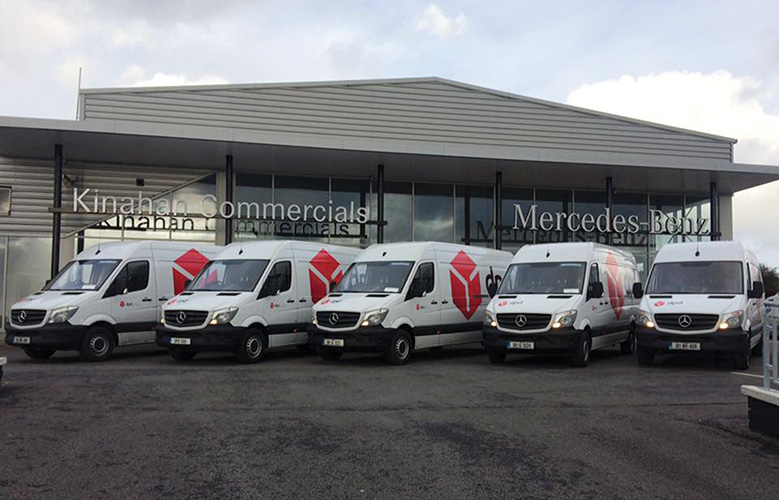 Kinahan Commercials Ltd have been servicing the commercial vehicle needs of the midlands and surrounds for the past 40 years. Irish Trucker caught up with Sales Manager Ger Carey who shone a light on the progressive Westmeath dealership.
Main dealers for Mercedes-Benz and Mitsubishi Fuso new and used commercial vehicles, the Moate, Co Westmeath operation stocks a complete range of new commercial vehicles including Mercedes-Benz trucks and vans, new Mitsubishi Fuso trucks and also have quality used commercial vehicles in stock.
They provide their extensive customer base with a wide choice of models and vehicles suited to different budgets while their knowledgeable sales team will be there whenever you need them for guidance on choosing the ideal vehicle that best suits your requirements. When you do visit for after sales care you can expect the same diligence.
"We're located on the Westmeath/Offaly border, in the heart of the midlands, with close proximity to Athlone, Mullingar and Tullamore," commented Sales Manager Ger Carey who joined Kinahan Commercials 18 months ago.
The transport solution you choose needs to be flexible, reliable and above all else, cost effective. That's where the FUSO Canter commercial vehicle range comes in.
Boasting a new design and outstanding efficiency, the new Canter is ready to get the job done for you. The new Canter is packed full of innovation such as the DUONIC dual-clutch transmission – a world first.
Add in the automatic start/stop function (ISS) and independent front suspension for all 3.5-ton models.
And these are just a few examples. The result? Greater efficiency, greater comfort and convenience for your daily transportation needs. And, most importantly, greater economy for your business!
An optimised powertrain delivers significant fuel savings, while the fully modified frame concept ensures good body-mounting ability and further increases the payload.
Also making its debut: the new independent front suspension for the 3.5t Canter. All designed to boost efficiency and enhance comfort.
"Another big selling point for the Canter is the five year warranty that comes with it plus the factory fitted bodies," Ger added. "It has proven to be very popular with our customers and is a good seller for us. The cost of ownership is a big thing with the Canter also. Running costs over five years are low and there is a good finance rate behind us as well. We find that is a big help for our customers."
Kinahan Commercials' sales figures reflect the popularity of the Canter amongst its client base.
"2018 has started very strongly in Canter sales and we'd be optimistic that trend will continue. It's onwards and upwards for the Canter really."
As an authorised Mercedes-Benz commercial vehicle dealership, they can also offer their customers sales for the complete range of Mercedes-Benz commercial vehicles including vans and trucks.
With its three vehicle lengths; compact, long and extra-long, the Vito can be extraordinarily well adapted to your individual space requirements. And the roomy load compartment can accommodate any amount of cargo.
Meanwhile, each of Kinahan Commercials' customers has to meet very specific challenges in their day-to-day work. And as these demands are becoming larger by the day, there are numerous Sprinter panel van variants to meet them.
"The Vito and Sprinter are particularly popular," Ger revealed.
Through their dedicated and highly trained sales and service staff, Kinahan Commercials Ltd aims to continue to supply and service country wide the highest quality heavy and light commercial vehicles both new and used.
They place great emphasis on offering their customers a quality after sales services and this commitment was reflected in their success at the inaugural Irish Auto Trade Awards ceremony back in 2014 when they walked away with the HCV After Sales Main Dealer of the Year accolade.
Dealer principal Greg Kinahan was delighted to receive the overall award which recognised the hard work, dedication and experience of their 25-strong workforce.
"We pride ourselves on our customer service and on a great after sales service," Ger outlined. "Customer retention is a big thing as far as we'd be concerned and we find that our customers come back to us time and time again. That's certainly what I have found since I moved here."
In addition, Kinahan Commercials offer a complete DOE testing service and are also part of the vehicle testing network VTN and carry out DOT (Department of Transport) testing on both heavy and light commercial vehicles.
Their modern workshop also does analog and digital tachograph calibrations, speed limiter setting, vehicle plating crash repairs breakdown recovery, wheel balancing and many other activities.
"Our new state-of-the-art showroom became operational last August and there are plans in the pipeline for an official opening at some stage this year."
Open Monday to Friday (8.30am – 6pm) and Saturday (8.30am – 4pm), for more information call Kinahan Commercials on (090) 6481326.
Kinahan Commercials
Dublin Road
Moate
Co Westmeath
Tel: 090 6481326
Email: [email protected]
Website: www.kinahan.ie
Taken from Irish Trucker & Light Commercials magazine, April 2018, Vol 21 No 3