An old head on young shoulders
24/07/2018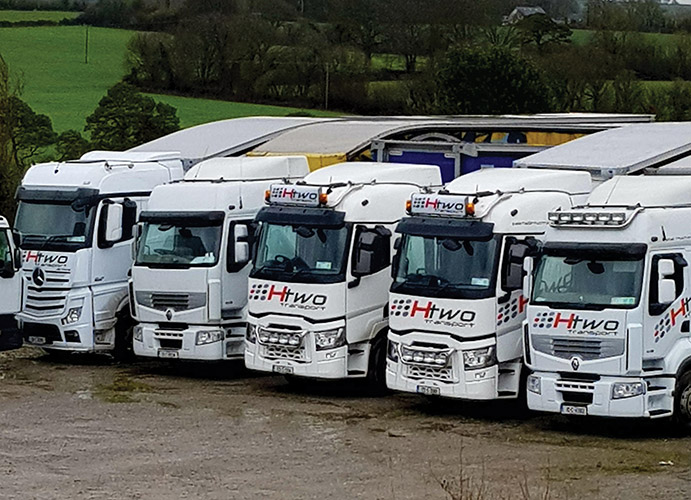 Morgan Hallinan is something of a whizz kid in the Irish transport industry. The 26-year-old founded the Mallow-based Htwo Transport in March 2015 and now runs a fleet of 17 vehicles, employs 29 staff and is The Pallet Network's main player in Co. Cork.
Morgan inherited his passion for trucks from his father Tony, who ran Hallinan Transport for many years. Morgan had worked for a local courier company before deciding to go out on his own. "I felt I could provide a better service," he recalls. "Having grown up in a transport environment, I was confident of succeeding."
Thinking outside the box, Morgan took to the roads of Europe in his Mercedes Sprinter van delivering goods for various customers. One of these was the internationally acclaimed bespoke glass designer and sculptor, Eoin Turner, who creates quality installations and sculptures for yachts and high-end residences.
"The work I did for Eoin got me into a niche market and enabled me to make some very useful contacts. I delivered sculptures from Eoin's workshop in Cork to the rich and famous in Monaco, Spain and Portugal. I even delivered a sculpture to the Benetti Latitude yacht which the singer Rihanna holidayed on a few years ago," he explains.
"I then started providing a transport service throughout Europe for ESA Limited SARL in Luxembourg who manufacture glass for kiln ovens. We're still working for them along with Precision Quality Glass in Cork. Following on from that, we branched into national transport and had three lorries with Masterlink Logistics in Mallow up until recently. They were a great company to work for and gave us a foothold in the Irish market."
Htwo Transport became a member of The Pallet Network (TPN) in March 2017, initially covering the North Cork area for them before taking responsibility for most of Co. Cork in October 2017.
"We've gone from delivering 60 pallets to 300 pallets a day for TPN," Morgan says.
"Our turnover has increased dramatically and we've outgrown our 10,000 sq ft warehouse in Mallow. We're planning on moving to a 20,000 sq ft in Mitchelstown, which will bring us deeper into Co. Cork and closer to the majority of our customers. It's also located on the M8 Dublin-Cork Motorway. I envisage Mitchelstown becoming TPN's central hub for Co. Cork."
TPN is the leading freight distribution service for palletised goods in Ireland with a network of 22 regional hauliers / members. Established in 2004, it delivers and collects pallets and carton freight in every county in Ireland on an overnight delivery service. Htwo Transport enjoys the services of an Irish and UK network of depots which are all tightly controlled and monitored to ensure the best delivery service in the market.
TPN was the first pallet network in Ireland or the UK to achieve ISO accreditation for every member. By combining into a single network, TPN members can offer the agility and personal service of smaller operators, while offering the national and international reach of larger ones – giving customers the best of both worlds.
In addition, because members cover shorter distances within a familiar territory, they offer a fast, flexible service, while at the same time reducing costs and carbon footprint as well as maintaining drivers' hours safely. TPN's central IT system collates the shipment data from all its depots, sorting pallets into destination depot order and producing outbound load manifests. After the deliveries are completed, the local depots key in the delivery details and scan the POD image for electronic transfer and archiving. The scanned image is available to clients electronically via the web.
In short, TPN provides an unrivalled service in its field of expertise and is something Htwo Transport is proud to be a part of.
"It's humbling to think that Seamus McGowan and Owen Cooke (TPN's directors) have put their Cork business on the shoulders of a 26-year-old," Morgan continues.
"We believe that groupage is the way forward. As a TPN member, we can do pallet and full loads at the cheapest rates available. We can offer a full transportation solution for all companies.
"Now that we have a handle on our TPN duties, we are looking to increase our international work. At the moment, the Irish market accounts for 70 per cent of our business and the other 30 per cent is international."
The Renault-dominated fleet comprises seven artics, eight rigids and two vans. Maintenance and repairs are carried out in-house, while Morgan deals mostly with Munster Vehicle Sales in Cork and Suir Haul in Waterford – who are both main Renault dealers – for sales and parts.
"I would like to take this opportunity to thank our customers for their support, and our staff for their hard work. We've come a long way in the last three years and hopefully we'll continue to go from strength to strength in the years ahead," the affable young haulier concludes.
Htwo Transport
Quarterstown Industrial Estate,
Mallow,
Co. Cork.
Telephone: 022 57989
Taken from Irish Trucker & Light Commercials magazine, April 2018, Vol 21 No 3