ENTS  is a family built success story
18/07/2018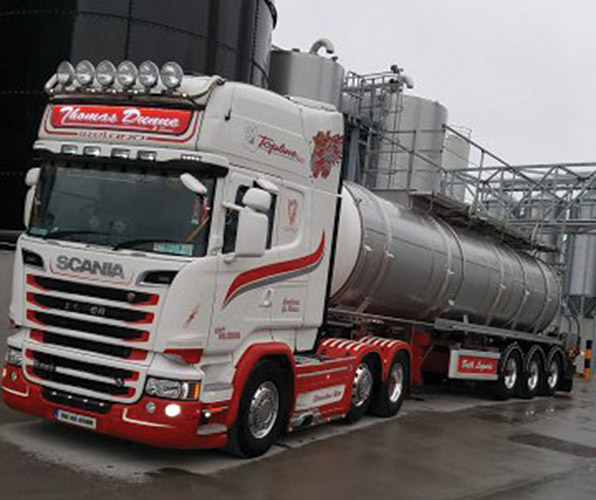 Celebrating over 30 years in business, ENTS Transport Ltd has specialised in bulk liquid transportation since 1985.
Kildare based Thomas Dunne & Sons trading as ENTS Transport Ltd is justifiably regarded as one of Ireland's premier bulk transport operators, providing a top class, efficient and reliable bulk haulage solution incorporating bulks, flats, tanks, low loaders and curtainsiders to keep alive a proud family tradition.
Founders and Proprietors Thomas (Tom) and Helen Dunne are to the forefront of the business. Sons Niall, Thomas and daughter Susan are also involved in the running of the business as is Caroline, Tom's sister, brother Al, and nephew Declan.
The fleet, which is Tom's pride and joy, is kept in pristine condition at all times and no stone is left unturned to ensure that all trucks and drivers meet all safety requirements. There is a huge commitment to safety and very high standards of delivery. Tom says: "It's very much a team effort with everyone highly professional in their field and we do all our own repairs and servicing in our workshop, so the turnaround time is extremely efficient. You have to provide a top quality service and look after your customers."
TASCC registered ENTS Transport Ltd is active in the feed and food chain. They must at all times exercise due diligence in the case of such materials and operate in a hygienic way where prevention is the keyword.
As regards the current state of play in the industry Tom is concerned about the rising costs of insurance, which is putting jobs in the transport industry at risk and acting as a severe barrier to young people who want to go down the driving route.
"Insurance companies are refusing to take on anyone under 25 who must have at least two years driving experience, which is impossible without insurance.
"The lack of drivers is also a problem. There are a lot of young people who would like to get started but don't meet the insurance requirements. There's also the element of the high cost associated with getting your artic licence between CPC's, theory, and practical driving tests, along with the cost of driving lessons before the test."
Tom finds this problem all the time, as there have been a number of people he would have liked to taken on but couldn't because of their age. Tom's own daughter Susan, who's 20, has her full artic licence and the insurance company won't take her on.
"They wouldn't even quote her. It's very frustrating," added Tom. "Insurance is definitely the number one issue facing the industry."
ENTS Transport Ltd.
Crookstown,
Ballitore,
Athy,
Co. Kildare
Tel: 059 8623189 Fax: 059 8623351 Mobile: 086 2559080
Email: [email protected]
Taken from Irish Trucker & Light Commercials magazine, April 2018, Vol 21 No 3