A lifetime's service to haulage
03/07/2018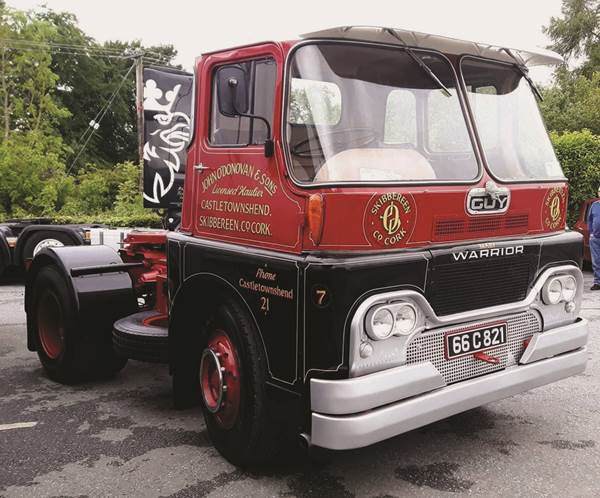 Cork man Pat O'Donovan has served the haulage industry with distinction for more than half a century. Current vice-president of the IRHA, he was recognised with the 2018 Services to the Transport Industry Award at the recent national fleet awards – a fitting acknowledgement of his immeasurable contribution to the sector he loves! We touched base with Pat at his Carrigtwohill HQ.
Pat O'Donovan – the driving force behind O'Donovan Transport (Cork) Ltd. – is a modest man, so it's fair to say he was somewhat taken aback to be honoured with a special award for his huge contribution to the haulage industry in Ireland at a gala banquet in the Citywest Hotel in October.
A long-serving campaigner for road haulage at local, national and EU levels, the Cork man received a prolonged round of applause as he accepted his award in front of a packed house of some 1,000 people, all present to acknowledge the individuals and companies who help keep the wheels of the transportation industry turning year in, year out.
"I was very surprised to get the award," Pat reflects. "I have to admit it came as a total surprise to me and I was very honoured. Usually, I'm very sharp at picking up on these things – that there's something on the horizon – but I had no idea that I was going to get the award on the night. It was a big surprise but I have to say there are many people who have been in the Association longer than me who would have been more entitled to it. But I'm honoured and I really appreciate it."
Pat has been working in haulage for 51 years, since leaving school at the age of 13 and joining the family business set up by his father, Jack, and mother, Mary, in the picturesque West Cork village of Castletownshend more than six decades ago. He took over the running of the business from his father, who was active at Association level prior to him. "There was another Association before the IRHA was set up; it's been rebranded a few times but has basically always been the same Association," he notes.
Pat himself served as chairman of the Cork branch of the IRHA for four years and also became involved at national management committee level. He became vice-president eight years ago but opted not to go forward for president: "I didn't have time and I also felt there were better people there than me to fill that role," he says.
"I'd rather serve in the background and I was prepared to step aside for the younger blood. Eoin Gavin was an excellent president and I was going to retire from the management committee two years ago but when I saw the energy and enthusiasm of those involved I felt obliged to give a hand and do what I can for the Association because it's voluntary and somebody has to do it.
"I've always been very honest about my motivation. I have a family business here with three sons involved and I do it for ourselves primarily, to advance our own business, and secondly for the industry as a whole. Indeed, I couldn't have done any of those without the support and help of my family down through the years."
Pat's late wife, Celine, played an integral role in helping develop O'Donovan Transport into a successful enterprise, and his late son, Kevin, was also a key part of the exceptional family-run operation. Today, Pat and his three sons Anthony, Patrick and John front a top-class company that generates employment for more than 50 people.
Operating a fleet of 45 stunning tractor units (mainly Scania and Renault) and 150 highly-spec'd trailers, O'Donovan Transport offers a wide and varied service, working primarily with seafood, scrap metal, malt and animal feed companies across Ireland and Europe. O'Donovan Transport has warehousing and cold storage facilities in Carrigtwohill as well as a depot in Rathcoole, County Dublin.
The bulk haulage side of the business mostly entails the transportation of grains, malt, barley and scrap metal to the UK, while refrigeration comprises fish to Spain and France, with backloads of fruit and vegetables.
Behind the scenes, Pat O'Donovan has carried out an inordinate amount of work at local council and national management committee levels for the IRHA down through the years. He is always quick to downplay his contributions, however. "I'm just part of a team. The Association is a team effort and everyone plays their part. The president at any given time will start off working on a particular issue and then somebody else comes along and keeps that going, while everybody else does their bit in the background.
"We've been very lucky in the past few years because all of the presidents I've worked under were hard workers and great people. The last few presidents have got more involved politically with the people who make decisions and that has enhanced our ability to deal with legislation in Ireland, while we've also become more involved in Brussels through the IRU.
"It's not just about the laws and legislation we strive to have introduced - an awful lot of what we do is preventing stupid things from coming down the road … things that are created by rash people who don't understand the consequences of their actions. So we're forever trying to protect our industry from other people's agendas and believe me there's some nonsense trying to get through almost every week.
"For example, this thing about drivers not being able to sleep in their cabs while taking a 45-hour break is ridiculous. A lot of the legislation they try to bring in comes under the guise of safety but this has nothing to do with safety. Where will he sleep and who will look after his vehicle while he is sleeping? They don't think of the practical side of it. That's where the Association comes in – we try to look at the practical side of it and how it will affect our members. We endeavour to work with other EU countries and with like-minded people to ensure that the interests of hauliers are represented and safeguarded."
The bottom line is that without the IRHA, the interests of hauliers would be completely overlooked. "Transport in Ireland is such an important industry, but the powers that be don't recognise this," says Pat. "We are an export nation and products don't move of their own steam – they have to be transported. Market-driven exports are no good arriving two days late. The Dutch treat transport as one of their primary industries and we should be doing the same. Haulage is absolutely vital in an island nation where you can't travel for five hours in any direction without meeting a natural barrier, i.e. the sea."
For the time being at least, Pat will continue to invest his energies into both the family business and the IRHA: "It's time-consuming of course and it's also depressing sometimes because the wheels of the various departments and Government bodies move so slowly," he concludes. "Most people involved in lobbying and representative bodies would find that hard to deal with.
"We've had some great Ministers, including the present Taoiseach, but it's difficult to keep the momentum of representation going when you can't even get a meeting with a Minister who has ignored every brief of his ministry except Sport. Indeed, for any Government to put Transport in with Sport is downright disrespectful.
"In many respects, our voice is still being ignored. I would never recommend striking - only as a very last resort - but they would want to wake up a bit and realise that the haulage industry deserves more respect than what is currently being shown to us."

O'Donovan Transport (Cork) Ltd.,
Main Street,
Carrigtwohill,
County Cork.
Tel: 021 4883399
Fax: 021 4883705
Email: [email protected]
Web: odt.ie
Taken from Irish Trucker & Light Commercials magazine, April 2018, Vol 21 No 3