The complete service
29/06/2018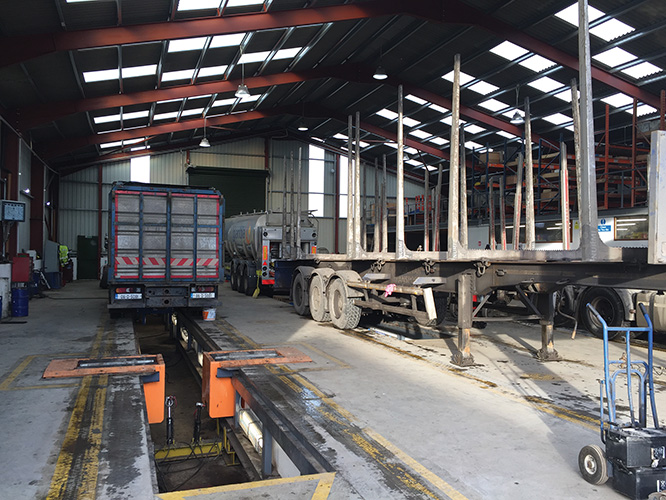 When it comes to maintenance, service or repair work in the haulage industry, it is essential for a haulier to use someone that they not only trust, but know that the work will be done to the highest standard possible.
These days more than ever, the importance of having a well-run fleet of trucks and trailers was never more essential as legislation on road worthy vehicles has certainly tightened up.
There are many companies that specialise in maintenance and repair work, but few offer the type of service that Munster Truck & Trailer Services provide to their ever expanding customer base.
This service was recognised at the Freight & Exports awards this year when the company was named best Independent Workshop of the Year. The award was in recognition of the modern, state of the art workshop that this family run business uses to carry out their daily duties.
Based just outside Dungarvan, Co Waterford, Munster Truck & Trailer Services moved into a new garage last January, which is located on the site that they have previously operated from.
Of course, the owners Gerard and Tomás Horgan would be well-known in the haulage industry as they operate the long-serving Dungarvan Transport for many years.
Gerard spoke to Irish Trucker about the business and he admitted that it was a huge honour to receive an award for the work that they do.
"We are delighted and honoured to receive the award. We have no idea who nominated us, but someone came to the premises and inspected it without us knowing," said Gerard.
"We treat every customer the same when they come in, no matter what their query might be and it is always our aim to work closely with our customers and ensure that they know what we are doing at all times.
"A big investment has been put into the garage and we installed a brake-tester machine in 2017 as well. That will help us carry out the 13-week tests more accurately."
Munster Truck & Trailer Services offer their customers many services for both light and heavy commercial vehicles as well as trailers and other equipment involved in the haulage sector.
"The workshop has a four-bay capacity and we have six working there at all times. The mechanics are very experienced and have been with us for a number of years, while our customers are familiar with them also and that helps develop a trust between us and the customer."
DOE preparation, tachograph and speed limiter calibration, breakdown and recovery, general maintenance and inspections are all part of the full suite of services on offer.
"We specialise in a wide range of services including scheduled service of the customers' vehicle can be done at a time to suit them. We can get them in and out in a couple of hours with a pre-arranged booking and if needed they can wait while we do the job. Full engine reconditioning or rebuilding facilities are available.
"Vehicles that are fitted with tachographs need them calibrated every two years. Every six years full calibration is required. Our trained technicians can calibrate and repair most of tachograph types, both analogue and digital. We are N.S.A.I certified (National Standards Association of Ireland) for tachograph installation and repair. We have two fully trained members of staff devoted to servicing, replacing and repairing of both digital and analogue tachographs."
DOE preparation is an area that has taken on greater significance in recent years and the team at Munster Truck & Trailer Services will ensure that the customers' vehicles will be in excellent condition ahead of a test.
"DOE preparation is one of our specialities. Our staff are knowledgeable and will answer any queries before and after the DOE test. Our aim is to prepare the vehicle efficiently and assist the customer in getting a pass certificate."
Munster Truck & Trailer Services has a maintenance contract with Glanbia for the maintenance and repair of milk collection tankers, along with a number of other firms who can attest to the efficient and dependable mechanical repair service they provide.
"We were doing our own maintenance work on our trucks and then we got the contract with Glanbia, from there we started to branch out and offer our services to other customers and we have steadily grown from there," stated Gerard.
Munster Truck & Trailer Services offer a friendly and efficient service that sees them price their work accordingly, which always benefits the customer.
"We are not here to get one over on anyone and anyone that knows us, knows that is the case. It is not in our nature to do that. Some lads would come in and say, we are too nice in that respect, but we are happy with the way the business is going and as long as we can make sure our customers are happy then we will be happy."

Munster Truck & Trailer Services
Garryduff
Colligan, Dungarvan
Co.Waterford X35 YA31
Ireland
TEL: 058-68855 FAX: 058-68104
Tomás Horgan
Managing Director
MOBILE: 087-250-1664
Gerard Horgan
Director
MOBILE: 087-288-4113
Jerry Hallissey
Workshop Manager
Mobile: 087-6553220
EMAIL: [email protected]
Taken from Irish Trucker & Light Commercials magazine, February/March 2018, Vol 21 No 2