Blackwater Motors wins again!
22/06/2018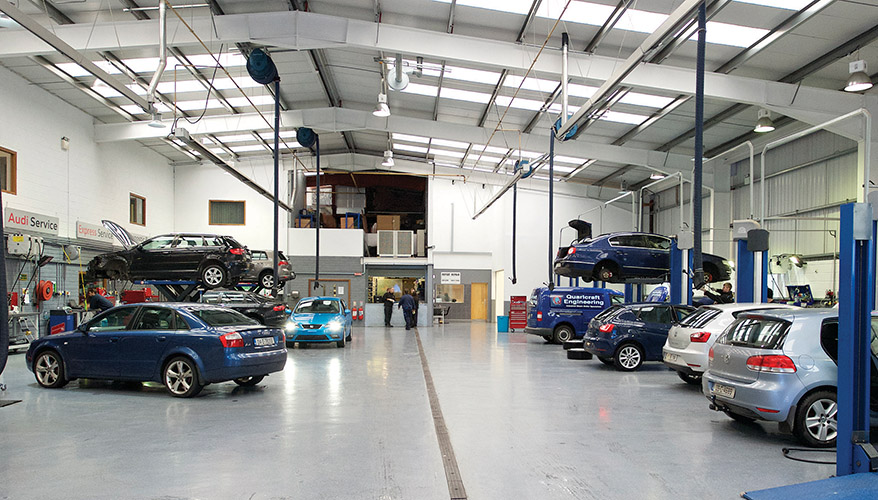 Blackwater Motors in Fermoy came up trumps once again at the prestigious Irish Auto Trade Awards 2018 in Carton House, Maynooth on October 26 last when it scooped the Trade Parts Main Dealer of the Year award for the third time in four years. The well-known dealership, which is celebrating 25 years in business, was also crowned regional winner in the category for the fourth year in-a-row.
The awards programme, which was inaugurated in 2015, is a celebration of excellence in the Irish auto trade, a sector that accounts for almost 40,000 jobs. Winners from across the country were honoured in 26 categories, spanning aftersales, parts, components, tools, equipment and service.
Blackwater Motors took the national title for a third time, having previously won it in 2015 and 2016, and the Munster crown for a fourth time. Group Trade Parts Manager Tom Browne and his colleague Kenneth Power were on hand to accept the trophy for Trade Parts Main Dealer of the Year from Donal Lawlor and Jeff Aherne of sponsors Cartell.ie
Retail auto businesses undergo a rigorous selection process that includes phone and personal mystery shops before being finally adjudicated on. Manufacturer and distributor companies were shortlisted based on votes received by readers of the Irish Auto Trade journal in the months leading up to the glitzy awards ceremony. Irish Auto Trade Awards organiser Padraic Deane commented: "From the outset, these awards were all about standards and four years in we can see how the bar has been raised across the various sectors which we honour. The commitment to standards is evidenced by the fact that many of our winners are repeat winners, striving year-on-year to do better for their customers."
Blackwater Motors' Trade Link department in Fermoy has been serving customers for the past six years and offers a full range of parts and accessories for Volkswagen, Skoda, SEAT, Audi and Volkswagen Commercial vehicles. Parts ordered before 12 noon on any day will be delivered the following day. The company has built a significant trade parts business on its ability to get the right part at the right time which gives its trade customers certainty in dealing with their customer. Blackwater Motors augments this service with a daily delivery service.
"We were delighted to receive the regional and national awards in our category," Tom Browne says.
"It's great recognition for our trade centre and our staff. We carry a huge range of stock – nine times out of 10 we will have the part the customer is looking for. We have the knowledge and expertise when it comes to parts and pride ourselves on customer service.
"Here in Fermoy, we have seven staff, including two trade specialists, one in the workshop and three delivery van drivers covering Cork, Waterford and Tipperary on a daily basis. We also have two vans operating out of our Cork garage, which also has a one-hour delivery service for Volkswagen and Audi parts. The same service is also offered by our Skibbereen garage. The most important thing in this business is to have the part the customer is looking for, and this is where we excel."
He continued: "The parts teams across the group give the customer their utmost attention and the level of service they require in what is a very competitive market."
Blackwater Motors became a Trade Link partner in 2010. This appointment was an important progression in the company's trade strategy as Trade Link is backed by, and is a very big part of the VWG Ireland Group which covers the VW, VW commercial, Audi, Skoda and SEAT franchises.
Today's trade customers are demanding higher levels of service and better value-for-money than ever before. Through the Trade Link programme, Blackwater Motors has implemented several new initiatives to attract trade customers. It can offer clear and consistent pricing, high levels of service and, most importantly, excellent on-hand availability.
With the introduction of the Volkswagen ECONOMY parts range, Blackwater Motors can offer better prices on the range of brake pads, discs, batteries, shocks, etc. Quantum products and consumables for professional automotive workshops such as valeting rags, sprays and sponges are also available from Blackwater Motors.
Established in 1991 in Fermoy, Blackwater Motors has grown to become one of the biggest car dealerships in the Munster region. It now operates out of four locations – Fermoy, Forge Hill (Cork), Model Farm Road (Cork) and Skibbereen, and employs 150 people in total. The Fermoy branch is a main dealer for Volkswagen, Volkswagen commercial vehicles and SEAT, while its aftersales department is an authorised repairer of VW, SEAT, Audi, Skoda and VW commercials.
Following its appointment as main Audi dealer for Cork city and county in 2010, Blackwater Motors relocated its Audi dealership from Fermoy to the Bandon Road Roundabout in Cork city. This was followed two years later by the opening of the Skibbereen branch, which offers VW and VW commercials sales and aftersales.
In 2009, Blackwater Motors was appointed VW car and commercial vehicle dealer for Cork city. Its main sales premises were located at Turner's Cross, while the aftersales department was in Victoria Cross. Earlier this year, the sales and aftersales departments were brought together under the same roof at a new state-of-the-art location in Forge Hill, which is just off the Airport Road. The new premises boasts a 20-bay workshop and space for 17 cars in the showroom. More recently, the award-winning dealership has opened a new Van Centre on the Model Farm Road, which is the only dedicated VW Van Centre in Ireland and has a range of new and used VW commercial vehicles.
Blackwater Motors' aftersales, service, parts and car / van hire departments are open from 7.30am to 6pm Monday-Friday and from 8.30am to 3.30pm on Saturdays. The sales department is open from 8.30am to 6pm Monday-Friday and from 9.30am to 5pm on Saturdays.

Blackwater Motors
Dublin Road (Off Exit 14),
Fermoy,
Co. Cork.
Telephone: 025 49500
Fax: 025 49555
Email: [email protected]
Web: www.blackwatermotors.ie
Taken from Irish Trucker & Light Commercials magazine, February/March 2018, Vol 21 No 2