The best in the west
22/06/2018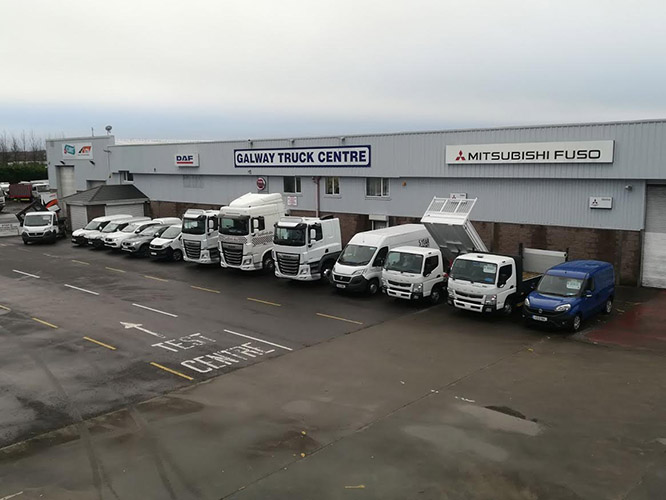 Galway Truck Centre Ltd is closing in on 40 years in business and to this day it still remains first choice for its clientele all throughout the west of Ireland. Irish Trucker learned more about the business recently
from long-time staff member David Rodgers.
Galway Truck Centre Ltd has been a 'one-stop shop' for its customers for some time now and in 2017 sales were as strong as they have been for some time for the business.
Set-up in 1979, the company has a comprehensive knowledge of commercial vehicle operations and the needs of owners and transport managers.
For them, selling a vehicle is only the beginning of their relationship with a customer and they make sure to do their utmost to ensure the vehicle fulfils the expectations of the customer.
A former mechanic at Galway Truck Centre Ltd, David Rodgers has filled the role as sales man in recent months for the company and was good enough to take time from an increasingly hectic schedule to tell Irish Trucker what the business is all about.
"We're on the Headford Road about 5km outside Galway City," explained David.
"We were set-up in 1979 and at the minute we've approximately 25 staff working here. I'm a sales man with the company and first started here two and a half years ago. Alan O'Shaughnessy is the owner.
"We're dealers for Fiat, DAF and Mitsubishi Fuso. We also have a shop for commercial work and parts as well as a CVRT Centre for light and heavy commercials. We do most of the things that need to be done on a truck and offer full diagnostics for all makes and models of trucks trailers."
He added: "We're agents for Fuso for 20 years now."
Indeed Galway Truck Centre Ltd caters for all vehicle servicing, maintenance and repairs in its large service centre and can attend to all your requirements for vans, camper vans, heavy trucks, small and large buses, coaches, ambulances and minibuses.
The company provides complete bus, coach and truck mechanical service and repairs, including manufacturer's warranty, scheduled services on all vehicles and full engine reconditioning or rebuilding if required. We also do Safe Loading Pass for tankers, ADR testing, Pressure testing and tanker repairing Tacho centre, Plaiting & limiter repairs,
Scheduled services of your vehicle can be arranged at a time to suit you. A scheduled servicing program at Galway Truck Centre Ltd Ltd will help increase vehicle life, reduce costly breakdowns and improve your bottom-line operating profit.
For faster service, a pre-arranged booking will ensure that their fully qualified mechanics get your vehicle roadworthy in the shortest possible time.
As aforementioned, David himself was one of those mechanics before he was asked to fill a void in the company's sales team August 2017. He hasn't looked back since.
"I trained as a HGV mechanic with Volvo and spent 10 to 12 years with them, then I went driving trucks and buses for a while and went back to machining," said David.
"They (Galway Truck Centre Ltd) asked me would I be interested in working with them as a mechanic and I accepted on trucks and I did. By chance, I got into Sales last year (2017) and have been doing it for them ever since. I'd been working as a mechanic for 15 years and we'd no full time sales man here at the time so I took on the opportunity.
"I like it. You'd be under pressure a bit but it's great to be busy and it's a little bit better to be going home with clean hands now every day!"
In the parts department, Galway Truck Centre Ltd stock an extensive range of genuine and aftermarket parts.
The company's commercial vehicle product lines include engine, body components, electrical and lighting products, oils and lubricants, comprehensive range of filters, exhausts and zircon parts, clutch friction, brake and clutch hydraulics, cab panels and cab structural products, workshop consumables, and much more.
They are proud to be known as having one of the best stocked stores for truck, bus, machinery and general engineering supplies in the country.
Galway Truck Centre Ltd carries top brands and stock everything from filters, oils, batteries, tyres, bearings, clutches, brake pads, starters, alternators, stereos, wipers, headlamps, belts, mirrors, bulbs, tachograph charts and number plates.
Sales have been good all around, according to David, who now concentrates on the sales at the request of his employer.
"Business has been good. Sales were good in 2017 and hopefully this year they'll be going up again fingers crossed. It's looking good so far I have to say," he stated.
"With regards to where our customers are coming from, it's mostly the west of Ireland - Mayo, Galway, Clare, a bit of Leitrim and Roscommon. Much of our business is coming from Galway and Mayo though.
"Our biggest client for FUSO is Steeltech over in Tuam. We've been working with them a while now and we do a lot of maintenance for them. Barna Recycling would be regular clients as well and GPT in Galway for Mitsubishi just to name a few."
Galway Truck Centre Ltd are also an RSA approved CVRT test operator for light commercials up to 3500 kg and heavy goods vehicles.
With such an array of different services, it's hard for many customers to look elsewhere as David himself pointed out.
"A lot of it would be because we're a one-stop shop. We do all different aspects and we can do everything under the one roof," he pointed out.
"In 2018, we're hoping to push bigger sales than previous years and just keep improving and going strong."
David's happy to report that this year it's been a case of so far, so good for Galway Truck Centre Ltd

Galway Truck Centre Ltd
Headford Road,
Galway,
Co Galway
Tel: 091 751 984
Web: GalwayTruckCentre.ie
Taken from Irish Trucker & Light Commercials magazine, February/March 2018, Vol 21 No 2