Another fruitful year ...
22/06/2018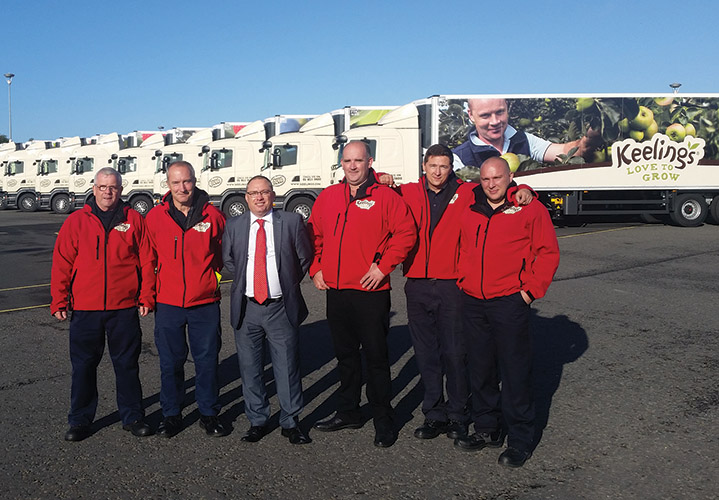 Twenty-seventeen was another outstanding year for Keelings, epitomised by the success of their eye-catching corporate identity in gleaning the Best Livery Award at the annual fleet transport awards in the Citywest Hotel on Thursday, September 28th. We touched base with General Manager
Michael Murphy to find out more
Specialising in best-in-class fruit, salad, vegetable and flower deliveries island-wide on a daily basis, Keelings Retail Ireland's magnificent fleet deservedly took home the Best Livery Award at the national fleet awards in late September. General Manager Michael Murphy was quick to stress that the company's success at the gala awards night was not down to one individual: "This is an achievement that is shared by everybody at Keelings – a real team effort."
The sizeable in-house fleet of trucks is one of the largest privately-owned HGV fleets in Ireland. "The Keelings are a hand-on family and they all play a very active role in the day-to-day running of the business, with Caroline serving as group CEO while David is CEO of Keelings Retail," Michael adds.
Synonymous with fresh fruit. Keelings is one of Ireland's most recognisable brand names, and while many readers will be aware of what they do, few would be familiar with the company's extended history - one that stretches back three generations in the St. Margaret's area of North County Dublin.
The present-day Keelings story began back in 1926, although the family itself has been in their North County Dublin Farm since 1896. In the 1920s, family members began growing fresh produce in the St Margaret's area – beginning with rhubarb - and supplying the Dublin market, situated just over 10 kilometres away.
As the decades passed by, the company broadened its scope to include strawberries as well as some flowers and bulbs for export. Apples were later added to the range of produce offered. To ensure product quality and extend the growing season, a decision was taken to erect glasshouses, which represented a significant investment at the time.
Fast forward into the 1970s and '80s and Keelings began to source fresh produce from the UK, Europe and further afield. This coincided with the genesis of the supermarket style of multiple retail outlets here in Ireland, and the business steadily grew.
Today, growing fruits such as strawberries and blueberries represents the main area of production. A further investment in innovative greenhouse technology has again paid dividends, as Keelings have extended their growing season from March to November, thereby ensuring a constant supply of quality product from the company's own farms virtually all year around.
Of course, organising and orchestrating the timely movement of fresh produce is critical to the enduring success of the business and this task is arranged by the logistics office in St Margaret's. It's to this well-appointed location that all produce arrives, both from Keelings' own farms, as well as from their various suppliers worldwide. Global shipments by sea, air and rail are meticulously and professionally co-ordinated by the company through its logistics partner, Easy Fresh.
On arrival at St. Margaret's, all produce is subjected to a robust process of checking specifications and quality control. Orders are then picked and packed for distribution to Keelings' customers throughout the length and breadth of the country. While different modes of transport are used to bring products into Ireland, depending on where the fruit, salad or vegetables originate from, everything arrives into - and leaves - the St. Margaret's hub by road.
Thus, to ensure product integrity and timely delivery, Keelings operate their own vehicle fleet, which - given the scope of the operation - is pretty sizeable. Indeed, within the last twelve months alone, the company has taken delivery of twelve new Scania tractor units to pull 26 new Schmitz Cargobull trailers. The new trailers are from TIP (Ireland) and are fitted with Thermo King fridge units.
It was certainly no accident that Keelings picked up the Best Livery Award for their fleet in September, 2017 as an inordinate degree of painstaking thought, creativity and hard work has been invested in making the striking fleet what it is today – a thing of true beauty!
The attractive aesthetics on the new fleet were the result of a combined effort from the entire team, backed by passion and conviction from the Keeling family. The livery was designed by Vision Branding, the striking artwork certainly enhancing and epitomising the company's image of delivering fresh quality products.
While the vehicle fleet – which runs like clockwork - has not necessarily been dominated by one brand, Scania dealer McElvaney Motors was chosen as the preferred supplier for the most recent order, as well as receiving the contract to maintain and service the units. Incidentally, Keelings also operate a fleet of skeletal trailers for collecting containers from Dublin Port, with the company taking care of its own in-house customs clearance service.
General Manager Michael Murphy explains: "The Keeling family want their customers to have that sense of ownership. Our own farms, our own fresh picked produce, our own drivers in our own vehicles. It is one of the unique selling points of the business."
The company has achieved Bronze Accreditation standard with the Freight Transport Association Ireland (FTAI) and expects to soon move to Silver. For this accreditation, all company procedures are examined - it does not simply relate to vehicle maintenance and inspections. Areas such as staff training and development are also taken into account.
Training is an area that clearly establishes duties and responsibilities for both the employer and employee, and is one in which Keelings adapt a proactive attitude towards developing and investing in their close-to 2,000 staff.
For example, simple and inexpensive practices such as reversing roles between warehouse and transport can develop a better understanding of the workloads and requirements of other staff. "Warehouse and transport are seen as an end-to-end supply chain function for the business and operate as left and right hand working together, and the staff are encouraged to understand the other's position," Michael stated.
For the driving team – which boasts a great mix of experience and enthusiasm - the company employs its own Approved Driving Instructor (ADI), while occasionally using external companies to cover other necessary training. Appropriate investment in people has been shown to provide a reasonable return on that investment, as is the case with trucks and trailers.
This requires monitoring and managing the investment, something that Keeling achieve through their adoption of Blue Tree Systems telematics. While there is, as yet, no great customer demand for detailed information regarding their carbon footprint, this is changing. Thanks to Blue Tree Fleet Management Systems, Keelings have the data available if required "With the support of Blue Tree, we have seen our CO2 emissions significantly reduce on the new Scanias."
Keeling embrace the benefits of technology and have developed their own in-house IT system. Keelings business solutions has developed its own ERP software, which services the fresh produce industry. With the BRC-accredited warehouse operating on a 24/7 basis, a competent trustworthy IT system is essential.
Keelings is a 100% Irish-owned family business, focused on growing, sourcing, shipping, marketing, sales, and distribution of fresh produce and supplying first-in-class produce-specific ERP software solutions and consultancy management services specific to the produce industry. Its head office is located in FoodCentral, ST Margaret's County Dublin. The company has expanded over nine decades to its current size with five divisions – Keelings Retail; Keelings Fresh; Keelings Market; Keelings International; and Keelings Solutions.
Keelings is the biggest fruit and veg producer and seller in the country with a customer base including Tesco, Marks & Spencer, SuperValu and Dunnes Stores to mention just a few.
Keelings Retail Division - which launched the Keelings brand in 2010 - uses state-of-the-art facilities to produce and source the fresh produce needs of the Irish retail sector on a daily basis.
Keelings Market Division sources and distributes homegrown and imported fresh fruit, salad and vegetables for the wholesale business, operating from a modern 35,000ft chilled distribution facility in the centre of Dublin and stocking a vast range of produce lines from asparagus to yams and everything in between.
The Food Service Division specialises in the supply of fresh and prepared fruit and vegetables, freshly-squeezed juices, salads, bread and dairy to Ireland's catering market.
Keelings International operates out of bases in the UK, Europe and Asia, while Keelings Logistics Solutions manages a state-of-the-art temperature-controlled global retailer distribution centre where they deliver over one million cases of product every week to more than 130 stores in the Irish market.
Meanwhile, Keelings Solutions supplies a suite of software and services that provides industry-focused solutions in procurement, stock management, warehouse and production planning, as well as sales and quality assurance. Their systems - which are tailored for small and medium-sized businesses through a light turnkey product and tailored for larger corporations through an enterprise solution - drive improved profitability & efficiency.
Keelings simply love to grow.

Keelings Retail,
FoodCentral,
St Margarets
County Dublin.
Tel: 01 8135600
Fax: 01 8135638
Taken from Irish Trucker & Light Commercials magazine, February/March 2018, Vol 21 No 2