The complete service
13/06/2018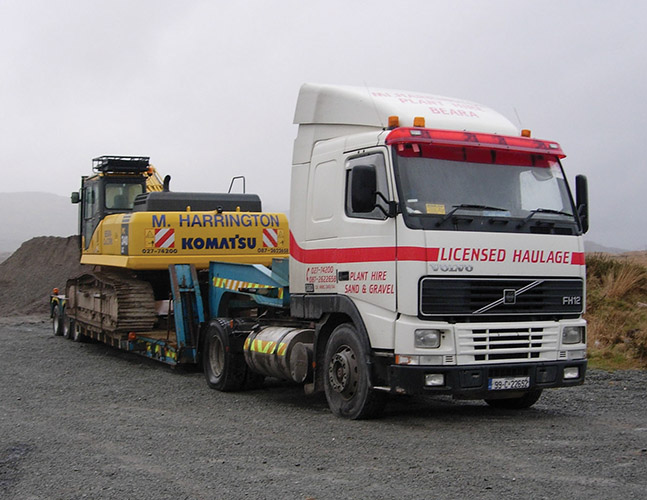 Being able to provide a wide range of services ensures that a business can compete for a variety of work, which leads to them being generally busy all year round.
Most companies focus on one industry or sector within that industry to provide their services, but there are a few than focus on more than just one area.
For this month's edition of Irish Trucker, we profile a company that provides services not only in the construction industry, but the agricultural, haulage and forestry sectors as well.
Michael Harrington established Harrington Plant Hire in the early eighties. From humble beginnings the business has grown considerably to provide a number of services in the sectors mentioned above.
Working for some of the biggest names in construction all over Ireland, Harrington groundworks and plant hire has built a reputation for delivering product and service on time.
Based in Beara, Co Cork, the company provide such services as civil construction, plant hire, skip hire, waste removal, groundworks, demolition, rock breaking, gravel and crushed stone, readymix, forestry and agricultural.
"The business would go back as far as my grandfather's days when he provided some agricultural services and it has grown since then," said Michael.
"We do work in a number of areas and at our peak we would have employed 110 at our peak. These days depending on our workload, we would have at minimum 25 people working for us."
Michael revealed that a lot of their civil construction work would be done for the public sector.
"We would work for the Kerry and Cork County Council on a range of different projects, while we also have a crew working with Irish Water all the time."
Harrington Plant Hire have worked with some of the leading building contractors in the country including John Sisk.
"We place a strong emphasis on performance, quality, safety, teamwork and a "hands-on" management approach to ensure client satisfaction we do a wide range of civil contracting services, including civil groundworks, earth moving, installation of underground services, road works and site development."
The company have waste permits for the county of Cork which allows them access to landfill where they can dispose of demolition and site clearance jobs other contractors may not be able to undertake.
"We use our own tipper trucks and we hold current waste collection permits for non hazardous waste. We also have our own vacuum/road sweepers which keep all access routes clean and in line with waste permit regulations. These include Johnston 600 and Tractor Mounted or Skid Stew mounted regarding on type of work."
Harrington Plant Hire stocks a wide range of machinery with the plant ranging from 1 ton to 60 ton excavators,
Harrington Plant Hire is one of the largest dozer operators in the country. Their bulldozers are all Komatsu and they have a wide range to choose from.
"Our dozers can be laser controlled, using the latest GPS technology for greater precision. Some of our dozers are fitted with rippers and are also suited for poor ground conditions."
Contract crushing and rock breaking are carried out at any location using Pegson jaw and Cove Crushers and all equipment hason-board weighing scales.
"Our Tipper trucks are all covered under the National Road Haulage Licence and have waste collection permits. These are used for a variety of applications, including the transportation of material excavated from sites of non hazardous and supplying hardcore filling for site development and road works.
Harrington Plant Hire dump trucks can undertake large site excavations, with greater ease and efficiency, while they also operate teleporters ranging in size from 12m to 17m also rotarys.
Quarry work is another key part of the business as Michael explained to us.
We produce our own crushed stone, for drainage work site development and road making from our quarries throughout the country. We can deliver high volumes using Bulk tippers and 8 wheelers and small loads IFSO required and also deliver one ton bags.
"Ready Mix concrete from our plants at Kenmare and Castletownbere. Our concrete is supplied in a range of various strengths and mixes. We provide a range of concrete solutions to suit almost any application. These include specially formulated concrete mixes suitable for a range of situations, such as substructures and foundation mixes etc."
Forestry and Agricultural services are another sector that Harrington Plant Hire has many years experience in.
"We have over 30 years experience in forest road building, and mounding and reforestation. To carry out this work we have specialised excavators and also Deep Ploughing, Power Harrowing, Seeding, Lime spreading etc."
Harrington Plant Hire is very much a family run business as Michael's wife Julie looks after the administration, while their two sons Ryan and Greg are involved in the day to day running of the company.
Another specialised area that the company provide a service in is long reach excavator work, which sees them carry projects for the Department of the Marine.
"We have specialised machines that can work off a harbour, marine or riverbank. They have long reach arms which allows them go well out into or over the water. We are quite busy in this area as well."
Michael concluded that he was happy with the direction that the business is heading as they continue to keep their customers satisfied.
"We would have to be content with out workload. We have projects all over the country and we are very much a nationwide firm. Many of our customers would be with us for years and we're delighted that they keep coming back to us when they need something done. Our experience in many fields has helped us gain some prestigious projects down through the years."
Harrington Plant Hire
Faunkill,
Eyeries,
Beara,
Co. Cork
Tel: +353 (0)27 70888/74200
Michael: +353 (0)87 262 2658
Mobile Office: +353 (0)86 626 22658
Fax: +353 (0) 27 70300/74332
email: [email protected]
Taken from Irish Trucker & Light Commercials magazine, February/March 2018, Vol 21 No 2