The transport and crane hire experts
11/06/2018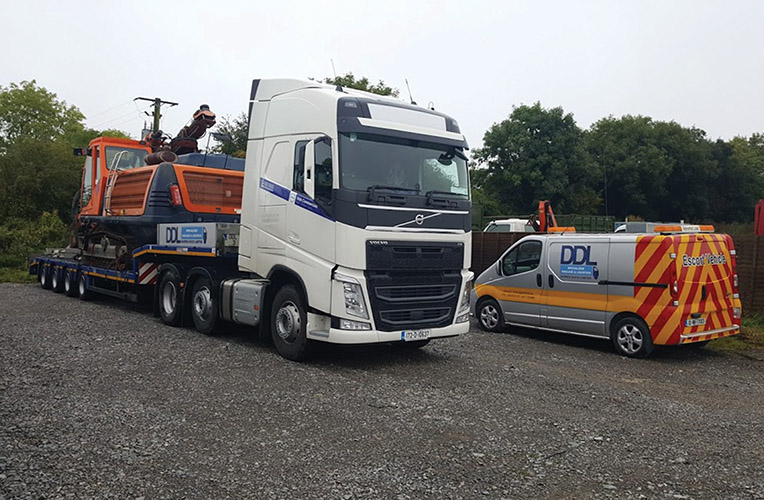 DDL (Darren Ducie Ltd) is a specialised haulage and logistics firm based in Ratoath, Co. Meath. While the company has been trading for just two years, its managing director Darren Ducie has a wealth of experience in truck / crane hire and low-loader transportation.
The 42-year-old Dubliner had worked in the family business, Kevin Ducie Ltd, for over 20 years before deciding to go out on his own in August 2015. And he hasn't looked back since with DDL having quickly established itself as a leading truck-mounted crane and low-loader operator in the greater Dublin area.
Licensed national and international hauliers, DDL offer transport and crane hire services to a wide range of customers. The company also specialises in abnormal loads and heavy haulage transportation, and provides an escort vehicle service for trucks carrying abnormal loads arriving into Dublin Port. DDL's transport and crane hire services cover everything from cabins / containers, generators, machinery and transformers to low-loader transport, machinery relocation and installation service.
"The first two years have gone very well and the target for 2018 is to keep growing and to increase the size of our fleet and staff. Our customer-base is growing and we need to expand if we're to continue providing them with a top-class service," says Darren, who is joined in the company by his wife Aisling, who looks after accounts, and driver Mark Fitzpatrick.
Three of Darren's best customers – Rockbreakers, Diesel Electric Power and Ashbourne Truck Centre – are only up the road from him in Ashbourne. He moves rock-breakers and drilling rigs for Rockbreakers from site-to-site and has spent a lot of time lately hauling such equipment to the N25 New Ross Bypass which will comprise a 14km dual carriageway road, including new sections of the N25 and N30 national primary routes, when completed.
Diesel Electric Power offers an extensive range of generators for the industrial and commercial sectors, selling new and second-hand generators to clients in Ireland, the UK and beyond. According to Darren, transporting generators for Diesel Electric Power and a similar company based in the UK accounts for as much as 80 per cent of DDL's overall business.
DDL's crane hire service is often availed of by Joe Mooney of Ashbourne Truck Centre for lifting new trailers which arrive treble-stacked. "Our job is to unstack them without damaging them," Darren explains.
Another valued client is Hivar Engineering in Sandyford, Dublin 18. Hivar is a medium and high voltage electrical engineering company that provides the marketplace with a range of products and services. Darren transports and installs transformers and electrical switch gear for Hivar.
Darren is well known for being able to install and remove machinery in and out of the trickiest positions and because of this he gets a lot of his work through recommendations.
"We mostly move generators, general plant, quarry equipment, cabin / containers, transformers, masts, turbines, precast products and modular homes. We also do a lot of work for all the industrial laundries throughout Ireland and the UK which involves relocation and installation of laundry equipment.
"We bring a hands-on approach to every job we do and are renowned for our reliability, professionalism and price-competitiveness. We will always go the extra mile for the customer and make sure they're 100 per cent satisfied," Darren adds.
DDL's crane hire and lifting service provides on-site relocation and installation. The company provides a full lifting solution for your requirements with truck-mounted crane hire, saving you the additional cost of hiring a mobile crane.
With a dozen years' experience in abnormal loads and heavy haulage transportation, Darren can deliver even the most demanding loads throughout Ireland and abroad. He takes control of every situation from the start and makes sure your delivery gets to where it has to be on time and in a highly efficient manner. He looks after all logistics to ensure a safe and smooth passage.
The DDL fleet can handle any size of job. Darren runs three tractor units (two Volvo and one Renault) as well as two low-loaders and two flat trailers. He recently purchased a flat and extendable low-loader from the aforementioned Ashbourne Truck Centre. He also has a fully kitted out Renault Traffic van dedicated to his escort vehicle service. Being a mechanic by trade means Darren is able to carry out most maintenance and repair work in-house.
Darren and Aisling have five young children – Robyn (12), Adam (10), Alannah (eight) and twins Jack and Paige (four).
"There is never a dull moment," smiles the affable company director, who concludes by thanking his customers for their support and loyalty.

DDL (Darren Ducie Ltd)
96 Jamestown Park,
Ratoath,
Co. Meath.
Telephone: +353 (0)1 8254678
Mobile: +353 (0)87 4575388
Email: [email protected]
Taken from Irish Trucker & Light Commercials magazine, February/March 2018, Vol 21 No 2