Full of the Pipe 2018: "It's all about having the craic"
06/06/2018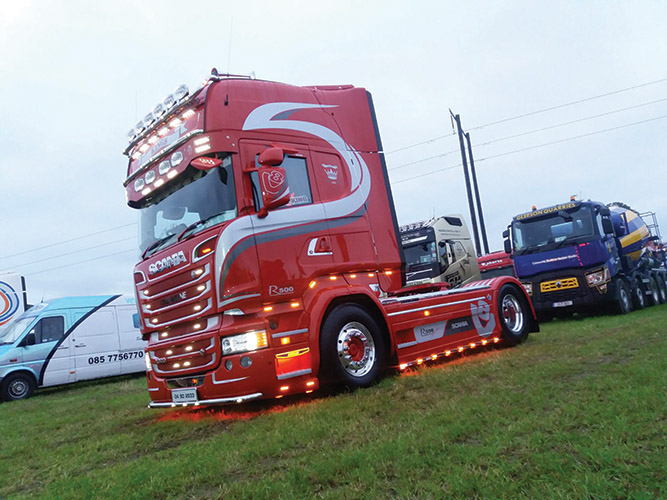 For young truck enthusiasts Jamie and Adrian King, Full of the Pipe Part 9 can't come quickly enough. The brothers from Ennis in Co. Clare will once again be bringing along their show-stopping Scania Topline R500, which won a prize at the last Full of the Pipe to be staged in the Cavan Equestrian Centre two years ago.
It promises to be a terrific weekend of fun and entertainment for everybody associated with the Irish transport industry.
"It's all about having the craic and meeting up with people from all over the country and further afield. Everyone is in good form. They can forget about work for a couple of days and go to Punchestown and let their hair down," says Jamie (22), who runs King Truck Styling along with Adrian (18).
"We look forward to the show every year. The highlight of the weekend for me is the Saturday night when all the truck lights are switched on. It's an unbelievable spectacle and the atmosphere is electric. Full of the Pipe is a credit to Kevin Mulqueen and Colin Hegarty who have built it up into one of the biggest shows of its kind in Europe. There's a huge amount of organising involved, but the two lads take it in their stride. They have raised a lot of money for charity down through the years as well.
"There is something for all the family and I think it's great that trucks from the UK and Europe are now coming over and taking part. Punchestown is the perfect location and I wish the organisers every success with this year's show. I've no doubt that it will be the biggest and best yet."
With its bright red livery, the King's Scania is a beautiful looking machine which reflects well on King Truck Styling. Based in Ennis, the fledgling business provides full truck customisation, including paintwork, restoration, graphics / signwriting, lighting and all custom stainless steel and aluminium accessories.
"We've done it up ourselves and it's a great showcase for our business," he proudly says of the 2004-registered artic.
"We only set up the business in 2016 and wouldn't have got the start we got without being able to show what we can do. The truck won a prize for us at the 2016 Full of the Pipe and has been successful at other truck shows. We've got a lot of business on the back of those successes as well as through Facebook. We fully restored a 1993 Scania 143 for Spa Transport here in Ennis. That's one of the jobs we're proudest of.
Jamie continues: "We'll bring along our own Scania again and see how things go. We won't know until the day of the show what category it'll be entered into. Win, lose or draw, we'll enjoy ourselves. Some of the entrants are disappointed when they don't win, but that's not us. Taking part is the most important thing."
King Truck Styling is an extension of the family business, King's Agri Parts, which is run by Jamie and Adrian's father, Francis. Specialising in sales, parts, repairs, servicing and restoration, the company stocks spare parts for most makes of tractors and farm machinery and carries out repairs and servicing at its workshop in Doora Industrial Estate, Quin Road, Ennis.
When they're not showing it off at truck shows, the King's put their Scania Topline R500 to work pulling a low loader with tractors and other agri machinery aboard.
A qualified agri mechanic who obtained his truck licence at the age of just 18, Jamie bemoans the lack of young blood in the truck driving industry at present.
"As a young truck driver, I have first-hand experience of the obstacles that are put in your way. There is a huge amount of red tape and the cost of insurance is a killer. The absence of an apprenticeship programme is only adding to the problem. More needs to be done to attract young people into the industry and to lower the age profile of drivers.
"Without young drivers, the future of the industry is bleak," he concludes.
Full of the Pipe Truck Show Ireland 2018 - Punchestown Racecourse, 9/10 June 2018