Full of the Pipe 2018: Martin tips his 'Cap' to Show organisers
05/06/2018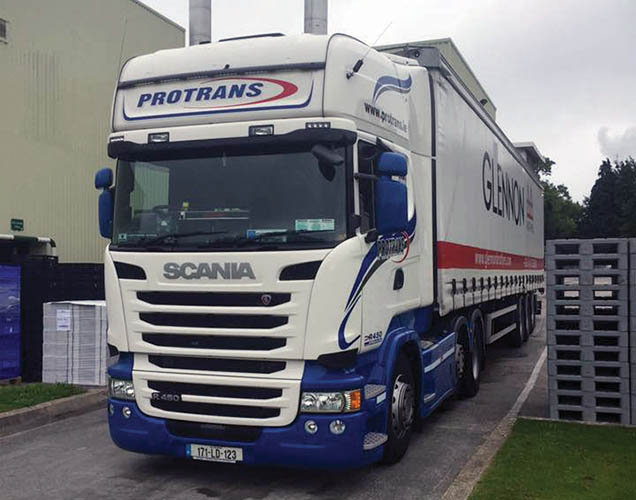 Full of the Pipe has become an unmissable event for Martin 'Cap' Mulvey, who is looking forward to catching up with some of his fellow truck drivers and maybe bringing home one of the prizes on offer.
All roads lead to Punchestown Racecourse on Saturday, June 9 and Sunday, June 10 for the ninth Full of the Pipe Truck Show. The show is always a great spectacle with truckers coming from all over Ireland and beyond to show off their trucks looking their best. As a regular attendee and participant, Martin has seen the show grow into one of the biggest in Europe and is eagerly looking forward to this year's event.
"I went to one of the early shows in Athlone and haven't missed one since," says the Kilnaleck, Co. Cavan native, who drives for Protrans Transport & Logistics in Longford.
"It was held in the Cavan Equestrian Centre for a few years after that before moving to Punchestown last year. You couldn't ask for a better location and it's one of the reasons why Full of the Pipe has got bigger and better. There is nothing to rival it in this country. Great credit is due to the organisers Kevin Mulqueen and Colin Hegarty who have built it up from nothing.
"There is everything from vintage to full-blown custom trucks on display along with main dealers and suppliers to the trucking industry. Last year, there was an indoor trade village, fun fair and top-class entertainment for all the family. The standard of competition is very high, while it's also a great opportunity to catch up with fellow-truckers and to have a proper chat with them.
"Half of the drivers I know I've met at Full of the Pipe."
A four-time prize winner at Full of the Pipe, Martin has yet to confirm what truck he will be entering this year.
"I hope to enter Protrans' 171-registered Scania S730, which is a beautiful looking machine. If that fails, I'll bring along my own 1990 Volvo F10 and enter it into the vintage category. It has been completely refurbished and I'll get it ready as best I can. If I win a prize then great, if not it won't be the end of the world. It's all about the taking part."
Martin inherited his passion for trucks from his father Noel, who was also a truck driver. "It's in the blood," he proudly states.
"I was always around lorries when I was a child. I started driving for Kiernan Milling in Granard with a provisional licence as a 17-year-old and I'm still doing the same thing 20 years later. Things were different then – the rules for driving a truck weren't as strict.
"I've driven for a number of other companies since then, including Foxfield Mushrooms in Kilnaleck, Kiernan Transport in Bailieborough and Hastings Transport in Crossdoney (Co. Cavan). I spent 11 years with Kiernan Transport and was lucky enough to drive their Scania R620 which won at Full of the Pipe for three years running. I was also privileged to take one of Hastings Transport's brand-new Volvo FHs to last year's show and bring home the award for Best Overall Lighting."
Martin, who earned the nickname 'Cap' when he was younger for his fondness for wearing same, joined Protrans last September and specialises in refrigerated transport work in both Ireland and the UK. Based just outside Longford and headed up by Ciaran and John McGrath, Protrans is one of the largest transport and logistics providers in the midlands. Boasting a fleet of over 70 Scania trucks, the company's central location affords it quick and easy access to all the major business hubs.
Protrans is committed to providing the highest standards of service, working together through partnership to achieve these goals. It caters for international transport, refrigerated transport, ambient transport and timber transport, and offers driver accompanied services to the UK and mainland Europe.
In addition, Protrans offers nationwide refrigerated distribution throughout Ireland, servicing all major towns and cities daily with a combination of refrigerated rigids and articulated vehicles. Daily routes include Dublin, Waterford, Cork, Limerick, Galway, Sligo, Derry and Belfast. The company caters for everything from single pallets to full loads, fresh, frozen or dual temperature. Refrigerated vans are also available for unforeseen emergencies.
Protrans continually strives to be the best in the business and holds the prestigious ISO 9001:2000 award. The company is also an FTA Ireland member and is TASCC approved.
By using its own vehicles, Protrans has complete control of all deliveries and is therefore able to provide its customers with accurate information on their deliveries at all times. The buck starts and stops with Protrans!
"They're a good company to work for. They run a top-class fleet of trucks and always put their customers and staff first," Martin concludes.
Full of the Pipe Truck Show Ireland 2018 - Punchestown Racecourse, 9/10 June 2018