Full of the Pipe 2018: Drifters set to be a big hit
01/06/2018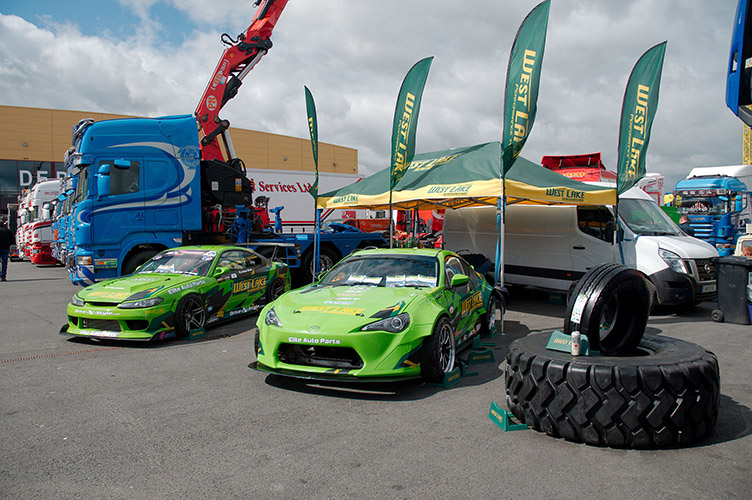 The highly -successful Westlake Tyres Ireland drift team will be smoking some tyres over both days at Full of the Pipe Truck Show Ireland 2018
For those in attendance, it promises to be a real spectacle seeing these talented drivers and their high-powered cars in action.
Christy Carpenter of Cos Wholesale Ltd. in Headford, County Galway, manages the team and is looking forward to the show: "It should be another good weekend. We were there last year displaying some tyres and we're looking forward to going back."
Cos is the distributor for Westlake Tyres in Ireland, with a large quantity of high quality Westlake truck tyres in stock, Westlake is currently ranked tenth in the global tyre company rankings, with more and more haulage companies in Ireland using these highly-rated tyres. Nationwide delivery is offered and a discount is available for large orders.
The Westlake Tyres drift team has won both national and European titles and is widely regarded as one of the best around. At present, they have three Irish drivers on their books as well as the cream of the crop from other European countries, including Finland and Poland.
At Full of the Pipe 2018, Christy Carpenter will be driving his trusty Toyota GT86, while the team will also be performing in a Nissan Silvia S15 and S13. "These are 7-, 8- , 900-horsepower cars and there will be plenty of smoke - unless it's raining," says Christy. "We'll have Conor Shanahan and his brother, Jack, there – two young Cork lads who have won Irish, English and European championships. We're looking forward to putting on a good show.
"There were close to 10,000 people at the first round of the Irish Drift Championship, which was held alongside the Irish Rallycross Championship at Mondello Park in April. There's great interest in this so we are hoping it will attract people to Full of the Pipe and that it will entertain them. We're doing four demos on the Saturday and three on the Sunday and it should be good fun."
The Westlake tyre brand has made major inroads in the Irish market in recent years and is fast becoming the tyre of choice for those involved in the transport sector, delivering time and time again with its uncompromising commitment to a perfect balance in tyre performance, value, and quality.
Westlake offers an expansive line of tyres that cover passenger, performance, light truck, SUV, trucks, buses and OTR tyres. Founded in 1958, the company employs over 20,000 people and produces over 20 million consumer tyres, nearly 10 million commercial tyres and over 4 million bias commercial tyres, making it one of the largest and most popular tyre manufacturers in the world.
The No.1 tyre manufacturer in mainland China, Westlake came in at number 10 of the top 75 global tyre manufacturers in 2017.
For the last three years, Cos Wholesale Ltd. / Westlake Tyres Ireland are the official distributor in Ireland and Irish hauliers are beginning to embrace this burgeoning brand. Quality tyres and comprehensive stocks at the most competitive prices are combined with cutting edge technology to give Westlake's customers the all-round package.
Westlake truck and bus tyres deliver optimal performance and provide customers with fuel efficiency, high mileage and long tyre life, as well as their re-tread ability.
More and more hauliers are switching to Westlake and the signs are encouraging that further growth is on the cards. "We're selling a lot of tyres to hauliers all over Ireland, as well as into Northern Ireland, through a distributor," Christy concludes. "There's big demand due to the quality and value of the tyres and it's growing all the time."
The Westlake Tyres Ireland drift team will be putting rubber to the test at Full of the Pipe!
Westlake Tyres Ireland
Tel: 085 1353950
Email: [email protected]
Full of the Pipe Truck Show Ireland 2018 - Punchestown Racecourse, 9/10 June 2018