Full of the Pipe 2018: through the eyes of the trucker
31/05/2018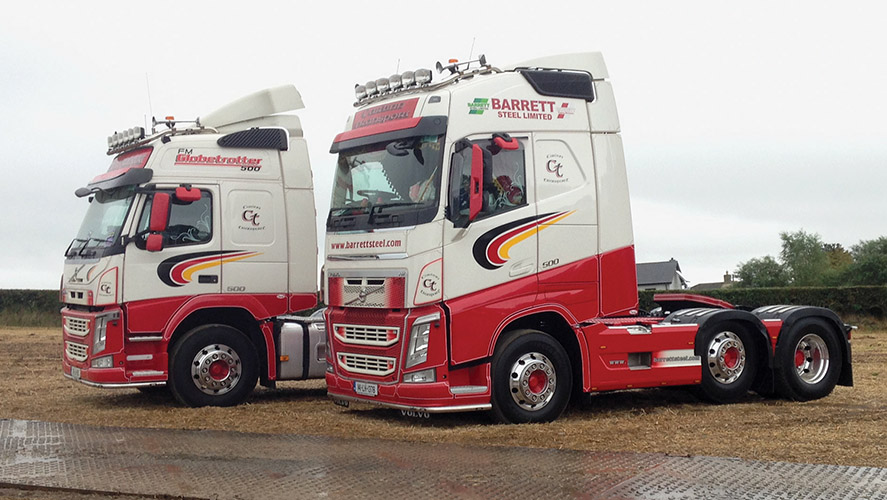 Nobody is better placed than the trucker himself to gauge the merits (or lack thereof) of a truck show. To this end, Seamie Rooney of Carlinn Transport Ltd. In Carlingford is a regular on the truck show circuit in both Ireland and the UK. He rates Full of the Pipe as the best of the lot!
When you've been to as many truck shows as Seamie Rooney has, then you have a fair idea what ingredients are required to make the event one to remember. The Down man takes his lorry to shows the length and breadth of these islands and he has been mightily impressed with the continuous improvement of Full of the Pipe from year to year, as it has grown and developed into one of Europe's finest trucking extravaganzas.
He can't wait to get back to Punchestown this summer for the ninth edition of FOTP… "I've been for the last five or six years and it's an absolutely fantastic show," he states. "I've got to know Kevin [Mulqueen] and Colin [Hegarty] very well through the shows and they are two great men who put in unbelievable work behind the scenes to make the show happen every year.
"It's unreal the effort they put in. People wouldn't realise the work that goes into it and the trouble they go to in order to make it work. They deserve a lot of credit and I'd have the height of respect for them."
Seamie will be bringing his stunning new Volvo FH4 540 to Full of the Pipe Truck Show Ireland 2018. "I drive it for Michael McGuinness from Carlingford, County Louth. Michael runes Carlinn Transport and has been on the road for 40 years now. I've been with him for ten of those.
"He got the new Volvo as an anniversary model. His fleet used to be red and black but he then changed to red and white. However, he went back to red and black for this one-off model; the rest are still red and white."
The new Volvo made its debut at the show in Dundalk and is sure to get plenty of accolades when it rolls into Punchestown Racecourse on the second weekend of June. Michael gave Seamie the green light to go ahead with all the bells and whistles!
"In fairness, the boss gave me free rein to get lights and catwalks and side skirts and shiny wheels – whatever I thought would make it look good," he confirms. "A lot of lads really like it and some of them don't, but hopefully it'll grow on them. It stands out and we are more than happy with the lorry."
Indeed, four years ago, Carlinn Transport took possession of one of the very first new Volvo FH4s to arrive in Ireland. They currently operate a fleet of five trucks, doing flat trailer work, mostly for Barrett Steel in Newry, HMT Shipping and Armagh Logistics.
The social aspect of truck shows is the main attraction for Seamie and, whenever possible, he avails of the opportunity to take his wife Patrice and daughter Patrina along. Full of the Pipe is wonderful in this regard as there's plenty for everybody to do over the course of the weekend.
What did Seamie make of the relocation to Punchestown last year? "It's a brilliant venue and it's definitely now one of the best shows in Europe. It's right up there with Peterborough and I'd go so far as to say that there's a better class of lorry at Full of the Pipe. Lads take great pride in their lorries here and the quality of truck on display at Punchestown last year was second to none – better than anything I've seen anywhere.
"It's hard to win anything, though. You would do well to come away with a prize. But I'm mostly there for the craic and the bit of banter and to meet up with people.
"It's a mighty show and I'm glad they moved it to Punchestown because it's a top-class venue. Cavan was a small bit closer to me but I'd prefer to go to Punchestown. There's better roads and it's just better all around."
As for the organisers, Seamie is in awe of their resilience and determination: "The work they put in that nobody sees is unbelievable. They have built it up from small beginnings and, to tell you the truth, I don't know how they do it. They're die-hard truck heads and they support a lot of the other shows as well. They are also two very genuine fellas."
It's a weekend when drivers and operators can spend some time together, celebrate their common identity and forget about the troubles and strife that too often go hand in hand with running a business. Just for two days, the high diesel costs, soaring insurance, ball-breaking compliance and lack of respect from the powers that be are parked outside:
"It clears your head. It's good to just forget about work for a while every now and then. You go in there on the Friday and you can forget about what you are doing on the Monday. Meet people and have a few beers and a bit of a laugh.
"It's one show I wouldn't miss," Seamie continues. "Whatever about the other ones, I wouldn't miss Full of the Pipe because it's such good craic. You get to meet a lot of people that you wouldn't have talked to since last year, except maybe through Facebook. It's family-orientated and they pull out all the stops. No stone is left unturned and they don't forget about anything.
"I'd wholeheartedly recommend Full of the Pipe to anybody. It's the best truck show in Ireland without a doubt and the facilities in Punchestown are excellent."
Seamie loves going to the shows and is glad to have the blessing of his boss at Carlinn Transport to do so: "I suppose it's good advertising for the business, too, to get the lorry seen and get a bit of attention and publicity. We like to keep our lorry clean and tidy anyway and it's nice to bring them to the shows and let people have a look at them.
"I'm really looking forward to Full of the Pipe. I'm sure it's going to be another great weekend."
This is as certain as death and taxes.
Full of the Pipe Truck Show Ireland 2018 - Punchestown Racecourse, 9/10 June 2018