Full of the Pipe 2018: charity begins at home
31/05/2018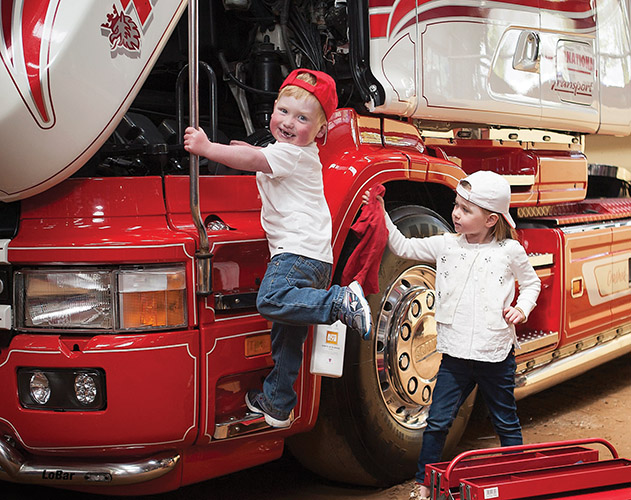 One of the truly outstanding things about the annual Full of the Pipe Truck Show Ireland extravaganza is that the organisers always make sure to raise some funds for deserving causes. And they don't come any more worthy than this year's charity beneficiaries – Cahercalla Community Nursing Home and Hospice and Heart Children Ireland
Clare men Kevin Mulqueen and Colin Hegarty have decided to support a superb charity on their own doorsteps this year, namely Cahercalla Community Nursing Home & Hospice on the outskirts of Ennis - a private hospital surrounded by picturesque gardens on a secluded 13-acre site. Some of the proceeds from Full of the Pipe 2018 will go towards Cahercalla.
In a community initiative unmatched elsewhere, a local voluntary group was formed in 1995 to acquire the hospital from the St. John of God Sisters. This was made possible through a tremendous response from the people of County Clare to a huge fundraising campaign. The hospital, consisting of 111 beds, is now managed on behalf of the community by a voluntary board of directors, offering invaluable services to terminally ill and older members of the local community.
Nursing home and hospice care is provided to the local community by a highly-trained and committed team of over one hundred people, whose focus is on enhancing the residents' /patients' experience while in their care.
FOTP's patronage could not have come at a better time as Cahercalla Hospice confirmed in December that its charity shop in Ennis would not re-open in the New Year. The shop closed its doors for good on December 22nd, with management at the hospice blaming this regrettable decision on the increasing costs associated with running it.
Cahercalla Community Nursing Home & Hospice is committed to delivering high quality, safe patient care.
Hospice care is available for patients with active and progressive diseases which cannot be cured. Patient-focused care is provided by experienced professionals who endeavour to provide the patient and their family with the highest standard of care.
Since becoming a community hospital in 1995 Cahercalla has always been dedicated to providing hospice care to the people of County Clare close to their family, friends and family doctor. The service, which started out as one bed in the nursing home, has been developed over the years and is now delivered in a state-of-the-art, purpose-built unit within the hospital which was officially opened in March 2008 by the then Minister of State at the Department of Health and Children, Maire Hoctor.
The team is supported by the consultant-led specialist unit at Milford Care Centre and the local home care team who provide specialist medical and nursing input to patients.
A registered charity, Cahercalla offers hospice care free of charge. The cost of running the service continues to increase each year as they care for an increasing number of patients. With only part of the running costs being funded by the HSE, the charity relies on the generosity and goodwill of the local community to raise the necessary funds to allow them to continue caring for those in need of these essential service. Each year, money is raised in a variety of different ways including membership of the weekly draw, fundraising activities and through donations.
Caring for older members of the community is a top priority of Cahercalla Community Nursing Home & Hospice. The nursing home is designed to facilitate residents who may require respite, convalescence or long-term care. Trained nurses and healthcare assistants provide excellent care to the residents in a friendly and reassuring environment close to family and friends, a holistic approach ensuring that individual needs are catered for.
Medical services include full assessment on admission, individualised care plans, GP & Out of Hours doctor access and therapies such as physiotherapy and chiropody. Cahercalla prides itself on not only responding to the medical needs of the resident / patient but also providing an excellent quality of life through meeting their social needs and individual preferences.
This has been achieved through a number of initiatives including an extensive activities programme, regular contact with the community (including daily mass, visits from students in the local schools, concerts, home cooking, etc.).
The vision at Cahercalla Community Nursing Home & Hospice is to be the preferred healthcare provider for the local community through their focus on the patient's experience and journey while in their care. This is realised by: ensuring the patient's needs are central to how services are delivered and developed; strengthening commitment to continuous improvements in quality and patient safety; providing superior accommodation and services in a welcoming setting that consistently meets and exceeds the patient's needs and expectations; attracting and retaining highly-trained, caring staff who are engaged and supported in delivering a professional service; and becoming financially viable.
Values of Excellence, Respect, Integrity; Openness and Transparency; Accountability; and Continuous Quality Improvement are instilled in Cahercalla Community Nursing Home & Hospice, which clearly deserves all the support it can get.
Heart Children Ireland is another brilliant, worthy cause that has been a preferred charity of Full of the Pipe for many years. Indeed, 2018 is the fourth year that HCI is listed as a main charity partner of Ireland's premier truck show.
The knowledge that money generated over the course of the weekend is filtered through to such a worthy cause is yet another great reason to throw your lot behind Full of the Pipe Truck Show Ireland A great weekend for all who attend and charity is a winner, too … what's not to like?!
Heart Children Ireland is a support group for parents and families of children diagnosed with a Congenital Heart Disorder. CHD is the most common of all birth defects, affecting one in every one hundred children born. Approximately 50% of all babies born with CHD will require heart operations.
Heart Children Ireland provide a range of services to support children who suffer from congenital heart defects as well as their parents and families. They also try to support bereaved families whose children have died from CHD.
The funds raised at the Full of the Pipe Truck Show have given Heart Children Ireland the opportunity to expand its Family Psychology Support Service and to continue to support their adults…this is what one of their parents has to say…
"It's hard to explain to a six-year-old why he can't do all the things that his friends can do. Heart Children Ireland gave my son the coping tools to understand what Congenital Heart Disease means to him and how to live his best life"
This is what one of their adults has to say…
"Without my Coagu-Chek machine – I'd be missing out on college – and on life – to spend time in hospital getting my bloods checked. I am forever grateful to Heart Children Ireland for providing me with this vital machine"
By supporting Heart Children Ireland, the Full of the Pipe Truck Show is helping children and adults live well with Congenital Heart Disease. Heart Children Ireland receives no Government funding.
Treatment for congenital heart disease usually depends on what defect they child has. Mild defects, such as holes in the heart, don't always need to be treated, as they may improve on their own and may not cause any further problems.
Surgery or interventional procedures are usually required if the defect is significant and causing problems. Modern surgical techniques can often restore most or all of the heart's normal function, and nowadays about 80% of children with congenital heart disease will survive into adulthood.
However, people with congenital heart disease often need treatment throughout their life and therefore require specialist review during childhood and adulthood. This is because people with complex heart problems can develop further problems with their heart rhythm or valves over time.
Unfortunately, most surgery and interventional procedures aren't considered to be a cure. The affected person's ability to exercise may be limited, which can progress over time and may lead to the need for further surgery or intervention.
Heart Children Ireland is a nationwide organisation with over 1,000 member families. The registered charity was founded in 1990 and is a completely voluntary group that receives no government funding, relying wholly on their own fundraising and donations from individuals and businesses.
They have raised well over €2.5m for the children's heart centre in Our Lady's Children's Hospital, Crumlin – and every Euro counts. Thus, by once more selecting Heart Children Ireland as a charity partner, Full of the Pipe really is making a difference.
Heart Children Ireland was established by a group of parents whose children were being treated for congenital heart defects. They met in Our Lady's Hospital in Crumlin and realised there was a need for a support group and - with the help of staff - they duly set about organising one.
From small beginnings, the group grew and was very successful. This was due to the hard work of the initial members. They set up two branches, one in Dublin and one in Cork. By 1992, membership had increased to 140 member families.
As well as the children's heart centre at Our Lady's Children's Hospital in Crumlin, Heart Children Ireland also provide service to the Young Adult Congenital Unit at the Mater Hospital.
Although Heart Children is primarily a support group, they have become involved in fundraising and lobbying both the Government and the HSE to secure improved treatment and facilities for those with CHD and to highlight deficiencies in existing services – something they see as an integral part of the support they provide.
Through News Briefs, HCI provide updates about Heart Children Ireland services and supports, as well as relevant information about health service matters.
They provide a Family Psychology Support Service free to all members. Families supporting individuals with congenital heart conditions, adults with congenital heart conditions and bereaved families access this service.
They host social events where parents can meet and talk, and hold an annual conference with keynote speakers from the world of congenital cardiology.
They have purchased lifesaving equipment for the Children's Heart Centre at Our Lady's Children's Hospital and purchased the first ECMO machine for the Intensive Care Unit at this hospital. This machine is saving lives on a daily basis.
Heart Children Ireland have purchased 18 Oxygen Saturation Monitors for the Cardiac Unit at Crumlin. These machines enable young babies to spend more time at home than they might otherwise do so.
They have provided 30 Coagu-Chek machines for our young heart children and recently provided their 75th machine for a young adult at The Young Adult Congenital Unit at the Mater Hospital.
HCI have provided a dedicated clinic room for the Young Adult Congenital Unit at the Mater Hospital to facilitate their teenagers transferring from Crumlin Hospital.
They are privileged to manage The Blue Ribbon Fund on behalf of the Moran family. This fund provides assistance to families on the transplant journey with their child. This fund is in memory of Elaine Moran.
Full of the Pipe Truck Show Ireland 2018 - Punchestown Racecourse, 9/10 June 2018