Full of the Pipe 2018: Seconds away ... round nine!
30/05/2018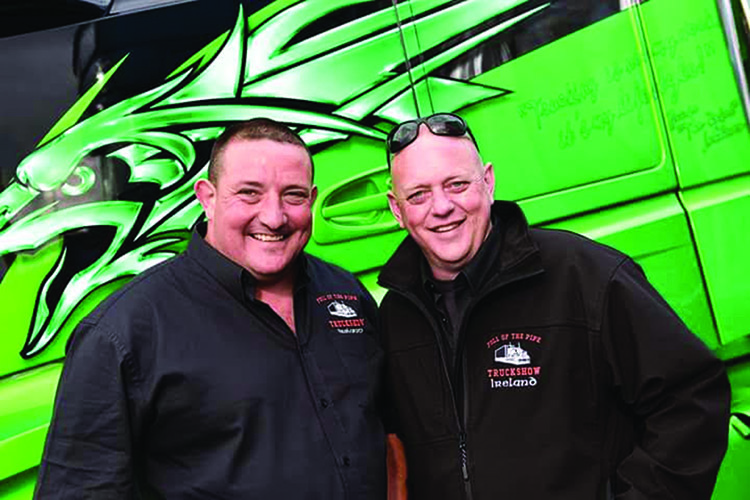 It's hard to believe how far Full of the Pipe has come. From the fledgling first show in Athlone IT over June Bank Holiday weekend 2010, FOTP has gone from strength to strength, gaining momentum from year to year, evolving into Ireland's top truck show ... a not-to-be-missed celebration of all things trudk-related.
The success of the show has not happened by chance. Over the past nine years, organisers Colin Hegarty and Kevin Mulqueen have invested an inordinate amount of blood, sweat and tears into presenting the Irish trucking fraternity with a top-class show of which they can be rightfully proud.
Last year's switch from Cavan Equestrian Centre to Punchestown Racecourse was another landmark moment in the history of Full of the Pipe Truck Show Ireland. The 2018 edition returns to Punchestown and promises to be bigger and better than ever.
"Cavan was a great success and when we moved on to Punchestown last year we were overwhelmed by the number of trucks we had on display," Kevin reflects. "It was a great show, a great success, but it was also a steep learning curve for myself and Colin. It was full-on and we knew there were areas where we could improve.
"Preparations for this year's show began straight away and we reviewed the whole 2017 show, looked at what we could do to make it better. For example, we will have more people on the ground this year so that myself and Colin have more time to meet and greet people and to deal with drivers. That personal touch suffered last year because it was so full-on and intense.
"We had trucks from Finland, Holland, Belgium and Italy last year and it was phenomenal to have that standard of truck on display. However, while we will have some European trucks this time, we're toning that down to concentrate more on the Ireland / UK side, because you can't forget your own guys."
A live action arena and Decibel Drive By contest are sure to add to the excitement. A new bar / restaurant has also been developed and things have been really ramped up on the facilities front, from food court to showers, everything to make the trucker (or other guest) feel at home. "It's going to be phenomenal," Kevin promises, "I think it'll be a better show with the emphasis on trucks from Ireland and the UK."
The work that goes on behind the scenes to make Full of the Pipe Truck Show Ireland a reality would be difficult to relate in a few sentences. Suffice to say, it's like a second job for Kevin and Colin, both of whom already work full-time in the haulage industry.
"I'm sure people don't realise the work that goes on behind the scenes," says Kevin. "We're only two guys at the end of the day, who get an unbelievable amount of help from our wives and families and friends. When we finish our working day, we turn our attention to the show. There's always work that needs to be done, something that needs to be sorted out."
The fact that FOTP has been nurtured into one of the Top Four truck shows in Europe is little short of amazing.
"My wife Barbara, Colin's wife Trish, our sisters-in-law Jackie Lynch and Helen Green, and our friends Thomas Little, Geraldine Little and Michael McPower helped us out a lot over the past year and we'd be lost without that assistance.
"We go to all the other shows – Tipperary, Waterford, the Ploughing Championships, Birmingham, Peterborough, Mid Ulster, Dundalk – and we're at this full time to make it as good an event as possible. It's time consuming and it brings a lot of pressure, but we're well able for it!
"In Cavan, we took it step by step from one year to the next and we will be doing the same in Punchestown. We welcome everyone to the show and we have room for vintage trucks, classic trucks, custom trucks, traders, everybody…"
Kevin is always thinking ahead, thinking outside the box, considering ways to improve and enhance Full of the Pipe. "Next year will be the tenth anniversary and I've already looked at a few ideas for that to bring the party to the event, but of course this year comes first and we're making it a more interactive and immersive experience for drivers with the Decibel Drive By event, which will take place across the Saturday mostly, with the final on Sunday.
"But it's all about the bit of craic and banter, first and foremost. We'll have demonstrations from the best drifting drivers, including Christy Carpenter, as well as the Moffett Driving Championships. There'll be more to do and see rather than just having people walking between trucks. The bar, restaurant and food court add to the site and we'll have a much better hub than last year."
It's staggering how far Full of the Pipe Truck Show Ireland has come in nine years. "We started with just over 100 trucks in Athlone and it has increased every year, but I never thought it would grow to this level, to move to a landmark venue like Punchestown," Kevin concedes.
"It's a weekend for truckers. We do judging, but it's not about that. It's about people coming together and having the craic, lads who might meet on the road every day being able to put a name to the face. We bring in the trade stands so that lads can get accessories and to generate business and help everybody out. It's a meet-and-greet event and everybody is welcome."
There are a lot of people and groups without whom an event of this scale and magnitude simply would never get off the ground. "We wouldn't be able to hold the event without our sponsors and suppliers. We try to find more new sponsors every year and fortunately these people roll in behind us with invaluable support. There are a lot of hidden expenses and there's also a huge cost to bringing the event to Punchestown, so we need to generate revenue to cover all the overheads."
Finally, charity is also a big winner… "Every year, we use the event to channel some money into some very worthy causes," Kevin concludes. "We've supported Heart Children Ireland and Bernardo's for years and this year we will be giving something to Cahercalla Community Nursing Home & Hospice in Ennis as well as donating to one of the Irish autism charities. That's another important aspect of it and it's nice to be able to help out."
Himself and Colin have put everything into making this weekend a reality. Here's hoping you all enjoy it!
Full of the Pipe Truck Show Ireland 2018 - Punchestown Racecourse, 9/10 June 2018