The Pallet Specialists
29/05/2018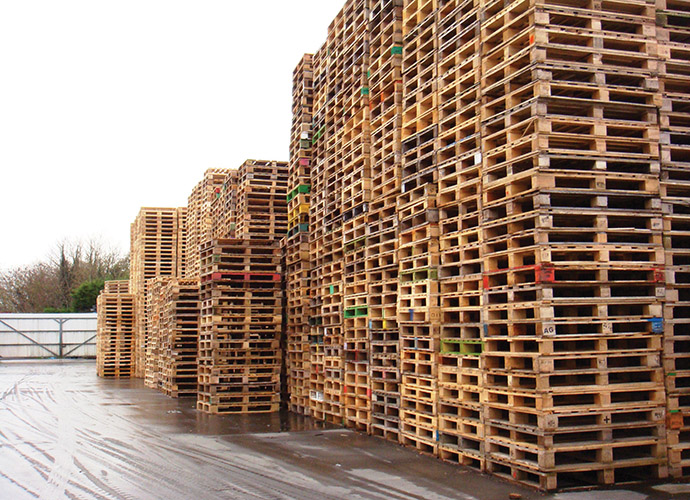 If you were to compare a pallet with a position on a Gaelic football team, then it would have to be a corner back; tough, dependable and rarely gets the credit it deserved.
Pallets are an integral part of many businesses as they are used to support goods in a stable fashion while being lifted by a forklift, pallet jack, front loader, work saver, or other jacking device, generally onto either a light or heavy goods vehicle.
However, there is not much thought of pallets and they are regularly broken and discarded without care, even though, they have cut down hugely on manual labour as 'handballing' products onto a truck is almost a thing of the past.
Very few would ever have given a second thought about what happens to a pallet when it is broken, left to rot, used as firewood or recycled into other products would be the general consensus.
Nonetheless, one company in Carrickmacross, Co Monaghan have been bringing damaged pallets 'back to life' for almost 20 years now and for this month's edition of Irish Trucker, we profile this family run business.
Martin Pallets Limited is a long established business, providing quality pallet services for over 20 years. From humble beginnings as a one man show, the company's customer base has grown over the years and now employs eleven people. For the past two years Bryan Martin has been Managing Director, alongside his wife, Gina, as Accounts Manager.
The company focuses on the repair and sale of old pallets which are sold to numerous businesses across many industries.
"We would reproduce close to 7,000 pallets every week," stated Bryan. Gina and I took over the business two years ago and we are pleased with the progress that we have made since.
"Basically, we are suppliers of pallets for the manufacturing, packing, distribution and construction industry throughout Ireland, North and South. With a loyal supplier and customer base, we take pride in not only the quality and diversity of our pallet products, but also the professional service with which we treat all of our business partners.
"Some of our largest customers would be from food production and packaging, distribution and concrete production sectors. We also purchase and collect second hand pallets from many suppliers and businesses in the aforementioned industries. Generally, when we get a load of pallets in, the lads sort through them and they are repaired to the same dimensions. We reproduce all types of pallets and they are then sold on to our customers."
"Some pallets would need very little repair, while a small percentage would be beyond recycling and we offer these as firewood to anyone that wants them."
Martin Pallets Ltd do their own collections and deliveries which can see them travel to any of the 32 counties in Ireland. Located in south Co. Monaghan, only 15mins from the M1, they are ideally situated just 40 minutes from North Dublin and 70 minutes from Belfast.
"Being located so close to the M1 is a big advantage for us as we can be anywhere in both the north and south in a few hours. Recently, we purchased a Scania truck, while we also use a haulage sub-contractor Neville Haulage, who do a lot of work for us.
The company has certainly grown over the past two years and Bryan revealed that they are pleased with the direction that they are heading in at the moment.
"The customer base is constantly increasing and we are busy all year round, which is a good thing. Coming up to the Christmas period is always that bit busier, but overall, we are very happy with the way the business has grown."
Pallets can be easily damaged and of course like everything, there is a life expectancy on them, but at Martin Pallets Ltd, they are capable of lengthening that life span by a considerable amount.
"Some of the pallets that come into us need only minor repairs and then they are as good as new. There is a cycle there and we are at the heart of it."
Bryan and Gina's aims for the coming few years should see the business grow even further as their hard work and attention to detail has paid dividends so far.
"In our first year or so, we were still learning the ropes so to speak, but in our second year, we have expanded the customer base and bought our own branded truck, which was one of our goals. We have also recently expanded our customer base to mainland Europe and Scandinavia. Our revamped website, www.martinpallets.ie, has certainly made us more accessible to new markets.
"We are taking small steps which suit us. Down the line, we hope to get into manufacturing our own pallets. Each year, a target will be set by ourselves and it is up to us to reach that target. We have a good work force here, which also helps. Many of whom would have a number of years service with the business and their experience has been invaluable."
There is no doubt about it, Martin Pallets Ltd is a company with a bright future ahead of it. Customer satisfaction is at the forefront of their priorities and in order to do this, quality products are sold.
"All our pallets are sold on like new, it would be ridiculous of us to sell on sub-standard pallets as we wouldn't be in business much longer. Our customers know they will receive a quality product and that will always be the case here."
Martin Pallets Ltd.
Clonturk
Ardee Road
Carrickmacross
Co. Monaghan
A81 YF85
Phone: +353 87 6707207 Email: [email protected]
Website: www.martinpallets.ie
Taken from Irish Trucker & Light Commercials magazine, February/March 2018, Vol 21 No 2