AA Tyremaster bring you home safely
18/05/2018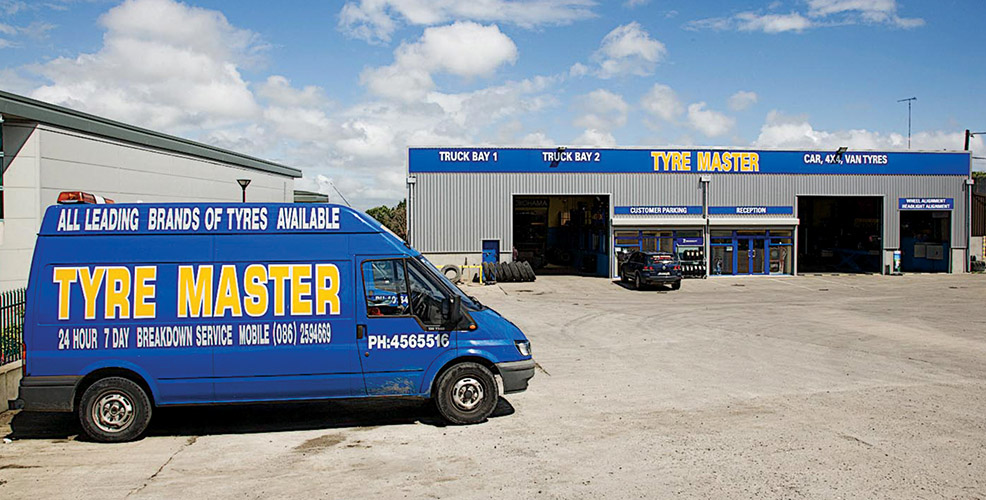 AA Tyremaster Ltd is a leading tyre retailer and mobile tyre breakdown service based on the Greenhills Road in Walkinstown, Dublin 12. Established in 1994 by Lar Murray, the company's target is to provide high-quality products and services to bring you home safely.
Having initially specialised in tyres for trucks and earthmoving equipment, AA Tyremaster now caters for all vehicles, large and small. Its strategically-located depot, which underwent a major revamp in 2009, carries an extensive stock portfolio of brands and sizes for car, van and truck tyres. Lar and his 18-strong team of fitters and administration staff strive to minimise your downtime, and to have your vehicle back on the road without delay. AA Tyremaster operates a fleet of 10 breakdown units which are available for emergency tyre breakdowns 24 hours a day, 365 days a year.
Tyres can be professionally fitted at the AA Tyremaster depot while you wait. If you can't call in, the company can bring its fast and reliable tyre fitting service to you. The latest in wheel alignment technology is also offered.
"We are always ready to take your call and offer our expert advice," Lar says.
"We have 10 mobile units to cater for breakdowns as well as two delivery vans. We offer our professional services to the general public, B2B (Business to Business) and the motor / tyre trade. We have the knowledge, expertise and resources to assist you or your business.
"At our depot, you will find a welcoming reception complete with complimentary tea and coffee, free WIFI and the daily newspapers while you wait. We pride ourselves on having the stock when you need it. Nobody is kept waiting."
The company's out-of-hours breakdown service offers the personal touch. There is no speaking to machines or a call centre – it is an employee coordinating his team of on-call drivers. Whilst AA Tyremaster is based in Dublin and its vans cover the greater Dublin area, it has a network of tyre companies nationwide that can be contacted 24/7. Therefore, wherever you break down in the country, you make one phone call and AA Tyremaster takes over from there and will have you back on the road in the shortest possible time.
AA Tyremaster's fleet of mobile breakdown units ensure the fastest response times, thus reducing your downtime and getting your business moving again. "Most breakdowns are repaired on the spot," Lar assures us. The fleet is a mixture of Ford Transits and Mercedes Sprinters. At the time of writing, Lar was due to take delivery of three new fully-kitted out Sprinters from the M50 Truck & Van Centre in Finglas.
The company has extensive experience in offering fleet tyre programmes. If your business needs its tyre policy analysed and a package put in place which can encompass fleet tyre checks, ensuring tyre safety for your employee and vehicle, ethical tyre removal and disposal, and tyre roadside assistance around the clock with the best mobile tyre breakdown service around, then look no further than AA Tyremaster.
"Our commercial fleet division has the expertise to deal with your fleet, from small van fleets to large HGV fleets. We can tailor a package to suit your business, including fleet tyre safety checks and reports. And it's all backed up by a first-class mobile breakdown service," Lar adds.
A member of the Irish Tyre Industry Association (ITIA), AA Tyremaster carries a huge stock of new tyres (up to 6,000 at all times) and a wide range of brands to suit all budgets. Among the brands stocked are Pirelli, Bridgestone, Michelin, Continental, Goodyear, Dunlop, Sava, Kormoran, Nexen and Hankook. Also in stock are a selection of Original Equipment (OE) tyres. In addition, AA Tyremaster has a vast array of specialist tyres, including 'Runflat' tyres.
As tyre technology is constantly evolving, AA Tyremaster is monitoring the tyre industry innovation and trends across all manufacturers globally to ensure it has the most up-to-date stock listing and the latest in tyre technology and tyre advancements to suit your vehicle.
AA Tyremaster is an agent for the Bandvulc brand. Bandvulc produce a retread tyre range, including the 'Wastemaster' featuring the innovative 'armorband' technology. This offers protection around the sidewall of the tyre, providing an extra safety barrier against curbing and a coloured strip on one side provides early warning in the event the barrier is compromised.
Another innovative tyre from Bandvulc is the 'Big D', which is a drive tyre designed for a mix of on-and-off road applications, deep tread pattern producing excellent grip to handle tough terrain and, just like the 'Wastemaster', it has 'armorband', offering protection around the sidewall of the tyre that provides an extra safety barrier against curbing. The high polymer rubber compound of natural rubber offers excellent tear and puncture resistance.
The AA Tyremaster depot is open from 8am to 5.30pm Monday-Friday and from 9am-1pm on Saturdays. Lar and the team would be delighted to hear from you!
Taken from Irish Trucker & Light Commercials magazine, February/March 2018, Vol 21 No 2