A very special delivery to Belarus
17/05/2018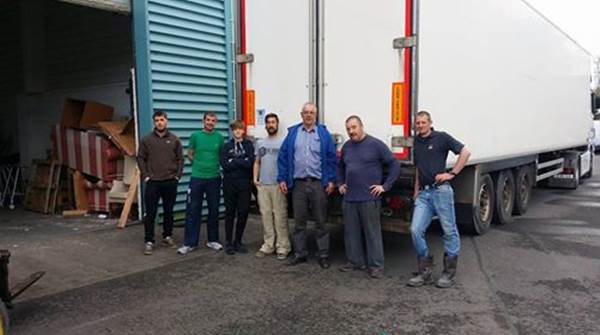 On Thursday, May 10th, 2018, Chernobyl Aid Ireland headed for Belarus with another convoy of humanitarian aid. This extraordinary charity is making a massive difference to people in great need of help and Irish Trucker touched base with one of the drivers – John O'Connor – to find out a little bit more.
As the Irish summer threatened to finally become a reality, the Chernobyl Aid Ireland crew set sail for Belarus once more, with two artics full of humanitarian aid and a support vehicle.
Liam Grant from Waterford, founder and main driving force behind the charity, was behind the steering wheel of his trusty 1999 Scania, while John O'Connor from Youghal, County Cork was piloting a Mercedes Actros generously donated for the trip by O'Leary International Transport, drawing a trailer sponsored by Kennedy's Boutique Hotel.
Meanwhile, brothers Tim and Hugh Breen, from Kerry, took responsibility for the support vehicle – a Ford Transit.
"We have to express our gratitude to both O'Leary International Transport and Kennedy's Boutique Hotel, both based in New Ross, County Wexford, for giving us the truck and trailer," says John. "It meant an awful lot. It's fantastic that these companies have got behind us and it makes a major difference. They have shown generosity above and beyond what anyone would ever expect. People just got behind us again this year and we truly appreciate it."
Others whom John would like to thank include Perks Entertainment Centre in Youghal; all of those who donated their time and goods to make the trip worthwhile (predominantly individuals from East Cork / West Waterford); Liam Grant himself; Gavin Tivey, Willie O'Leary; and Esther O'Connor for organising helpers for packing. "Without their help, this humanitarian aid trip could not have gone ahead."
It's a massive undertaking from the four lads to tackle the gruelling trip from one side of Europe to the other. "This was my third time heading out with the convoy, while Liam has been going for 25 years and the Breen brothers are in their 20th year," John revealed. "I'm just a small cog in a big wheel. We're begging and borrowing all the time. There are a lot of forms to be filled out and accounts and weighing, etc., in order to bring a load over to Eastern Europe.
"We are completely dependent on the kindness of people. For example, one person handed my €20 before I went out and that made a huge difference. Every little bit counts as we have to pay up to €3,500-€4,000 for shipping, tolls, fuel, etc. We pay for food out of our own pockets to maximise the money available to the charity."
All four men are voluntary. John is a former truck driver on the continent who has retired while Liam, who is now 70, is a retired former ambulance service worker. "One of the brothers works for CIE and the other is self-employed but they take the time out from their schedules every year to complete this trip," John points out.
"I brought nine tonnes of humanitarian aid in my truck – second-hand beds, hospital beds, mattresses, walking aids, wheelchairs and second-hand clothing, all donated by wonderful people. Liam had more or less the same amount again."
The ongoing plight of the people of Belarus still affected by the Chernobyl Disaster is harrowing and puts our own comparatively minor troubles in context. "People at home might think that there were initially a lot of orphans and then the situation resolved itself, but this is not the case," says John. "These children have grown and people in Ireland probably don't realise how bad things are over there.
"There are an awful lot of serious problems and social issues and it's not like in Ireland where you can go to the social welfare office or speak to somebody to sort things out for you. We have systems in Ireland to try to solve issues but they don't have anything like that. I do be cribbing a lot at home myself but when you see what these people have in comparison it really brings it home how fortunate we are."
Chernoby Aid Ireland's main aim is to provide comfortable living conditions for Grozovo. All members of the charity are voluntary, ordinary working people who give up their time freely to help make a better life for the residents of Grozovo.
Chernobyl Aid Ireland was established in 1997 specifically to help the residents of Grozovo Boarding School, which is a home for 200 people with special needs. Grozovo Boarding School is 120km outside Minsk – the capital of Belarus. All the residents come from socially-deprived backgrounds and need all the help they can get. The aim of Chernobyl Aid Ireland is to turn Grozovo from the former military barracks into decent place to live. They also provide medical treatment for the residents and organize a Rest & Recuperation programme for the children of Belarus in Ireland.
The Chernobyl Disaster was a nuclear accident that occurred on April 26th, 1986, at the Chernobyl Nuclear Power Plant near the city of Pripyat (which had been built as a home for the power plant workers) in Ukraine (then in the Ukrainian Soviet Socialist Republic, part of the Soviet Union). It is considered the worst nuclear power plant accident in history and is the only level 7 event on the International Nuclear Event Scale.
A sudden power output surge took place, and when an attempt was made for emergency shutdown, a more extreme spike in power output occurred which led to a reactor vessel rupture and a series of explosions. This event exposed the graphite moderator components of the reactor to air and they ignited; the resulting fire sent a plume of radioactive fallout into the atmosphere and over an extensive geographical area, including Pripyat.
The plume drifted over large parts of the western Soviet Union, Eastern Europe, Western Europe, and Northern Europe. Large areas in Ukraine, Belarus and Russia had to be evacuated, with over 336,000 people resettled. According to official post-Soviet data, about 60% of the fallout landed in Belarus.
Four hundred times more radioactive material was released during this disaster than had been by the atomic bombing of Hiroshima. Despite the accident, Ukraine continued to operate the remaining reactors at Chernobyl for many years. The last reactor at the site was closed down in 2000, 14 years after the accident.
The city of Pripyat was not immediately evacuated after the incident. Only after radiation levels set off alarms at the Forsmark Nuclear Power Plant in Sweden - over one thousand miles away! - did the Soviet Union admit that an accident had occurred. Nevertheless, authorities attempted to conceal the scale of the disaster.
Thirty-two years on, it continues to have drastic repercussions for the people of Belarus.
Chernobyl Aid Ireland,
No. 14,
The Drive,
Fairfield Park,
Waterford. 
Tel: 051 844476 (for clothes donation) / 087 2603023 (Liam) / 087 6410028 (Alice)
E-mail: [email protected] / [email protected]