Major award for Musgrave's Transport Manager
01/05/2018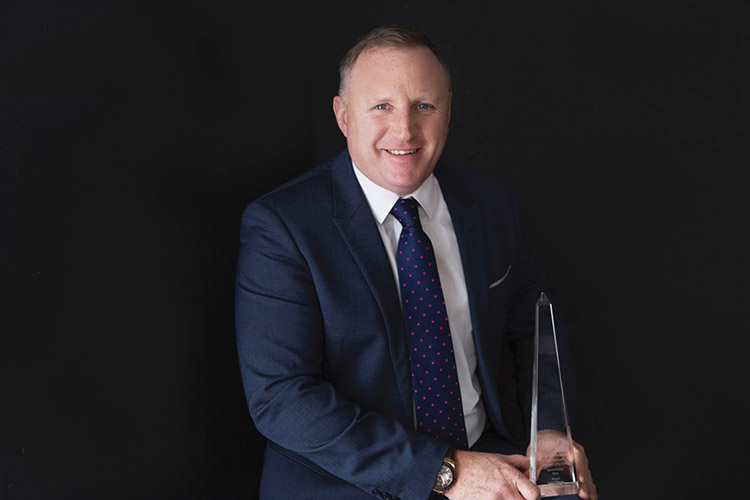 Musgrave Retail Partners Ireland (Cork) had double reason to celebrate at the 11th Fleet Transport Awards 2018 in Dublin's CityWest Hotel on September 28 last when they scooped the Transport Manager of the Year and Best Safety Practice Awards.
Unsurprisingly, Colm O'Regan was delighted to be named Transport Manager of the Year, which was his second Fleet award in 12 months.
"It's always nice to get recognition like that. It's also great recognition for our other Transport Managers Paul Lenihan, Pat Murray, Vince O'Sullivan, Steve Young and the entire team. It's a real team effort, from senior management through to the drivers. We're not afraid to try different things and work well as a group," says Colm, who was unable to attend the gala ceremony, with his Musgrave colleague Vince O'Sullivan receiving the award on his behalf.
Committed to sustainable, omni-channel produce deliveries, Musgrave have been regular winners at the Fleet Transport Awards in recent times. Two years ago, Peter O'Neill won Driver of the Year, last year the team claimed the Own Account Operator accolade and this year they added two more awards, and were also shortlisted in the Best Livery category.
Hailing from just outside Bandon in Co. Cork, Colm O'Regan joined Musgrave in 1998 as an operative at their new chill warehouse. He progressed onto stock control and became an operations manager in 2000. He moved into transport in 2007 and has found this area to be particularly rewarding. He manages to juggle his day job with running the family farm in partnership with his next-door neighbour. Colm's role consists of all of the slurry handling, ploughing and reseeding tasks on the 140-cow dairy farm, which fits in well with his working hours. Colm is married to Evaleen, who has her own drama school called Konfident Kidz, which is based in Bandon. The couple have a four-year-old daughter, Maddy.
In his role as Transport Manager, Colm says he's "blessed with a consistent customer-base, dynamic workforce, management vision and a freedom to explore". He believes the three most important factors in growing good business are engaged employees, established processes and customer satisfaction. Key performance indicators in his opinion are headcount / working hours, MPG, load fill, backhaul, compliance, vehicle utilisation, insurance and budget.
Musgrave Retail Partners Ireland (MRPI) service 686 Super Valu and Centra stores throughout Ireland from their distribution centres in Cork, Kilcock, Co. Kildare and Fonthill, Clondalkin, Dublin 22. The Cork hub services all stores south of a line between Gorey, Co. Wexford and Oranmore, Co. Galway. The team manage a fleet of 87 trucks (27 ambient and 60 chill) and a staff of 146 drivers, with 87 loads leaving the depot between the hours of 2.30am and 5.30am six days a week.
Colm is full of praise for his drivers who, he says, are "proud of their company".
"We have one of the most loyal teams of drivers in the country. We have only lost four in the last 12 years and they all retired," he points out.
"They are knowledgeable, devoted, honest and have an awareness of the company brands. We conduct weekly conversations where we get feedback on life and issues that may have arisen. The key here is listening. We welcome driver input into decision-making. We have systems and structures in place which allow our drivers to be as independent as possible. We're constantly reviewing things and making changes where needed.
"We have found that if you look after your drivers, they will look after you. We try to accommodate them as much as possible by allowing flexibility in our rosters and so on. We all need each other at the end of the day."
The Musgrave fleet of DAF / Mercedes tractor units and refrigerated, box and double deck trailers are among the best and most modern in the business. All but nine of the trucks are contract hired. The owned vehicles were introduced to get a true cost and explore finance and support options. Every Musgrave trailer is owned and maintained in-house. All the data is recorded on Stratum and each department is notified when each vehicle is due inspections, service of test in the relevant timelines.
MRPI's BlueTree telematics systems provides live analysis of everything from fuel performance and driving behaviours / styles to tracking of deliveries. It goes without saying that all vehicles are tachograph compliant.
Musgrave delivers the sourcing, sales, marketing and supply chain expertise so local entrepreneurs can go head-to-head with the international supermarket chains. As a family-owned business, the company supports thousands of other family businesses and their local communities in Ireland, Northern Ireland and Spain. What makes Musgrave different is its team of extraordinary retailers, great grocery brands that are online and around the corner, and colleagues who invest in its business because Musgrave invests in them. Together with its retail partners, Musgrave employs over 45,000 people – 35,000 in the Republic of Ireland alone – making it the largest private sector employer in Ireland.
By expanding its already strong relationship with suppliers, Musgrave has gained entry into the haulage and storage market, and now offers this service to all of its key suppliers throughout the existing network. Key customers include Kepak, Carty Meats, Bandon Vale Foods and Glanbia.
Among the many challenges facing Musgrave are retail competition, online channels, discounters, urban delivery, noise and environmental issues, fuel and insurance costs. These are challenges which Colm O'Regan and the transport team are determined to meet head on.
Musgrave Retail Partners Ireland (Cork)
Tramore Road,
Ballyphehane,
Cork.
Telephone: 021 4803000
Taken from Irish Trucker & Light Commercials magazine, January 2018, Vol 21 No 1