Stunning fleet delivers the goods
25/04/2018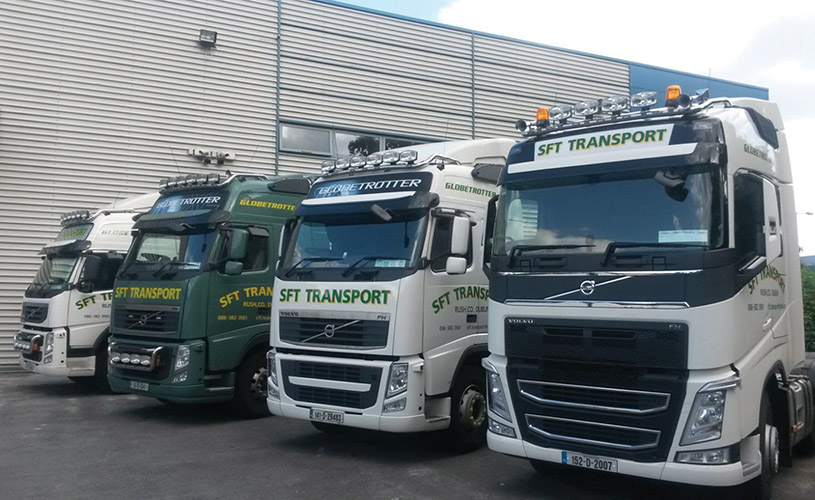 In July 2017, SFT Transport Ltd. took possession of a stunning new Scania R450 Highline from McElvaney Motors. The new truck is very much at home in one of Ireland's freshest fleets, which provides customers with a level of service that's second to none. We caught up with director Stuart Farrell to find out more about this exceptional family-run operation.
With the emphasis very much on quality service, SFT Transport Ltd. has made tremendous strides since its inception in 2011, rapidly establishing itself as the retail general haulage partner of choice.
At the heart of the success and popularity of this outstanding company – fronted by husband-and-wife team Stuart and Shannon Farrell – is a superb fleet of vehicles, which is consistently upgraded and maintained in immaculate condition at all times.
The latest addition to the 24-strong fleet is a brand-new 172-reg Scania R450 Highline, a striking yet functional truck which comes with a host of extra features including double-glazed windows, black leather seats, Sat Nav, fridge, Xenon lights and air horns, to name just some.
The new acquisition epitomises Stuart and Shannon's commitment to ensuring that they operate a premium fleet of vehicles tailored towards meeting the high expectations of their discerning customer base, delivering products on time every time, with optimal service levels a constant.
When you can count major companies like Tesco, DHL, Heatons, Boots, Currys, Debenhams and DPD amongst your loyal customer base, then you are clearly doing something right. However, rather than allowing complacency to set in, SFT Transport Ltd. continually strive to improve, investing heavily in equipment and personnel in order to achieve maximum efficiencies, which can in turn be passed on to customers.
Covering both Ireland and the UK from their base in Rush, County Dublin, SFT Transport Ltd. currently run a fleet of 24 vehicles in total – 20 owned (mostly Volvo, complemented by a couple of Scanias) and four hired (three Mercedes, one DAF).
Refreshing and modernising the fleet is an ongoing process. To this end, in addition to the aforementioned new Scania R450 purchased this summer, Stuart and Shannon also bought two new trucks in 2016 and another one in 2015. "You have to keep refreshing it in order to make sure you're looking after your customers properly," notes Stuart, who doubles up as a driver and director. His wife and co-director, meanwhile, takes on the role of transport manager.
The business has experienced organic growth since its genesis six years ago. Direct employment is generated for a team of in excess of 25 at the time of writing and the fact that SFT Transport is a traditional family-run business means a personal, friendly and transparent service is provided.
Regarding the key to their success in what have been extremely challenging times for the economy in general, and the haulage sector in particular, Stuart confirms that the quality of the service offered is crucial: "It's going well and the main reason for that is that we provide a very good service. We're on the road all the time and we never let our standards drop.
"It's a family business, with my brother Shane and wife Shannon involved and we always make ourselves available."
None of this has happened by accident. It had taken an inordinate amount of hard work and dedication to get SFT Transport to where they are today. The Farrells have had to demonstrate great courage of conviction to establish the business as one of the leaders in their area of expertise – especially during what have been incredibly difficult times for the transport sector as a whole.
When the economic downturn struck, the haulage industry was one of the hardest hit – second only to construction – and only the strongest have survived. Alas, although the worst of the recession seems to be in the rear view mirror, Stuart is concerned that there could be more challenges on the horizon for Irish truckers, especially if something isn't done to curb spiralling insurance costs.
"If insurance keeps going the way it's going, it will put us all out of business," he stresses. "It's a grave situation at the moment and they are really going to have to do something about it. The annual increases in insurance rates on commercial vehicles are completely unsustainable and they can't be justified."
Stuart has been involved in haulage all his working life. He drove his own tipper for a couple of years before giving that up in 2008 and taking up employment as a driver. Three years later, he began to invest in his own fleet of tractor units and SFT Transport was born.
Today, the Rush-headquartered company provides an island-wide service, covering the 32 counties, as well as a small bit of UK work. Stuart takes great pride in his ever-evolving fleet, which looks amazing and performs superbly, having added four fantastic new trucks in the last three calendar years, culminating in professional, punctual and dependable service, delivered to a host of reputable customers around the clock.
SFT Transport Ltd.,
21 St Catherine's Way,
Rush,
County Dublin.
Tel: 086 3823561
Taken from Irish Trucker & Light Commercials magazine, January 2018, Vol 21 No 1