First for Fuso
20/04/2018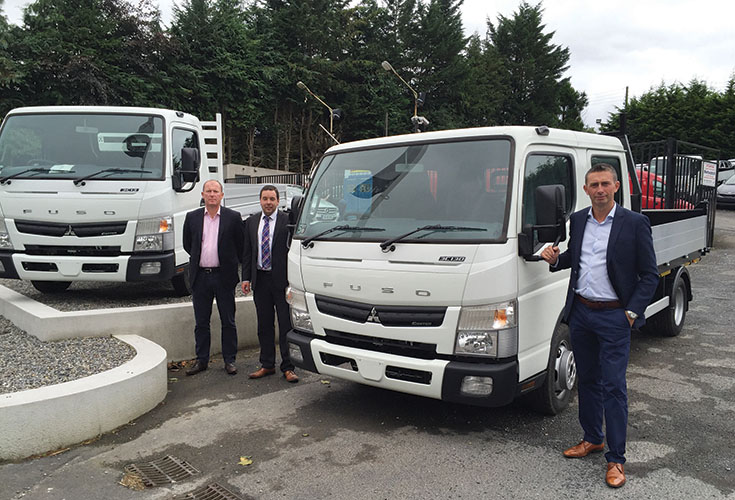 For over a year now, Dunleas of Kilcullen have been offering customers a fantastic range of Fuso trucks, available with factory-fitted tipper and dropside bodies. We dropped into their well-appointed County Kildare showrooms and caught up with sales director Mark Grainger to find out more about this thriving dealership and the comprehensive range of complementary products and services provided.
With vast experience of the motor trade, Anthony Murray (MD) and Mark Grainger took over Dunleas of Kilcullen - a long-established Nissan dealership - in November, 2005. The pair have since built the business up impressively through what have been challenging times for vehicle sales. In Autumn, 2016, they were appointed main Fuso dealer for Kildare.
The Fuso Canter provides Dunleas of Kilcullen with the perfect platform to continue their tradition of providing a first-class light commercial vehicle service throughout Kildare. With the 3.5t -7.5t chassis cab market currently experiencing strong growth, this has been an exciting time for Dunleas to come on board as a main Fuso dealer.
Mitsubishi Fuso has been building Canter trucks for over 80 years and has had a presence in the Irish market for over three decades. The Fuso Canter range includes 3.5T, 6.5T 4X4, 7.5T, 8.5T and the 7.5T Eco-Hybrid models, all with Fuso Ireland's exceptional five-year warranty. Fuso remains at the forefront of innovation and technology and, to this end. 2018 will see its latest model added to the line-up - the Canter E-CELL, the world's first pure electric-powered light truck, following on from the successful Eco-Hybrid.
The Canter 3.5t rear tipper is available with factory-fitted aluminium tipper body (as is the 7.5t Canter), with the complete vehicle pre-approved by NSAI for immediate registration. Offering payloads of up to 1,260kg, it is suitable for B-class licence drivers. Meanwhile, the 3.5t dropside can be purchased complete with aluminium body with timber floor. Each Fuso Canter 3.5t tipper and dropside comes with a five-year /150,000km warranty on both cab and chassis as well as a three-year body warranty.
A full range of finance options is available and the back-up service at Dunleas of Kilcullen is second to none. Generating gainful employment for a team of 30 experienced personnel, including manufacturer-endorsed technicians, Dunleas specialise in providing the full spectrum of services to motorists across both the light commercial vehicle and passenger car markets. This includes sales (of new and used vehicles), service, parts, accident & repair, hire & leasing and 24-hour recovery.
Sales director Mark Grainger is delighted to confirm that the Fuso dealership has been well received: "It's only here a year and it's going very well," he says. "The market is picking up again and moving in the right direction and everybody is benefiting from that.
"Coming from where we were at with the economy, it obviously takes time for people to start spending money again on new trucks and vans, but drivers are slowly but surely starting to invest again. One of the reasons for this is that there's a shortage of quality second-hand vehicles as nobody was buying any new ones around 2009-10."
The fact that Fuso are offering the cab complete with steel or aluminium bodies makes life extremely convenient for the customer. "The dropside body in 3.5t is the most popular one because you can drive it with a car licence so it's ideal for a builder or tradesman, whereas you need a truck licence for the bigger one," Mark continues. "You can also get them in either single cab or double cab … the local authorities are picking up a lot of crew cabs."
Covering all of County Kildare from their base on Kilcullen's Naas Road, Dunleas have the personnel, professionalism and commitment to do great justice to the Fuso agency. Regarding the many strengths of the ever-popular Canter, Mark points out:
"The five-year warranty is very attractive and it shows the faith Fuso justifiably have in their trucks. The reliability is also second to none – the Canter could very easily run extremely efficiently for up to 15 years. The high payload is something else that customers appreciate.
"There's great peace of mind when you buy a Fuso Canter. If you put it on a five-year finance package, then you have fixed costs over that term and you know exactly what your payments are going to be every week or month. With the cover provided by the warranty, there can be no nasty surprises. In a lot of respects, it can be as cheap to buy a new small truck as a second-hand one as you won't have any other large payments outside of your fixed costs to pay for and run the vehicle. First and foremost, the Canter is very safe and reliable, so we're very happy to be able to bring such a quality vehicle to our customers here in Kildare."
In addition to Fuso trucks, Dunleas of Kilcullen will also celebrate ten years as a main dealer for Kia new cars and commercial vehicles / SUVs next year, again offering a strong aftersales service. Dunleas are also the main Nissan Authorised Repairer for County Kildare.
Commercial vehicle sales and service are much more than a mere afterthought. Having taken on the prestigious Fuso dealership little over twelve months ago, Mark is optimistic that this side of the business will continue to grow: "We're hearing great things back from customers, who are very happy with the trucks," he concludes. "They're good on fuel, comfortable to drive and they come with a very high spec as standard, with a whole range of optional extra available upon request."
For sales, service, parts and warranty on Fuso Canter trucks, contact Dunleas of Kilcullen today.
Dunleas of Kilcullen,
Naas Road,
Kilcullen,
County Kildare.
Tel: 045 481299
Web: www.dunleasofkilcullen.com
Taken from Irish Trucker & Light Commercials magazine, January 2018, Vol 21 No 1